Buying a water pitcher for household use is a great way to keep everyone healthy. Although water is essential in our livelihood, contaminants can cause detrimental health effects. Slight contamination can bring stomach complications like diarrhea, bacterial infection, and protozoan. It is therefore vital to ensure your water pitcher choice will determine how effective it is in filtering water. Having water analyzed before using a pitcher is an excellent starting point.
With many available pitchers, they are generally versatile. Due to this, they are efficient in storing and dispensing juice, coffee tea, and other beverages. However, if the pitcher is only for water, having the right filter is an excellent consideration. On the other hand, the construction materials are great to avoid ingesting microplastics and other toxins. Therefore, checking the construction materials gives an upper hand. Plastic pitchers are common; however, glass and other materials like stainless steel are also available. For the best glass water pitchers on the market, the list below provides the top most products.
List of Best Glass Water Pitchers
5. Bormioli Rocco Glass Pitcher
This glass pitcher is perfect for iced tea or homemade juice. It has a 68-ounce capacity and comes with a lid for convenient storage. The thick glass is highly durable and also dishwasher safe. Features of this glass water pitcher include a strong handle, a wide mouth built-in pour spout, and a lid. This glass pitcher is small and fits perfectly in your refrigerator. The glass is sturdy but very lightweight. The square shape makes it look stylish as well.
4. Karafu Glass Pitcher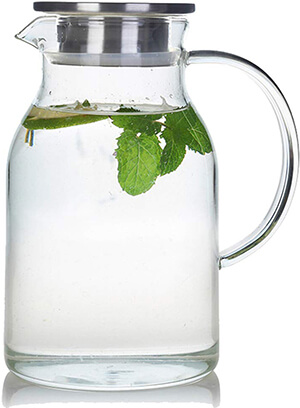 Another model that we consider the best glass water pitcher is the Karafu water jug. Buyers love it because it is perfect for hot or cold beverages. The glass water pitcher has received hundreds of numerous reviews from homeowners who love its sturdy and durable design. The Karafu Glass Pitcher is made of heat-resistant material and can withstand temperatures of up to 300 degrees Fahrenheit. The glass pitcher with lid has a 68 Oz capacity. It is large enough to serve your family yet compact enough to fit most fridges. The lid is detachable and boasts a pretty smooth surface. There is one outlet for fast water pouring and another for pouring or keeping ice. The model truly looks beautiful with a large handle for a comfortable grip. This product is dishwasher safe so it is easy to clean.
3. PANPRIDE Glass Fridge Jug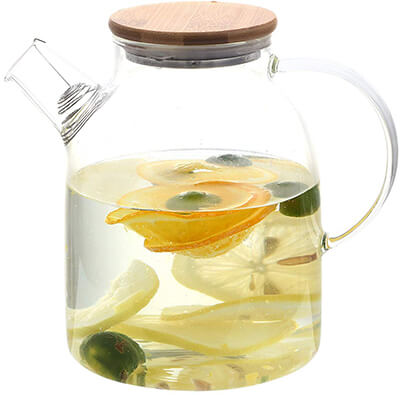 The PANPRIDE glass pitcher with lid truly looks beautiful and unique. The material is food borosilicate glass which is durable and heat-resistant. It can withstand temperatures of up to 300 degrees Fahrenheit. This means it is safe to use on an electric stove but we suggest using small fire. The lid is made from bamboo and the bottom reinforced by stainless steel. The simple classic design undoubtedly makes it stand out from the competition. This glass pitcher has a large capacity and can be used for many types of beverages. Its size makes it fit neatly into the fridge door.
2. Karafu Glass Pitcher with Lid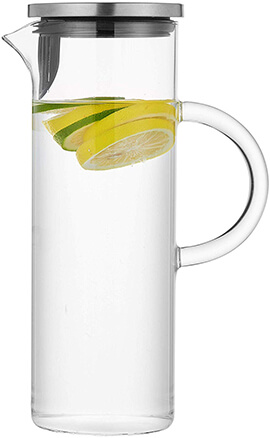 Another product that truly deserves a spot on this list is this tall glass pitcher by Karafu. The pitcher has a 50-ounce capacity. It is perfect for both hot and cold drinks thanks to the heat-resistant borosilicate glass. This material is lead-free. It is also durable, lightweight and can withstand temperatures of up to 300 degrees Fahrenheit. We consider it the best glass pitcher with lid thanks to its quality. The filter helps keep the ice and large chunks of fruit inside the pitcher. Its elegant and slim design equally makes it stand out from the competition. This glass pitcher is also dishwasher safe.
1. Labbest Glass Water Pitcher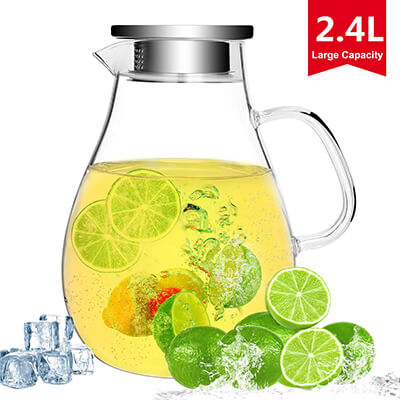 Finally on our list is this hot and cold water glass pitcher. We love it mainly because of its large capacity. The Labbest glass pitcher holds up to 81 ounces of your favorite hot or cold beverage. Don't worry because this pitcher is made of durable, heat-resistant borosilicate glass that can withstand temperatures of up to 302 degrees Fahrenheit. It is dishwasher safe but we recommend getting used to hand washing. The pitcher has a large handle and a detachable stainless steel lid. It looks quite elegant you'll no doubt want to have it in your home.