For every home, the kitchen is an important section. It is where everyone enjoys making the best meals. But, without the right kitchen accessories, it is impossible to enjoy your time there. Getting all the needed essential is a great move to make the kitchen look modern. Whether it's new or upgrading your kitchen, there are some accessories that you should never leave. They are vital and enable smooth running.
There are many categories of kitchen essentials. This prompts people to find it necessary to determine which ones to start with. But, whether its cutlery, cleaning, storage, and other essentials, with right combination kitchen, looks perfect. Basically, getting right and high-quality accessories can be tricky. That why researching for ideal ones is the first step.
Kitchen Sink Bottom Grid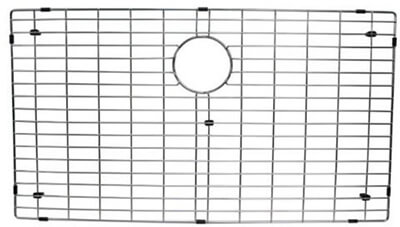 Kitchen sinks are some of the activity intensive place. They are tasked with allowing all washing activities. Adding kitchen sink grids is some way to ensure there is no wear and tears. This because they ensure no contact between utensils and bottom. The grids are designed from safe materials that don't rust or corrode. In fact, the ability to withstand heavy-duty applications while keeping sinks safe is a superb feature. Apart from holding utensils and other items, the grids come in different designs and sizes. Therefore, some are efficient in sieving large food particles. Therefore, no constant clogging of your sink, which can cause problems in kitchens.
Kitchen Sink Drain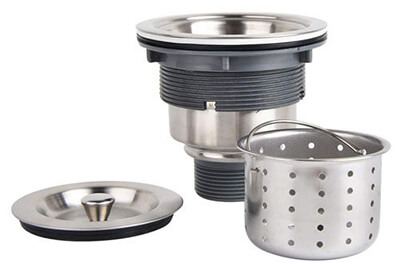 The ability to enjoy a smooth water drain in a sink depends on the type of sink drain system. Usually, kitchen sink drains are the integral parts that allow for people to enjoy seamless used water flow. Without the right type of drain, it can be impossible to allow water to flow freely. It is this reason that people always look for premium quality equipment. Especially, these parts are replicable, which offer a great way to ensure sinks are running seamlessly. Since the kitchen sinks handle different types of wastewater, it is ideal to have corrosion and rust-resistant drains. Although there are plastic made drains, stainless steel is one of the fantastic material.
Kitchen Tong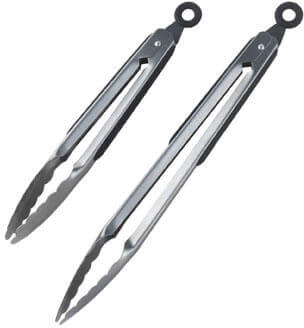 Kitchen tongs are essential and ideal accessories for the safety of chefs. They are crucial for ensuring there is no more burned food or scorched fingers. Additionally, the tongs are applicable in different aspects. This means when grilling, baking, and other cooking styles, users can enjoy improved safety. Apart from the long design, the tongs are enhanced with insulating food-grade silicone. This increases the grip on food as well as the comfort of users. Depending on the user's type of cooking, there are different sizes of tongs. They, therefore, ease and make cooking exceptional. Usually, these cooking essentials are made from food-grade materials to ensure safety and comfort in kitchens.
Kitchen Sponge Holder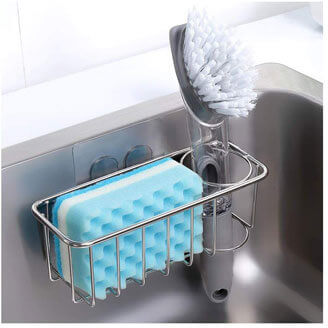 The cleaning of utensils, cooking pot, and other essentials require sponges. They are great for smooth cleaning without stressing your hands. But, when it comes to storage, kitchen sponge holders are vital. They don't only hold sponges but also keep them safe when you are utensils cleaning sessions. Usually, the holders are versatile and enable different uses. They can hold soap, scrubbers, and other cleaning essentials. The design also is superb since they allow for free water draining from the sponges. As a result, there is no development of foul smell due to dampness. Depending on the size of sponges and, there are different sized holders available.
Analog Kitchen Scale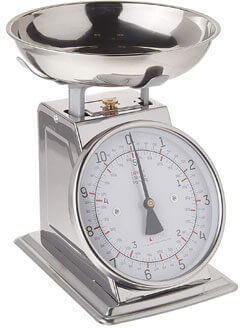 Some recipes require exact ingredients measurements. This eliminates the estimation methods to get perfect preparation. The analog kitchen scales are some of the vital accessories in such scenarios. They are essential for enabling measurements, even when you don't have a digital one. Also, in case of no power, these scales are vital for every chef or cooking enthusiast. Unlike the other digital ones, these mechanical scales are designed to work everywhere without being affected by conditions. Whether its high temperatures, high humidity, they are ultimate and reliable. Apart from reliability the construction usually features safe and food-grade materials. Therefore, they don't cause food taste and flavour change.
Kitchen Aprons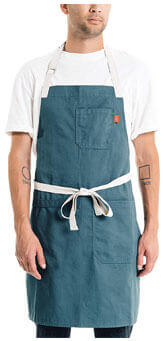 Cleanliness and safety in kitchens are paramount. But, to enjoy these aspects, care and wearing kitchen aprons must be considered. Especially aprons are recommended when cooking, baking, or grilling. They are usually made to ensure in case of spills, there is efficient absorption rather than getting into your body or clothes. It is therefore wise to get premium quality aprons to enjoy the protection and general performance. Basically, there are many types of aprons the cooks can choose. This depends on your favourite style of apron. They have different levels of protection, design, and style. Therefore whether a professional chef or for home use, these aprons are great essentials.
Kitchen Torch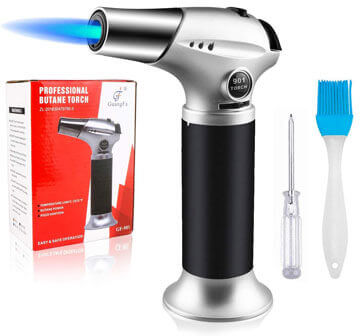 Kitchen torches are some of the essentials that provide a lot of versatility. They are often used to give different meals a perfect finish. With the ability to give the food browning look, they are vital for daily applications. Also known as culinary touches, they are butane powered, which is excellent for ensuring high temperatures. Apart from giving food nice final touches, the torches are vital for melting the cheese and other heating functions. Usually, these heating objects are employed when you want to provide the food with a unique look and flavour. Besides getting the ideal torch, knowing how to use it ensures superb results and overall safety to everyone.
Kitchen Faucet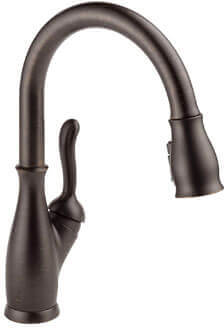 A standard kitchen requires a lot of accessories to be functional. Kitchen faucets are some of the essentials that have a lot of use. Tasked with delivering water, they need to be reliable and durable. Basically, the faucets are instilled in sinks. They are, therefore, crucial in cooking as well as cleaning of different items in the kitchen. Whether you need them for hot or cold water delivery, the quality and reliability count a lot. Also, style and performance are also great qualities to look at. With single hands, two hands, and hands-free faucets, everyone can improve their kitchens anytime. Above all, the different materials used in faucet making determine their durability.
Stainless Steel Kitchen Sink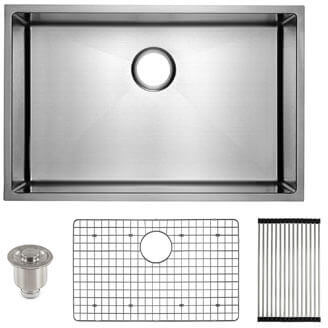 Kitchen sinks are among the first and topmost important for smooth work. They offer a comfortable place where you clean utensils and vegetables. Stainless steel kitchen sinks are among the most popular in almost every home. Designed to resist corrosion and rust, they provide exceptional durability. The choice of the right sink depends on different aspects. This is because we have different kitchen sizes, which will prompt the type and size of a sink to choose. The quality of stainless steel also determines the aesthetic nature of your home. Some fade quickly while high quality and polished steel last for longer. With the best kitchen sink, there is beauty and reliability for a long time.
Kitchen Utensil Set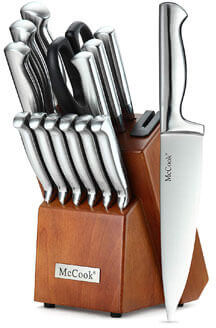 The kitchen utensil sets are some of the vital accessories. They are among the most used essentials for every kitchen. With this, everyone requires to get ideal sets. Compromising different items from spoons, cutlery, skimmers, spatula, and others. The diverse materials the utensils come in different qualities. In fact, with aluminum, iron, clay, porcelain, stainless steel, and others, it is vital to have the right collection. Ideally, these days, with improved design, the utensils offer high safety and reliability. Also, different sets come with a variety of items. But, a complete set with everything you need in the kitchen is vital for smooth operation.
Kitchen Shear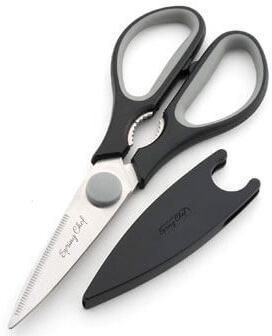 With different essentials being important, there is every aspect of getting every item. Kitchen shears are some of the great cutting of delicate food. Ideally, they are designed specifically for cutting different food like vegetables, fish fillets, chicken, and others. The constriction always entails different materials with food-grade specifications. Typically, stainless steel is used in making the cutting blades. Therefore, they can cut a variety of food without causing reaction or adulteration of food taste or scent. Amazingly, the kitchen scissors are equipped with different features like can openers and bottle openers and others. Comfortable handles are also essential to keep people comfortable and fatigue-free.
Kitchen Mat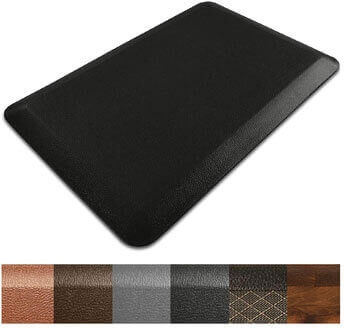 The kitchen floor can get slippery sometimes, especially when there are spills. It is, therefore important to add safety-enhancing. The kitchens mats are some of the add-ons to ensure everyone has comfortable and confident stepping. The mats are also useful when you want to raise your profile, which is great for ensuring people get perfect working. Besides increasing safety, the rugs are also great for improving comfort. Instead of standing on a cold floor, mats are suitable for creating excellent cushioning. Although the mats are designed for use in kitchens, there are a variety of styles available. Thus, they ensure beautiful and comfortable kitchen floors.
Digital Kitchen Timer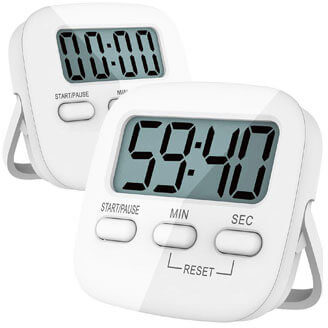 Every meal has determined the cooking time. Therefore, it is easy to prepare ingredients to cook with high precision. To ensure there is simple cooking, digital kitchen timers are an excellent investment. They are created to suit all your kitchen cooking needs. They are ideal, especially when you need to cook sensitive food. Additionally, with alarm, the timers are great for alerting the cooks when cooking is done. These clocks, apart from providing the timer action, they come with time functions. Thus, when not in the timer, they can act as regular watches. The ability of these timers to be used under different conditions is impressive. Some even have magnetic enhancements you can fit them on a metallic surface.
Kitchen Towel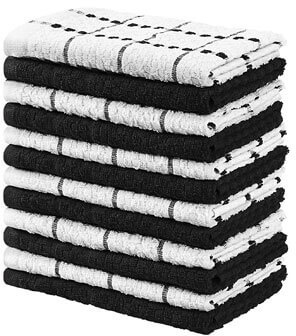 Kitchens have a lot of activities always. Also, it requires a lot of accessories to enjoy a great experience. Kitchen towels are some of the ultimate ways to ensure cleanliness is paramount. In fact, they are among the classified essentials in every kitchen. With numerous uses. These towels are also called chef towels, tea towels among others; they have a wide application. They can be used for drying dishes, wiping hands and other tasks. With a variety of materials, there is a need to look for the best performing fabrics. Basically, the towels are versatile and offer a variety of tasks in the kitchens.
Kitchen Knife Set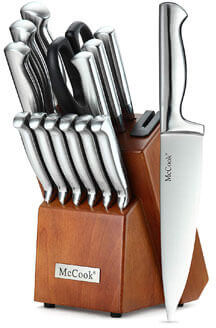 Cutting different ingredients is one of the essential tasks in every kitchen. But, depending on what you are chopping, there is each knife suited to tasks. To ensure you get the best chopping, the kitchen knife set provides high efficiency. Each of the set available come with different types of knives to suit a variety of kitchen chopping requirements. Mostly, the sets come with chefs, bread, and multipurpose knives; they are superb for daily cutting activities. The knives are designed from heavy-duty materials. Mostly, stainless carbon steel is associated with high-quality knives. Apart from construction, the blade type and quality determine the durability and performance of your knife sets.
Digital Kitchen Scale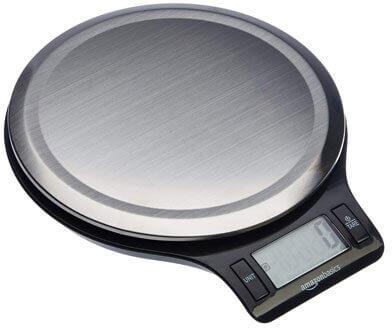 Precise measuring of various ingredients makes the chef prepare perfect meals. To enjoy high accuracy, digital kitchen scales are vital. They aren't only restricted to professional chefs. Actually, they are great to have in every kitchen. Unlike the measuring cups, scales are excellent since they offer high accuracy. Unlike the mechanical ones, these provide an accurate reading. Also, some are enhanced with the ability to convert automatically. When mixing different ingredients, the scales allows for direct mixing without emptying; this is made possible due to zeroing ability after each weight. With various sizes and designs of digital scales, every cook enjoys thrilling cooking.
Stainless Steel Kitchen Cart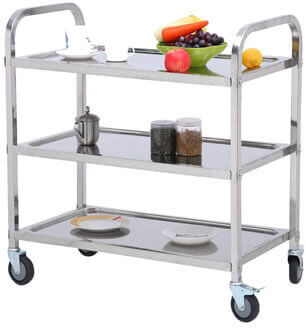 Carrying different items in the kitchen requires a sturdy cart. But, stainless steel kitchen carts are among the safest and durable options available. Created with various capacities, every user can select the perfect cart to fit all the essentials. Lie other carts; these are constructed from a sturdy structure. Also, the durable stainless steel is superb for creating a non-corrosion platform for all your needs. Apart from carrying essentials, some of these carts are made with high versatility. They have different shelves, which permits them to work as storage equipment. Fitted with sturdy caster wheels, the carts are great and smooth-rolling. This creates a better way to transport food from the kitchen to the dining room comfortably.
Stainless Steel Sauce Cup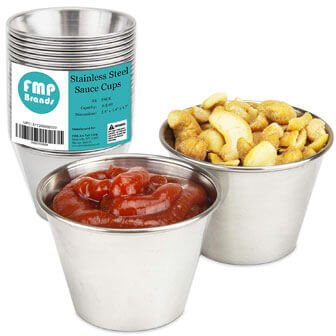 When it comes to cleaning, stainless steel kitchen accessories are simple to maintain. They are efficient to clean and remains sleek without need to scrub. Stainless steel sauce cups are among the most used kitchen accessories. Although these cups were made from different materials, these days are available in stainless steel. Therefore, they provide high durability as well as reliability throughout. Apart from the durability, these cups have different uses, which make them popular in homes and restaurants. The availability of different sizes ensures users have the right fitted cups. Thus, it is easy to enjoy your sauce with its natural taste.