For any beverage, it delivers refreshing feel when chilled. Well, for people who love wine, storing your stock in a cooler ensures you enjoy refreshing moments always. It implies even when you have unexpected guests, you can still serve them the best wine. Unlike soda coolers, wine usually comes with long bottles. Therefore, a standard freezer can only accommodate a few bottles. Especially, if the racks aren't adjustable, it can significantly affect the number of bottles you can store at a go. Although conventional beverage can still work, it's advisable to look for a wine cooler.
As you plan to get a chiller, the first thing to check is the type you want. Coolers come in different capacities. Therefore, you can choose whether it's for a few bottles or large collection. These appliances come in sizes, from as low as 6 to over 100 bottles. Therefore, depending on your requirement, it becomes vital to choose right capacity. Moreover, the size will also affect where you want to place the appliance. Of course, with large space available, it's ideal to choose a large cooler.
On the other hand, do you want a freestanding or inbuilt cooler? The market always offers a variety of products. With this, it enables you to either get freestanding cooler or built in. For people with enough space, free standing is always a good option. However, people with limited space, its ideal to get inbuilt style chillers. Construction also matters since it determines how secure your freezer it is. Also, it in structure, check the available features like the type of compressor and other operating mechanisms. Well, instead of doing trial and errors, check these top 10 best wine coolers and always be happy.
List of Best Wine Coolers
10. Avanti Thermoelectric Wine Cooler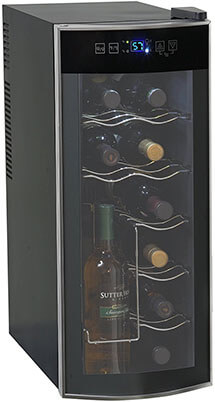 The EWC1201 model is a 12-bottle countertop wine cooler designed with a curved
glass door. Its compact and lightweight design makes it rank among the best wine coolers on the market today. With over 600 client reviews online, this wine cooler truly boasts a large client base. Be sure that you are putting your money in the right place. Buyers love it because it is very quiet and maintains the temperature at the right level where they set it. This cooler lets you store your bottles upright which is nice.
9. EdgeStar CWF340DZ Wine Cooler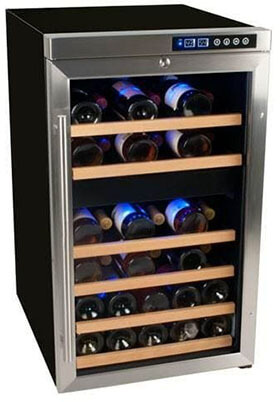 EdgeStar's model is a freestanding 34-bottle cooler with a compressor. It weighs approximately 94 lbs and stands at 33 1/8 inches high. The wine cooler is designed to accommodate standard-sized 750ml 2.75-inch Bordeaux bottles. You will have to remove a shelf if you want to add a large bottle in the wine cooler. Features like the reversible door, built-in security lock, and dual temperature zones make it rank on top of the best wine coolers. The separate temperature zones allow you to chill both red and white wine at different temperature levels which is great. The cooler is perfect for professional and new wine collectors. Overall, with this cooler, you get a model that lets you show off your wine collection in a stylish model that truly stands out from the crowd.
8. Koldfront TWR181ES Wine Cooler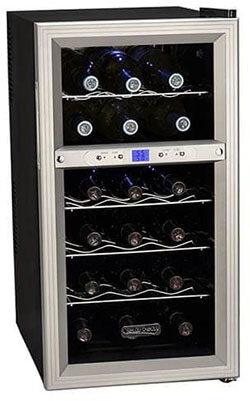 Koldfront's model holds up to 18 wine bottles. The wine fridge uses thermoelectric cooling allowing you to store both red and white wines in two separate compartments. You can keep up to six bottles of white wine in the upper zone and use the lower zone to store at least 12 bottles of red wine. There is a soft interior LED light that helps illuminate your bottles without ruining them. This model is perfect for professional and amateur wine collectors. It works well in a room temperature environment so don't worry about ruining your favorite drinks.
7. Koldfront TWR247ESS24 Wine Bottle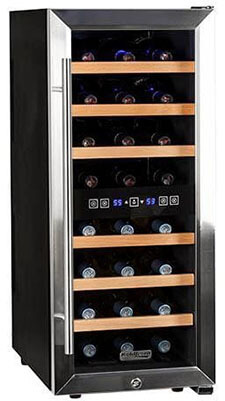 If you are looking for a freestanding wine cooler, this model will not disappoint. This freestanding model lets you store up to 24 bottles of wine at their optimum temperatures. It has two temperature zones which can be controlled by a centrally located control panel. This control panel also features a button controlling the blue LED light inside. It boasts a tempered glass door that when combined with the light allows you to show off your favorite collections to friends and other collectors. It's black cabinet and stainless steel trim makes it a perfect addition to any room. There is also a lock included to keep your favorite bottle safe and keep children out of harm's way. For the price, this unit is 100 percent worth it.
6. Igloo Wine Cooler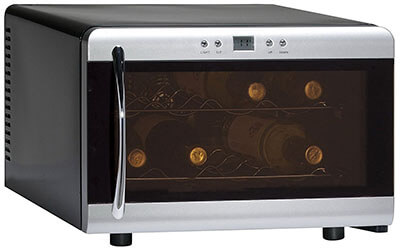 This unit is perfect for anyone working on a tight budget. It is an entry-level wine cooler that lets you store up to 8 bottles of wine in a sleek and stylish unit. This countertop cooler is equally great for those who don't have the advantage of space. The small and lightweight design makes it a preferred model for many people. Give your kitchen or dining an elegant look with this modern-styled wine cooler. It has a 2-layer glass door and white interior light to show off your latest wine collection. The digital adjustable temperature control makes it perfect for both red and white wines.
5. Kalamera Wine Cooler Fridge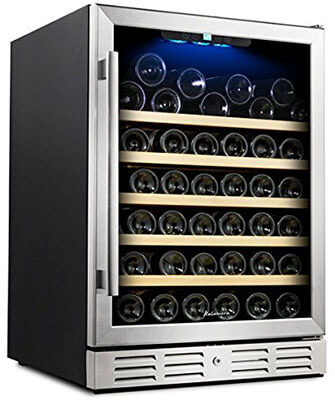 Kalamera's 24-inch unit is a 54-bottle wine cooler fridge with a triple-layered tempered glass door. If you are shopping for the best price wine cooler, you might want to check it out. This tempered glass helps stabilize the temperature levels and prevent the glass from fogging. The low vibration and low noise compressor keep the wine sediments undisturbed so your wine tastes fresh. The soft blue LED light showcases your wine collection to friends and other wine collectors. This single-zone system is built with six beechwood racks and a carbon filter to protect against odors.
4. AKDY Freestanding Wine Cooler Fridge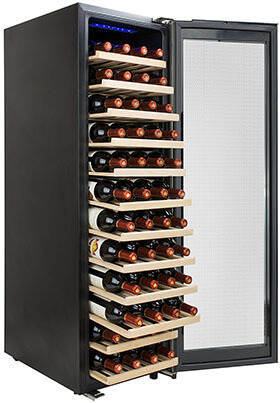 Making it on this list of the best wine coolers is this freestanding unit by AKDY. It has 12 wood shelving and has a capacity of up to 58 bottles. The unit stands at 50 inches high and weighs approximately 94.3 inches. It has a temperature range of 40-66 degrees Fahrenheit. The wood shelves slide out for quick access. The cooler fridge also features touch-sensitive controls that let you adjust the temperature with just a tap of the finger. The tempered glass aside from showcasing your collection helps block unwanted UV rays. Other features of this unit include adjustable legs, child safety lock, and LED lighting.
3. NutriChef Countertop Wine Cooler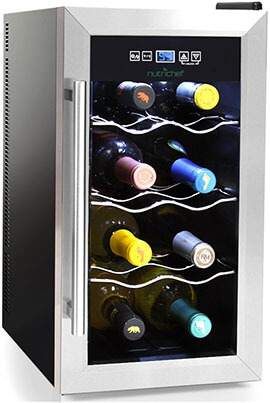 If you are working with limited space, then this countertop wine cooler fridge will deliver. It is a freestanding refrigerator designed to accommodate up to 8 bottles of wine. The wine chiller is equipped with thermo-electric cooling technology that allows you to chill your favorite red or white wine to perfection. It also features built-in circulation fan, ventilation grill and integrated LED lights. This unit is perfect for aspiring and enthusiast wine collector. Besides, it sells at a pretty reasonable price tag so it won't affect your wallet. Its sleek design adds a nice touch to any room. This under counter wine cooler is perfect for any home kitchen or office.
2. Kalamera Freestanding Wine Cooler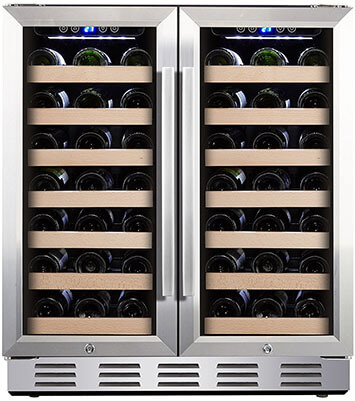 This freestanding unit holds up to 66 bottles of your favorite wines in different sizes. It is the best choice for wine lovers who have different wine collections to showcase. It has French-style glass doors that open in the center. This unit lets you keep your red or white wine perfectly chilled at the optimal temperature by placing them in different zones. There is a built-in alarm that beeps if the door is not closed properly.
1. Phiestina Wine Refrigerator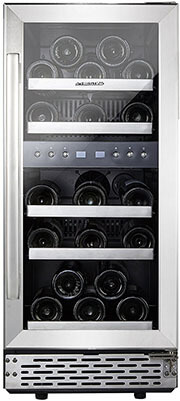 Phiestina's unit is the best price wine cooler to buy this year. This 15-inch freestanding unit holds up to 29 bottles of wine. Unlike other models, this wine cooler is quieter and works with no frost thanks to its advanced compressor cooling and air defrosting system. The unit has two separate temperature controls giving you the perfect environment to chill down your favorite drinks to the best flavor. Its sleek and ergonomic design makes it perfect for both personal and professional use. If you are shopping for the best wine coolers, then this unit is worth your attention.