One of the best and simplest ways of enhancing the interior décor is through window treatments. Now, the choice of the window curtain that you choose is a great determinant in how your home will look like. This applies to both the interior and exterior look. That's why our article will act as the ultimate guide for you next time you want to have a makeover for your windows. For the window curtains, it is not very hard choosing the best. All that counts include the fabric, color, length, and lining. Also, you need to choose well between the custom made and off the shelf. With a variety of styles and brands to choose from, you might feel overwhelmed when choosing the best.
Now, color and fabric are the top things you need to prioritize. For the fabric, it is crucial since it will determine how excellent the curtain will function and how long it will hold. If the two factors score highly as per your expectations, then that might be the best option to pick. However, there are other important things to factor in too.
The material should be durable in the essence that it won't fade no matter the style of washing. There is no point in purchasing a particular curtain that looks so colorful on the first week, but later in the year, it looks old and ugly. The other primary considerations are the size, and in this case, we are talking about the length of the window curtain. For the length and width, you need to add some extensions to ensure window fullness once you install. The custom windows treatments allow customizing the dimensions to facilitate tailored look. With the few points, here are the top 10 best window curtains.
List of Best Window Curtains
10. Elegant Comfort Curtain Panel Set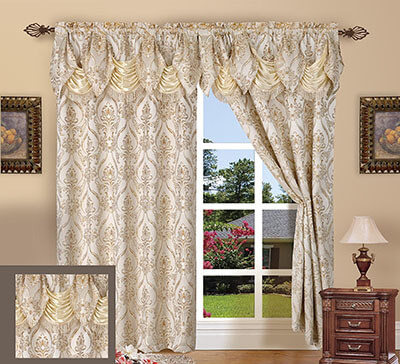 This curtain panel set is the best way to add a nice touch to your living room space. The neutral beige tone makes it easy to match with any interior décor. The curtain set also comes in seven different colors so it is easy to find one that matches your room styled. The set includes 2 panels each measuring 54 by 84 inches. The polyester material is machine washable. This window curtain truly deserves a spot on this list thanks to its beautiful design and low price.
9. Utopia Bedding Window Curtains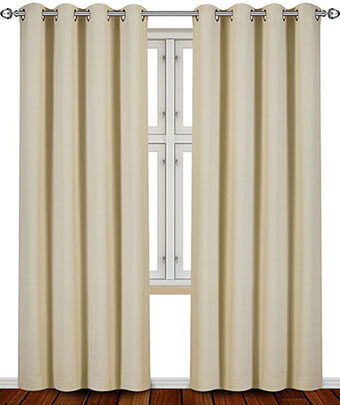 The package includes two panels measuring approximately 52 by 84 inches each. These panels can cover a total area of 104 by 84 inches. There are 8 grommets per panel. Besides, when you buy this window curtain, you also get two matching tie back. What a great offer at this price range no wonder it ranks as the best window curtain on this list. There are many reasons why this window curtain has over 3,000 reviews online. For one, it blocks up to 99 percent of light. It also filters 60 percent of outside noise from entering the room. Besides, having an elegant design, it comes in different tones so you can choose one that matches your room décor.
8. Acelitor AMAZLINEN Blackout Curtains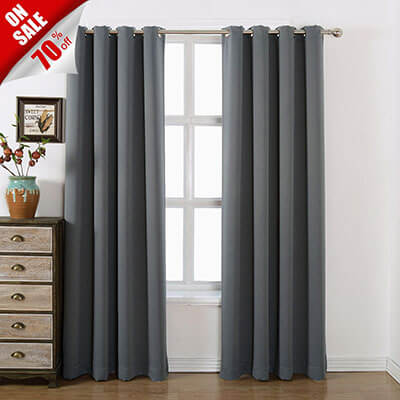 These Blackout Curtains are perfect for bedrooms. They are made of polyester and measure 52 by 84 inches each. The blackout window curtain blocks up to 95 percent lights and reduces the outside noise to give you a peaceful and private sleep environment. It is machine-washable, non-toxic and has no chemical making it safe for everyone. The curtains come in different tones so you can find a set that matches your bedroom's style.
7. Nicetown Small Window Curtain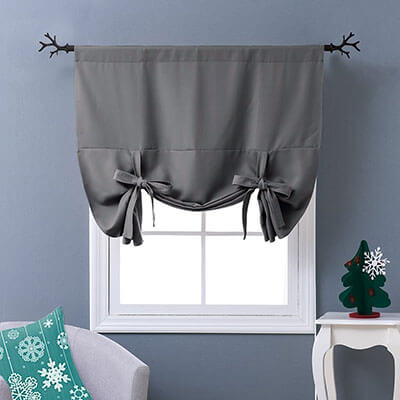 This curtain is perfect for small windows. It is made of 100 percent polyester material. If you are looking for kitchen window curtains, then your search is over -this is the best window curtain so far. It also looks good in bathrooms or living rooms. The sophisticated design lets you decorate your window with great styles to give your space a modern touch. This curtain is machine washable so you should not worry about maintenance. You can tie up the shades to enhance the look of your window or untie if you want privacy. The dark color blocks light and UV rays so if you can also have it in your bedroom.
6. Miuco Grommet Window Blackout Curtains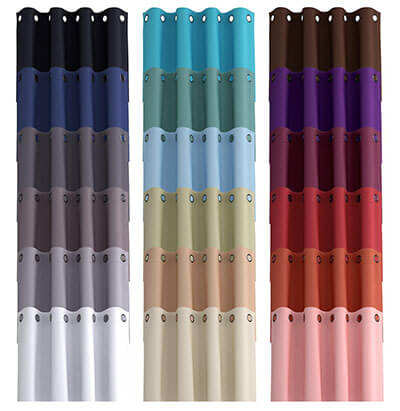 Another great design we can't overlook is Miuco's window curtain. The set includes two panels each measuring 52 x 63 inches. There are 8 metal grommets per panel. These window curtain sets look more elegant than other designs within this price range. The curtain's triple-weave design helps block sunlight and UV rays. The curtain can also filter at least 60 percent of outside noise to give you a darker and quiet sleep environment. The window curtain is perfect for day sleepers or day sleepers. Buyers love this curtain because it helps keep heat in the room during winter and out during the hot summer days.
5. Jinchan Quatrefoil Linen Blend Curtains
This window curtain has a Moroccan print design with visually clean lines giving it a nice modern look. The set contains 2 panels each measuring 50 by 84. It is offered in four different colors so it is easy to find one that matches your room style. While the curtains allow for privacy, they still let some light filter through. The curtain has gorgeous matte silver grommets. It ranks as the best window curtain thanks to its beautiful design and durable linen blend fabric. For the price, this curtain is truly worth every dollar.
4. Jinchan Curtains for Bedroom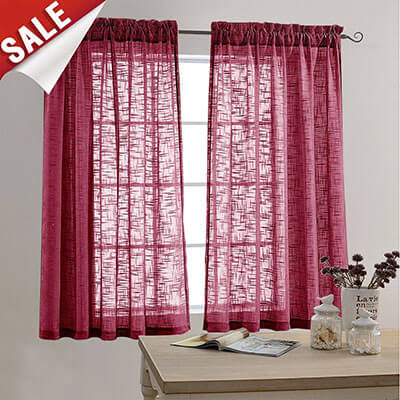 One package comes with two panels each measuring 52 by 63 inches. The window curtain is perfect for living rooms and bedroom. There are different colors to choose from so you can easily settle with one that matches your room's décor. The curtain filters out the harmful UV rays and protects your furniture from fading. The curtain features a beautiful subtle cross pattern design to add a nice touch to your room.
3. Fairyland Blackout Window Curtains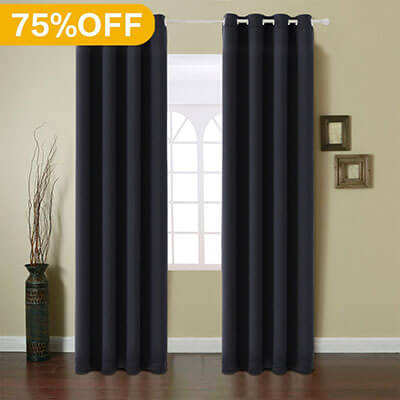 If you want thermal insulated drapes for your bedroom or living room, you might want to check out these window curtains. It is made of premium quality polyester material. The fabric is smooth and super comfortable. The 3-layer woven technology and UV semi-fiber technology helps block the lights and keep out the harmful UV Rays. It can reduce the outside noise to 40 percent to keep the room quite and give you the perfect sleep environment. The simple, elegant and classical design of this window curtain matches any room décor.
2. Deconovo Window Curtain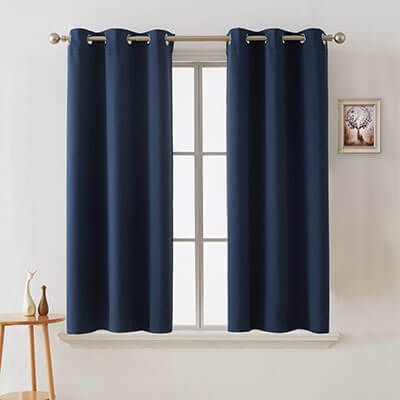 These window curtains are available in five different sizes. They are sold in two panels per set. The curtains have six stainless silver grommets with 1.6-inch inner diameter. Deconovo Window Curtains are made of 100 percent polyester material and come in different colors. They are soft, drapery and silk like. These curtains are truly pleasing to touch. They will match perfectly in any living room or bedroom window to give you the utmost privacy.
1. IdealHouse Short Tier Window Curtains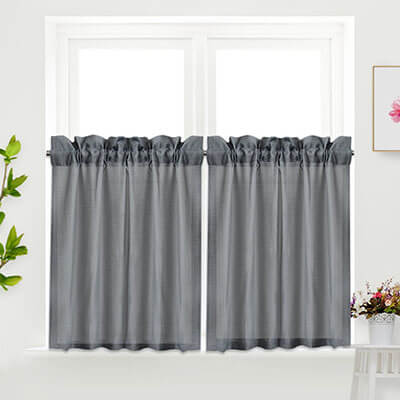 IdealHouse design works well as kitchen window curtains but you can also put them on the bathroom window. The short tier curtain is made of waffle weave fabric. This material is highly durable and sturdy. It is also water repellent and dustproof no wonder it has won the heart of many people as the best window curtain for kitchens and bathrooms. The curtain's modern and stylish design makes it look great on any window. They are not only used for decoration but to also block sunlight and provide enough privacy. Wherever you want to put these curtains, they will definitely look great.