Pets are lovely creatures and most importantly a great investment that lights up our fun world. While the benefits that pets offer to their owners may be second to none, it's without a doubt that they come with a lot of responsibilities like taking care of their need that is healthy wise, diet, time to exercise and the list can go on and on.
It is important to keep these little creatures hydrated just like human beings, and this is made simple by the invention of the quality water fountain for cats and water fountains for dogs.Those days of serving our pets with water in a bowl are long gone, invest in a pet fountain and your pet will have a good feeding experience.
While we understand that water fountain market may be much saturated, we have carefully researched the web and compiled a list of top 10 water fountains cats and dogs so that you can compare and make a wise decision.
List of Best Water Fountains for Dogs
10. Homdox Automatic Electric Water Fountain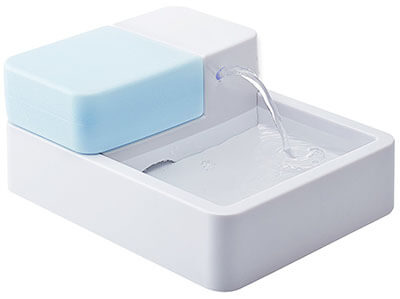 Homdox designed this pet fountain with quality in mind, from the look alone you will tell that this water fountain is high-tech. Another amazing feature is that it provides healthy benefits, the water that comes out of it is first filtered before your pets drink and you can rest assured that the pets are consuming clean water.
Another great feature is that the pet fountain has a big multi-level design and both your cat and dog can drink from it at the same time without scrambling for space.
The running water ability makes it easy for pets to drink water regularly as they see it as fun. It is easy to install this pet fountain and is small enough not take up a lot of space in your house.
9. Drinkwell Outdoor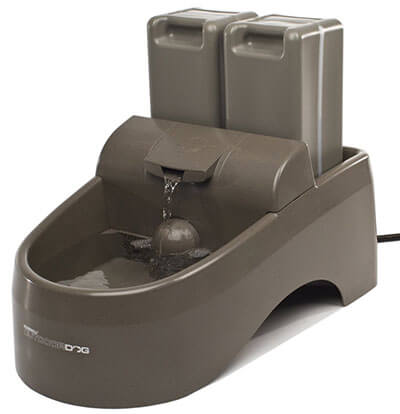 PetSafe Company had the safety of your pets at the heart of their business when they were designing this water fountain.While it can hold water to a capacity of 3.5 gallons, this makes it ideal for use by multiple pets both big and small.If your pets don't like drinking water, then this water fountain is a great choice for you as the free-falling water stream will entice them to drink more.
The pet fountain is deep enough to prevent water from spilling or splashing.It features a high-tech carbon water filter that eliminates all bad odors, pets' hair, and bad taste. From the leading manufacturer of Pet safety products in the US, this pet fountain is ideal for use both indoors and outdoors.
8. Drinkwell Platinum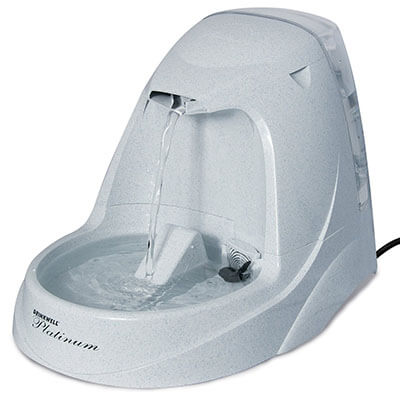 With 168-ounce water capacity, this is one of the coolest water fountains for dogs and cats ever manufactured by PetSafe Company. This item is ideal for use by pets of all sizes and has a free-falling water stream feature that makes it easy for Pets to drink water and keep themselves hydrated all day.
The pet fountain also comes with a built-in reservoir that increases capacity and needs less refilling. It's easy to clean as it's dishwasher safe with a BPA-free plastic design. For safe use, it's advisable always to keep the water above the minimum level.
7. Raindrop Stainless Steel Pet Fountain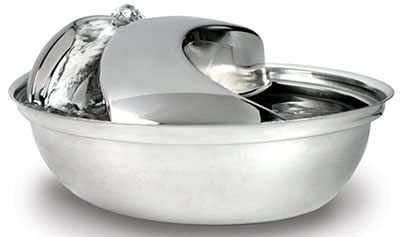 Whenever you think of quality, great design, and durability, you should picture any product from Pioneer Pet Company. This water fountain for dogs and pets is one of its kind. While other pet fountains are designed with free-falling water feature this one here has a circulating drinking water feature that is appealing to your pet.
To maintain ever clean and pure and healthy water for your pets, it features a replaceable charcoal filter. The easy to clean fountain water is dishwasher safe and its crafted with a higher quality of stainless steel.
6. Drinkwell 360 Pet Fountain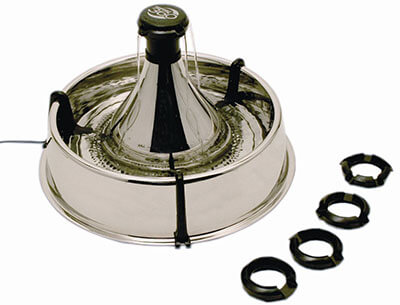 Another state of the art water fountain for dogs from PetSafe Company. With a capacity of 128 oz, it's ideal for multiple pets. Designed with an adjustable flow control cap that enables you to control the water flow this pet fountain is worth every penny.
It's made of a high-quality material of stainless steel that makes this pet fountain always to look clean and new every other day. Additionally, this pet fountain was built with innovation and creativity in mind, and it's has a 360 design ideal for multi-pet households.
5. 360 Fountain for Pets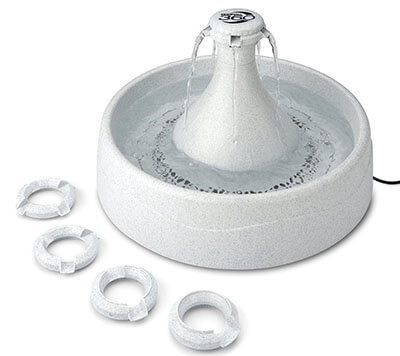 Crafted with a round 360 shape, this is an improved version of Drinkwell pet fountain from PetSafe Company. It allows 1-5 changeable free water falling streams that entice pets to consume more water. More so, this pet fountain is crafted to keep the water fresh all the time as it features a changeable carbon water filter.To regulate the water flow, this pet fountain features an adjustable flow control cap. It's perfect for use by multiple cats and dogs of different sizes.
4. Removable Food Bowl Water Fountain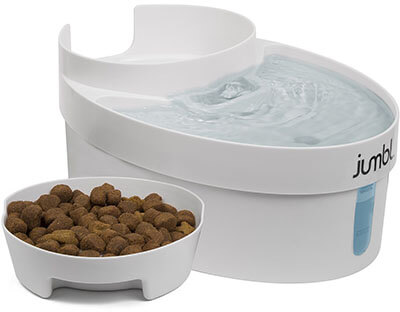 If you are in search of quality, well crafted and a multi-purpose pet fountain here is the perfect one for you from Jumbl. This pet finder with a built –in safety light that ensures no one can step on it or bump into it at night, also for easy trace if your pets get thirsty at night and lights are off. Additionally, it comes with a removable bowl with a capacity of up to 800ml, this Pet Fountain offers nothing short of convenience.It comes with noise –free water pump for easy operation and an activated carbon filters that keep the water fresh and pure all the time.
What makes this pet fountain clean is that it's dishwasher safe and it's easy to remove disassemble most of its parts.Ideal for use by multiple pets at a go, this water fountain for dogs comes with a one year warranty an excellent choice for all pet owners.
3. Big Max Stainless Steel Fountain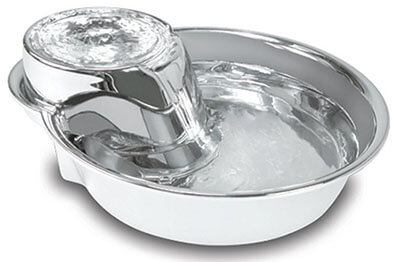 If you like a great design, you will absolutely love this dog water fountain from Pioneer Pet Company. It is spacious enough to be used by more than one pet at the same time. Crafted with a high quality of stainless steel material and a replaceable charcoal filter your pets are assured of drinking healthy, clean and pure water all the time.Its classic design will compliment any home décor. Besides, it comes with a manual user guide that offers step by step installation guide for easy installation.
2. Drinkwell Big Dog Fountain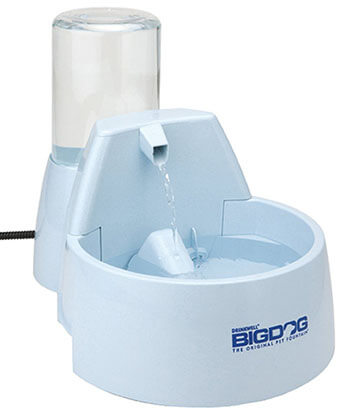 From all indications, it's without a doubt that Petsafe has taken over the pet fountain market, this company has been on a forefront of competition for all the right reasons of producing pet safe products this one here, not an exempt.Designed to hold 2.25-gallon water capacity it's perfect for big dogs use or many pets.
It comes with a free-falling stream that entices your pets to consume more water in a bid to keep them hydrated. This item was designed with safety in mind, with replaceable water filters the water is kept pure, clean and safe for drinking.It features a removable gallon reservoir which increases water capacity and helps maintain the minimum water level.
1. Drinkwell Ceramic Pagoda Fountain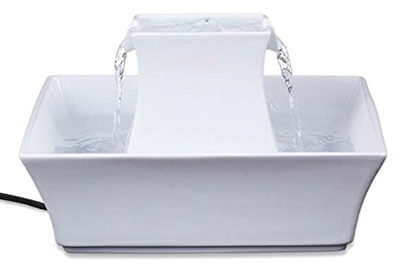 PetSafe is a re-known company that has built a strong brand name over decades now. This is one of the top notch Pet fountain that you will ever come across, with 70 oz water capacity it is perfect for medium-sized cats and dogs. Unlike other water fountains out there in today's market, this has a dual free-falling stream with an ad of oxygen this pet fountain will entice pets to consume more and more water. Crafted with a porcelain design it will compliment all your home decors while still providing hygienic features.
It features two dish areas upper and lower for easy of drinking. This water fountain is easy to install and clean as its dishwasher safe.Manufactured by the re-known company, this water fountain for dogs is second to none out of all pet fountains that are there in the market. If you are in search of a high-tech water fountain for your pets this one here will be worth every penny.
Conclusion
Water is life, and your pets need to drink water for survival. While technology has come about to simplify things you can now shop for above products from Amazon from wherever you are hustle breeze.If you have been a bit skeptical in selecting the best pet fountain for your pets, rest your worries your pet deserve the best and that why we have carefully researched for you the top 10 best water fountains that are durable and high-quality to aid you to choose the best water fountain.