The use of the body vibration machine has lately become the new and popular way to spend a little time on workout while still getting into shape even faster. This alternative exercise regimen – whole body vibration therapy – is becoming increasingly popular all over Europe, Asia, and even the United States, found in gyms, rehabilitation centers, weight loss salons and some people's homes.
But why so many praises on the body vibration machine? Well, many people who use this vibration machine claim that it reduces workout time by nearly half and is especially a welcome concept to those struggling to fit workouts into their already-busy schedule. To any newbie, the main question remains, is it worth it? Does it work?
Looking for the best WBV Machine? Unfortunately, this may be a daunting task and business not to be taken lightly. We've made things a bit easier for you with our best pick of the ten best vibration machines for 2020 you'll undoubtedly want to put into consideration.
List of Best Vibration Platform Machines
10. Ancheer Whole Body Shaped Vibration Platform Machine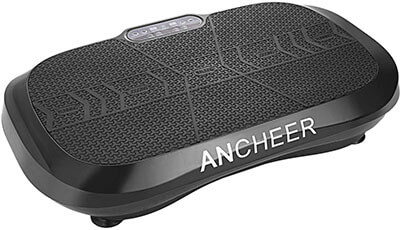 The Ancheer vibration machine is designed for fitness training and providing therapy for a few medical conditions. The vibration platform features a compact durable design with 99 adjustable speed settings. The machine supports a maximum weight capacity of 330 lbs. It comes with two resistance bands and a remote control to increase performance. With the built-in USB speaker, you can always enjoy music while working out. There is an LCD screen that shows the speed, time and programs and you can touch the screen to make the necessary changes you want. This unit features non-slippery suck discs at the bottom that stick to the ground tightly making it safe for training.
9. Pinty Whole Body Vibration Platform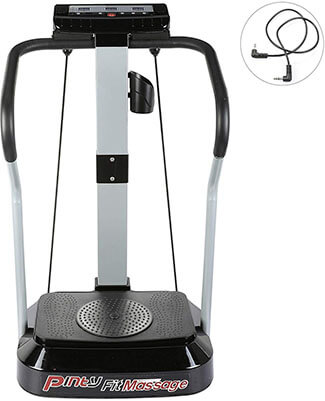 This new model comes with a powerful 2000W motor that effectively shakes your whole body. It has an integrated MP3 player that lets you enjoy your favorite music while you work out. The built-in cup holder is also perfect for your drinks if you want to stay hydrated. The unit is durable enough to support a maximum capacity of up to 330 lbs. Its foldable design makes it great for small spaces so if you don't have the advantage of space, this is a model you want to purchase. Pinty's model also has an easy-to-use LED display that shows the time, mode, and speed so you can conveniently monitor your body. Its 99-level speed adjustments assure you the right workout intensity that meets your particular need. The non-toxic non-skid ABS base ensures that it stays tightly in place as you exercise. There are two resistance straps for you to work out your upper body in different positions.
8. VT Vibration Platform Machine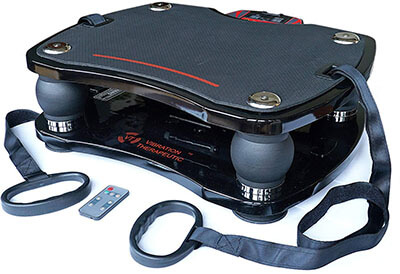 The VT003F model is a high-frequency vibration machine that generates 3D linear vibration with a frequency range of 15-40Hz. This high-frequency pattern is perfect for those who focus more on relief, muscle stiffness reduction and bone density improvement. The unit is quiet and powerful built with dual vibration modes and full adjustment. It has a perfect size and is not too heavy to move around. It comes with a remote control that makes it easy to operate it. Given the low price, you might be worried about the overall build of the unit. You should not because this machine is durable enough to hold a large weight and it can last for long.
7. Evokem NEWS Hurtle Vibration Platform Machine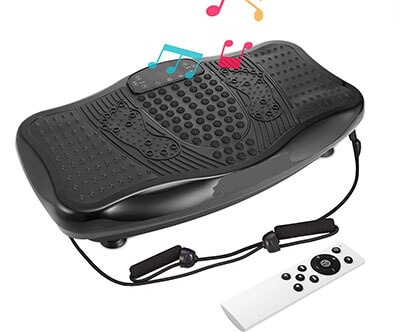 The Evokem body vibration machine can help increase your muscle strength or promote blood circulation. There are numerous health benefits that come with this vibration machine. You can also use it for your regular fitness routine. It has 180-speed levels and 5 different programs so you can set it to your preferred mode depending on your need. Evokem NEWS has yoga straps to help you work your upper body and arms. It features a clear LCD display, a massage foot carpet and non-slippery suck discs that should make workout safe and noiseless. The USB speaker lets you enjoy your favorite music as you workout.
6. Z ZELUS Whole Body Vibration Platform Machine
This whole body vibration machine features powerful 200W dual motors that help create high-frequency vibration. It is a great compact model that should help you workout, increase bone density or improve circulation with minimal movement. The motor is super quiet and will not distract you or anyone even during an intense workout. It features a large LED display that helps you keep track of the most important information. There is also a remote control that makes it easy to change the speed or program. The removable resistance straps should help you work your upper body and arms for the best results. This machine also features rubber wrapped feet that helps improve stability while still protecting your floor.
5. Confidence Fitness Slim Full Body Vibration Platform Fitness Machine, Blac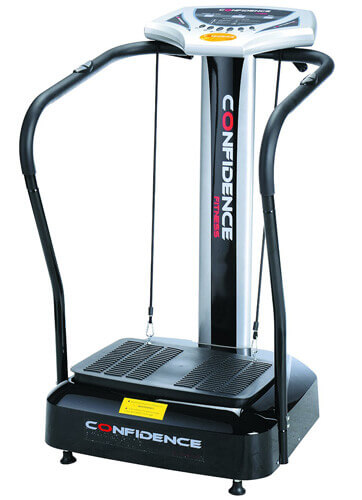 This vibration machine is worth your money. It is quite affordable opposed to the commercial vibration platform machines. The Confidence Slim Full Body helps increase your muscle strength and improve circulation without lifting any heavy weights.
Moreover, the vibration plate has yoga straps that make it quite beneficial in improving the upper body and your arms. Conversely, you can extend the straps in different positions to work different muscle groups. It has a user weight of 300 pounds with three workout programs and 50 speed options making it easier for you to adjust the machine.
Spend 10 minutes on this vibration machine and you'll feel the equivalence of a 60-minute routine exercise. And while it doesn't offer dual-motor capabilities, the Confidence Fitness Slim's 1.5hp motor will deliver significant pivotal vibrations.
4. Merax Vibration Platform Machine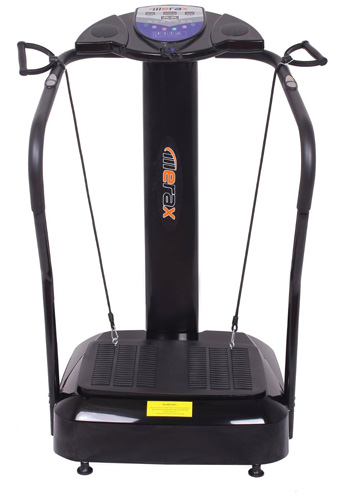 The Merax Vibration Platform Slim has a vibration type of triangular oscillation frequency and comes with ten different preset programs. The machine is the best for muscle toning and building, weight loss or cellulite reduction if these are your health and exercise needs.
It has an intense massage vibration with up to 160 speed you can easily adjust to meet your goals.
It's easy to operate console makes it quite a preferable option to many customers while the fitted yoga straps help improve your upper body and arms. The 2000w with a user weight capacity of 300lbs equally has four LED windows for program, time and speed.
3. Merax Vibration Full Body Platform Fitness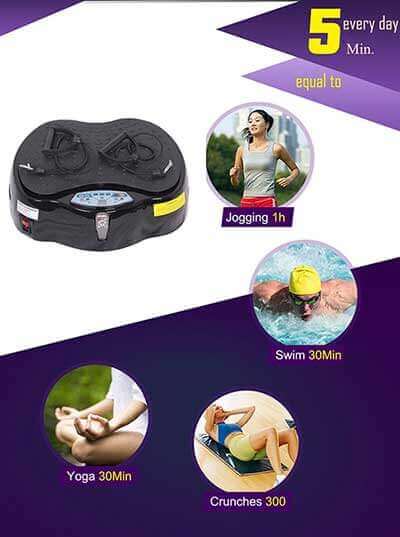 Merax's vibration platform is perhaps the most affordable machine model available in the market, perfect for that person looking to spend less on this type of equipment. This vibration platform is ideal for anyone looking to have a powerful body vibration machine that equally saves space.
Thanks to its small size, you can use it wherever you are, and it is quite easy to store. It comes with a remote control, arm cords and an instruction manual making it additionally easy to use. What's more, these arms resistant cord attached to the vibration plate with thick handles help in toning major arm muscle groups.
This machine is undoubtedly ideal to use while watching TV or listening to the radio as it runs almost silently during your workout. Further, the Merax 1000w Full Body has a triangular oscillation frequency vibration type and comes with three different preset programs. With a maximum power of 1.5HP and fifty speed options, you'll undoubtedly get the most of your workout session using this Vibration Platform Fitness.
2. Gadget Vibration Plate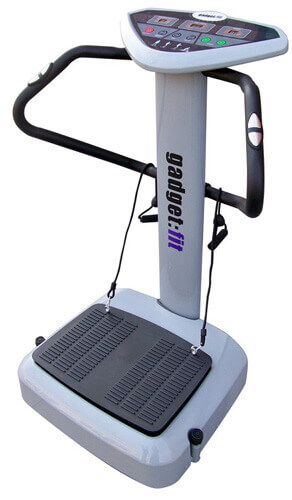 The Gadget Vibration plate is an entry-level contender designed for anyone under 265 pounds looking for a budget machine to use. This small vibration fitness machine is equally the best choice for those looking to reduce cellulite and reduce stress while improving their overall health.
While it may have a vibration plate much smaller than other models, the machine has a convenient data display and 50 incremental speed settings allowing your body time to adjust. Further, it includes anti-static and anti-jamming mechanisms with an oscillating motion plate.
The 62lbs Gadget Vibration Plate is built with three sperate workout programs and delivers great results in a short span of time giving you your dream body with less work.
1. The Whole Body RS2200 Machine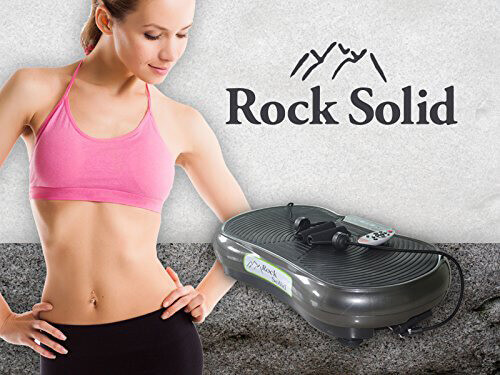 The portable Rock Solid RS2200 is a convenient WBV machine that can be used both at home and in the office. It has a total weight capacity of 330lbs and is a great machine for promoting weight loss, blood circulation, and bone density. This easy to use machine with an ultra streamline design has a weight capacity of 330lbs and comes with variable speed options.
The RS2200 from Rock Solid Wholesale does not include handle straps and has variable speed options. Just as the name suggests, the machine is super stable with thirty speed levels helping you adjust well. It's sturdy and durable build makes it a preferred option especially because it promises value and function for years.
Do vibrating platforms work?
While there may be many different views about vibration exercise, we'll let you be the judge and decide from its benefits whether the body vibration machine works or not. The body vibration plate works when you stand on a platform with the vibrating plates beneath your feet.
It may feel strange standing on a vibrating plate, but it isn't unpleasant at all, and the results you'll get in the end will make vibration exercise worth trying. The machine comes with a lot of benefits proving to be convenient and efficient to anyone using it.
Of course, aside from cutting your workout time in half, the vibration platform equally helps in strengthening and toning your muscles, improving flexibility and balance while aiding in building even stronger bones. Moreover, body vibration exercise raises your metabolism and additionally improves blood circulation in your body.
How to choose the best vibration platform machines
Many people who opt for the vibration machines do so with the main intention of improving an aspect of their health and if this is your primary objective as well, then you'll need to find a vibration platform with features and functions that best serve this purpose. What should you bear in mind when choosing the best vibration platform machine?
Consider the ease of use
When evaluating vibration platform machines, stability becomes an important consideration. You need to feel comfortable and stable while holding different positions during your exercise, reading the displays on the machine or while making adjustments. Therefore consider essential elements like the size of the vibration platform and ease of mounting and dismounting.
Versatility
Some whole body vibration exercise routines will require a pivotal motion while others will need a linear motion. Additionally, others will provide some lateral motion to enhance the pivotal or linear effects. While shopping around, consider this or models that feature the dual-motor technology – a technology that allows you to choose between linear, pivotal or both.
Consider the price
How much are you willing to put on a vibration machine? While commercial vibration machines may cost thousands of dollars, there are more consumer-friendly models you can settle with provided they have features that will benefit your specific health or exercise goals.
Conclusion
There are many WBV machines to opt for but of course, when we talk about your fitness and health, you want a body vibration machine that works best to meet your desired needs and goals. With considerations such as price and ease of use in mind, you can get a vibration platform that not only serves your needs but equally, meets your budget. Moreover, this list of the top 5 vibration machines can be a great start in choosing one that works best for you.