Everyone needs to have proper support and comfort when sleeping. This is not limited to adults as toddlers also require this experience. However, some parents use adults pillows in their toddler beds. Adults pillows are far thicker than baby needs. Due to this, different companies concentrate on making baby pillows. Based on the age of your kid, it's possible to get the right pillow. Although many pillows come in the name for toddlers, not any product will be ideal for your kid. Thus, every parent needs careful consideration when searching.
One of the most crucial aspect parents needs to know, is when to introduce a pillow to their baby. This is crucial for the baby health and safety. Typically, babies at very tender age don't need pillows. However, when the baby is around 18-24 months, it's an ideal time to introduce a pillow. Ideally, it's when the baby is in the transition from a crib to bed. But, close monitoring of your kid will notify you when to introduce a pillow.
When it's time to provide a pillow for your kid, it's essential to be careful. Safety and comfort are the main aspects that every parent needs to look. Well, to ensure perfect relaxation, a pillow needs to be free from allergens. Mostly, the construction materials need to be in line with children safety regulation. On the other hand, decide whether soft or firm pillow will fit your kid. Balancing between firm vs. soft brings excellent comfort. Other quality worth mentioning is the pillow cover, it should be soft, easy to clean and hypoallergenic. Other includes pillow fill; thread count and the safety guarantee.
List of Best Toddler Pillows
10. A Little Pillow Company Toddler Bed Pillow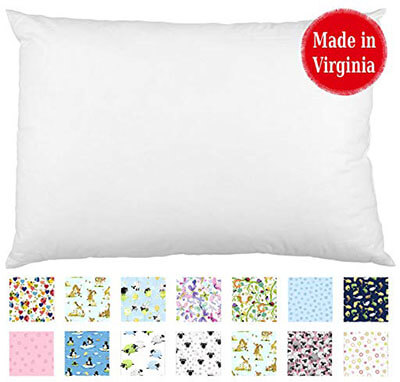 Coming from a brand with more than 10 years experience, this toddler bed pillow assures you nothing but the best results. It is 100 percent hypoallergenic and is double stitched for extra durability. The pillow measures only 13 by 18 inches and is machine washable. The pillow is just the right size for your little one; it is neither too big nor too small. The cover is 100 percent cotton with a deluxe cluster fiber.
9. Dreamtown Kids Pillow and Toddler Pillowcase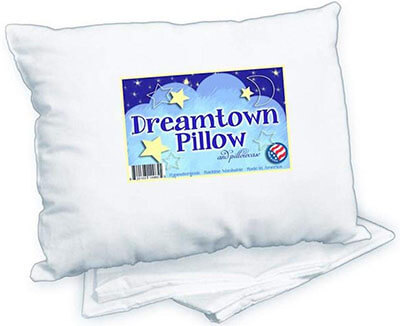 The poly/cotton blend pillow measures 14 x 19 inches. This blend makes the pillow affordable and easy to maintain. It contains dense yet soft fiber that provides the best neck support for your little one. The best part is this pillow is not too big or small for your child. It is just the right recommended size for children. Both the pillow and toddler pillowcase are 100 percent hypoallergenic. They are all mold resistant and mildew resistant. Ranking as Amazon's choice for toddler pillows and with numerous positive reviews online you can be sure your money is in the right place.
8. Snuggle-Pedic Toddler Pillow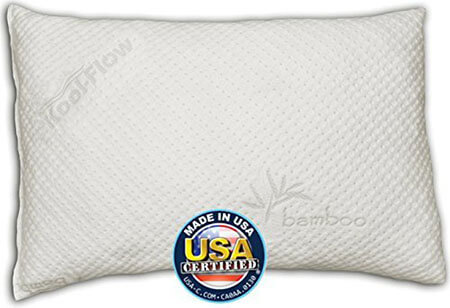 Another brand you want to check out if you are looking for the best toddler pillow to buy. Measuring only 18 x 13 inches, this toddler bed pillow is just small enough to fit your little one. It is perfect for kids of all ages. The mixed combination of foam is fluffy and resilient enough to adjust to any position your child sleeps. The breathable material lets air circulate through the pillow to keep your child cool throughout the night. The pillow is hypoallergenic and dust mite resistant.
7. My Little North Star Organic Toddler Pillow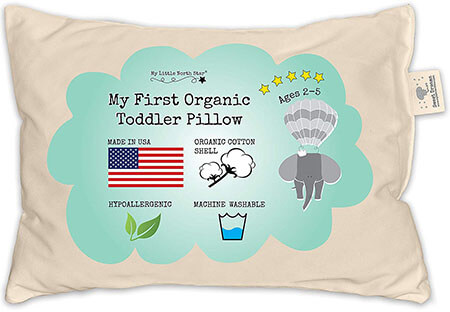 This organic toddler pillow measures 13 by 18 inches. it is the best toddler pillow for kids between 2 to 5 years old. The pillow is made of 100 percent organic cotton shell and hypoallergenic poly cluster fiber filling. Unlike other pillows, My Little North Star is chemical free and contains no herbicides, pesticides or fungicides. This organic pillow is 100 percent safe. Besides, it is both mold and mildew resistant. Because of its small size, this can be a great travel pillow for your child. This size is recommended by chiropractors because it is the perfect size that supports toddlers' spine and little necks encouraging deeper and restful sleep. The pillow is great to use in cribs, planes or cars.
6. LANCON Kids Pillow and Toddler Pillowcase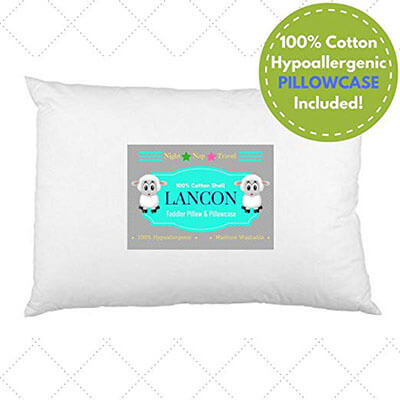 What makes this pillow worth your money? Well, for one, unlike other brands that sell a toddler pillowcase separately for nearly the same price as the pillow, LANCON Kids give you both products at a reasonable price. The pillow is only 13 x 18 inches small which is the recommended size for your child. It is 100 percent cotton with microfiber filling that is breathable and sensitive to your child's skin. Aside from being durable, this material is also machine washable. The pillow fits toddler beds and is also great for travel and sleepovers.
5. Best Toddler Pillow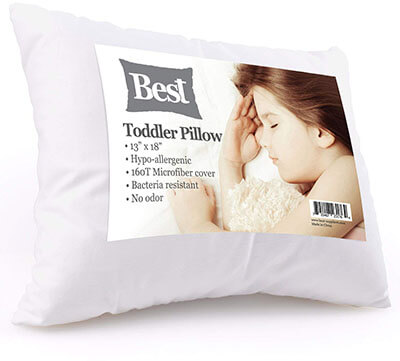 You don't need to purchase a separate toddler pillowcase when you settle with this pillow. Best Toddler Pillow is incredibly soft and 100 percent hypoallergenic. It is 13 x 18 inches small making it great for kids of all ages. The toddler pillow is made of polyester fibers giving you a soft yet sturdy pillow. The pillow works great on long rides so you can always take it with you on your next trip. With a money-back guarantee, you can rest easy knowing that your money is in the right place. We, however, doubt whether you'll ask for a refund because this pillow offers the best back and neck support and has microfiber clothing that serves well as a pillowcase.
4. Dreamtown Kids Organic Pillow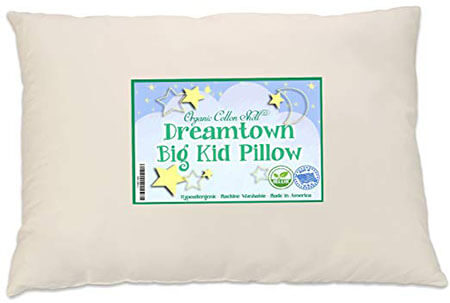 Ranking on our list is Dreamtown Kids' large size pillow. The pillow is designed for kids between 6 and 8 years. It has an organic cotton shell with polyfill. The pillow is 100 percent hypoallergenic and is safe on your child's skin. There are no allergic feathers or chemicals that react with your child's skin. At 16 x 22 inches, this pillow is larger than a toddler pillow but it is smaller than standard size pillows making it great for your school-going child. While it is designed for kids, grown-ups can also use it when traveling. It is squishy but firm and does not flatten after you wash it.
3. KeaBabies Toddler Pillow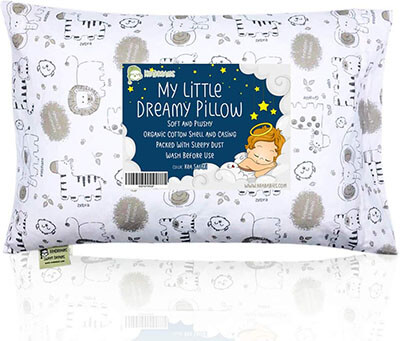 This organic toddler pillow comes with a soft and comfy pillowcase. It is perfect for baby cots and travels. The material is 100 percent hypoallergenic and machine washable. Both the height and softness adjust to different sleepers. There are beautiful safari prints that your child will surely love. KeaDreams Toddler Pillow is perfect for both girls and boys. It measures 13 x 18 inches which is just the right size for toddlers to sleep comfortably.
2. Restcloud Toddler Pillow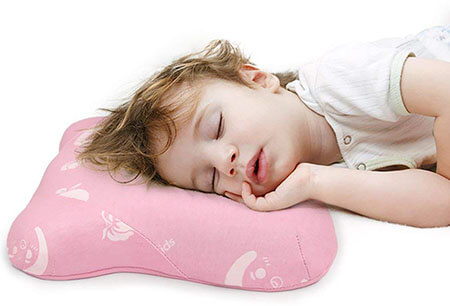 Restcloud toddler pillow is designed for kids between 2 to 7 years old. It is 100 percent safe and has two different heights for better neck support. This toddler pillow uses variable pressure foaming technology to retain its shape for continuous support of the head and neck. The premium quality material is resistant to allergens and mold. It features grass coral fiber cover that is resistant to mold, bacteria and dust mites. The cover is highly breathable. It is also removable and washable so maintenance should not be a problem. There is also a portable bag included in the package.
1. Save&Soft Orthopedic Toddler Pillow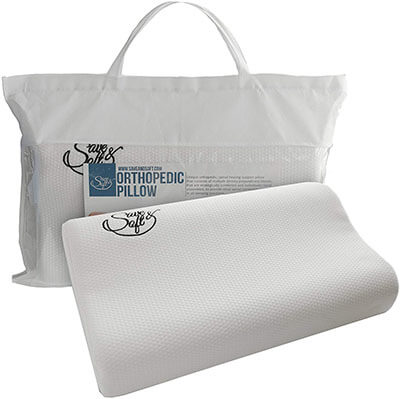 This orthopedic pillow weighs only 2 lbs and measures approximately 19 x 11 x 3 inches. It is smaller than the standard pillow but packs all the features that arthritis sufferers will appreciate. The pillow balances between comfort and firmness making it soft enough to relax your head and firm enough to keep it in the right posture. The pillow is latex free. It has a bamboo fiber zippered case with Aloe Vera. We love that the fabric is breathable. Besides, there is a built-in pad that keeps the body cool for a good night sleep. Whether you sleep on your side, back or belly, this is a pillow you want to take home.