The soccer ball has gone through various changes just as the football game. As opposed to yesterday's football ball that had stitches and seams and the classic black and white design, today's soccer balls are designed with the latest technology that lets the ball bend more, fly quicker and also dip harder. Besides, they are quite soft that they let players kick the ball further without risking injuries.
Much as we are grateful to use the latest technology in our balls, you still need the right soccer ball to add to your soccer equipment. Different things need to be put into consideration including but not limited to, the level of play, material, quality, and ball size. We've taken all these into account when preparing this list of the best football balls available on the 2021 market so be sure to read on.
List of Best Soccer Balls
20. MacGregor Rubber Soccer Ball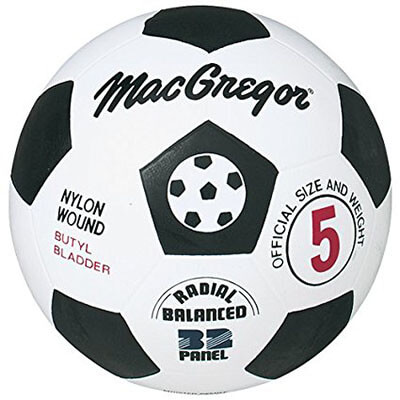 MacGregor's football ball has an official size of 4. It is the best rubber soccer ball to buy for a low price. It is a great starter ball for your little one and comes from high-quality materials that make it durable. Its Extended-life molded construction makes it the best playground soccer ball for kids. Besides, many customers recommend the MacGregor Rubber Soccer Ball because aside from being quite durable, it is pretty economical and worth the money you put on it.
19. Mikasa Sports Serious Football Ball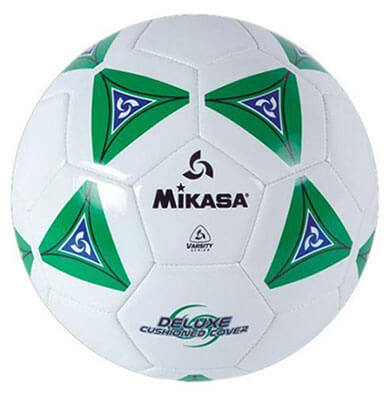 Mikasa comes in green, purple, red, and black shades. Besides, there is a size 3, 4 and 5 so you can always buy one depending on your unique needs. It has a one year warranty for your peace of mind. If you're looking for a new soccer ball to add to your soccer equipment, then the Mikasa Serious Soccer Ball is the right model for you. Moreover, this ball has a deluxe durable cushioned cover stitched with synthetic leather guaranteeing long term use. It has a butyl bladder that ensures maximum air retention thus making it always ready for action.
18. Tachikara Dual-Colored Soccer Ball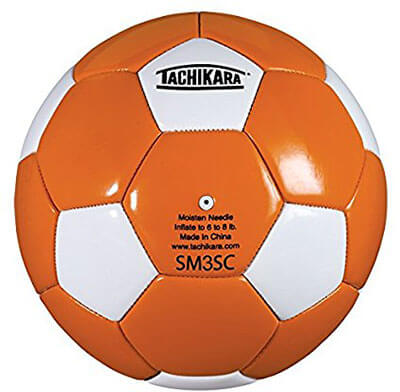 Tachikara ball is sold deflated at a reasonable price that is friendly to your pocket. The orange and white size-three ball is made of leather and machine-stitched making it very durable. It is the ideal ball for PE classes, for warm-ups, camps, and recreational play. This new soccer ball with butyl bladder is a great all around youth football ball.
17. Adidas European Qualifier Soccer Ball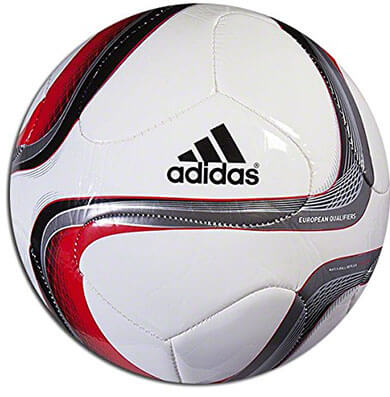 If you're looking for a great ball to add to your soccer equipment, then this top glider Adidas soccer ball is an excellent model to buy. It is a size 5 white-black-red ball that was part of the Euro 2016 collection used in the European Championships games by professional soccer players. No wonder the ball ranks as the best soccer ball on the market in 2021.
You may be worried because you feel it sells too expensive but this is not the case. With all these great features, the ball still ranks as an affordable ball. It features a machine-stitched construction with internal nylon wound carcass that ensures maximum durability and long-term performance. Further, the TPU material used on the exterior will resist abrasion, and the butyl bladder provides best air retention to keep it in shape and remain inflated for a long time.
16. MLS Glider Adidas Soccer Ball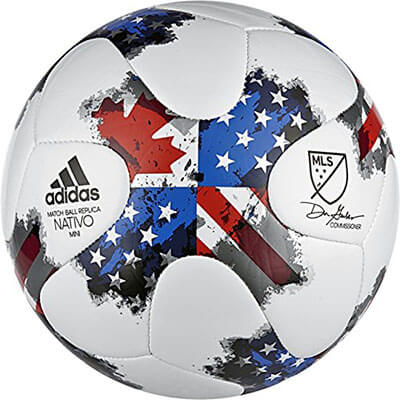 This Adidas Soccer Ball is part of MLS Soccer collection. It has a design inspired by the three MLS pillars. The ball comes in different sizes with the size three ball recommended for children below eight years, size 4 for children aged up to 12 years and the official size five suggested for those above 12 years.
The size 1 is a mini ball. Thus you'll need to check with your local league to know the size requirements before making a purchase. The MLS Glider has a unique TPU exterior material that resists abrasion and a butyl bladder that will keep it in shape and inflated for a long time. It is machine stitched and also has nylon wound carcass inside for durability and long-lasting performance.
15. Adidas Messi Soccer Ball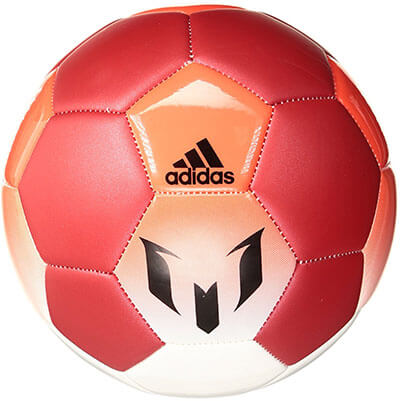 Any Messi die-hard fan will want to buy this Adidas Soccer Ball. Aside from having a football ball from a collection of a world-top striker, you'll add to your soccer equipment a high-quality model with great features that guarantee excellent performance in the playground. It is available in different shades and sizes that fit kids and children above 12 years old. The ball's machine-stitched construction makes it quite durable, and the internal nylon wound carcass ensures long-lasting performance. Besides, it has a butyl bladder that ensures best air retention.
14. Franklin Sports Pro Trainer Football Ball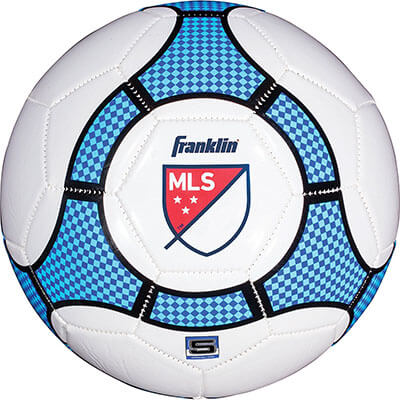 This size five blue soccer ball is an updated classic ball with a traditional 32-panel machine stitched design and a fun, colorful look. It is a great soccer ball for training and comes with a long-lasting air retention bladder that helps reduce deflation. The Pro Trainer new soccer ball has a durable cover with counter balanced graphics. Franklin Sports is a reputable company with years of experience making the best soccer equipment, and you'll undoubtedly want to purchase one of their soccer balls if you want to train and play like a pro.
13. Nike Club Team Soccer Ball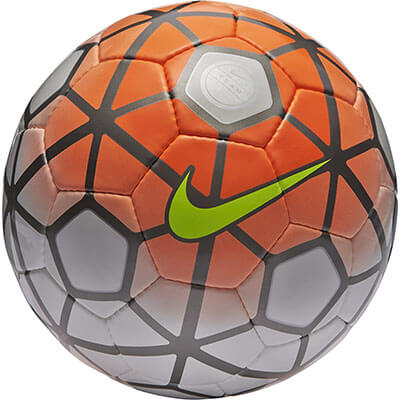 The ball has a solid feel and will not deflate quickly. It's fun and colorful design makes it easy to spot on the playground aside from making it look elegant with the Nike Company logo perfectly completing the design. It has great customer reviews because aside from having a great look and made from high-quality materials, it has a wallet-friendly price tag you'll want to purchase it for your little ones.
12. X Glider II Adidas Soccer Ball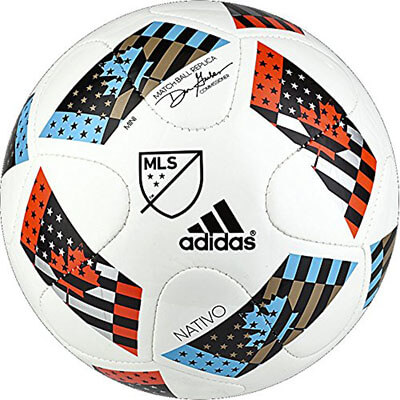 This Adidas Soccer Ball is made of durable, high-quality material making it ideal for all surfaces and any weather condition. It features a machine-stitched construction and nylon wound carcass. The ball further has butyl bladder that ensures better air retention, so the ball stays inflated for long. It is the perfect ball to help you train and play like a star regardless of the ground and the weather condition. There are different sizes and shades to match your unique preferences so no need to worry.
11. Bend-It Reverse-Curl-It Pro Soccer Ball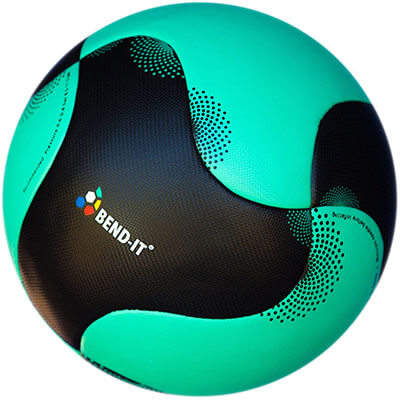 You'll undoubtedly love the Bend-It Football Ball. It has the most spherical shape and comes from Polyurethane water-resistant material to offer excellent performance to the novice and expert player alike. It has a latex texture that increases ball control grip while the thermal-fused seamless surface ensures low water uptake.
Furthermore, this ball has butyl bladder that ensures long air retention to make it stay inflated for long. The high visibility VRC – Visual Response Color – Technology lets you see the ball clearly in the field, and its kick-specific design allows you to see how you can bend it like a pro. It can be the best street soccer ball and youth soccer ball in colleges making it a must buy. It further has one of a kind VPM – Value Position Marker – Technology to improve your pro skills.
10. Nike Tracer Training Football Ball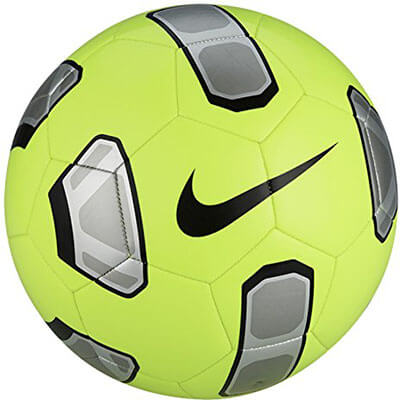 The Nike Tracer Soccer ball has a traditional 32-panel design that ensures accurate ball flight. It is machine-stitched and made of TPU material thus enhances touch and equally ensures durability. It is the best ball to add to your soccer equipment for recreational play. Besides, this soccer ball is durable enough to be a training ball if you're looking to improve your skills and play like a pro. It is available in three different sizes and shades so you can find one that truly matches your needs.
9. Vizari USA Football Ball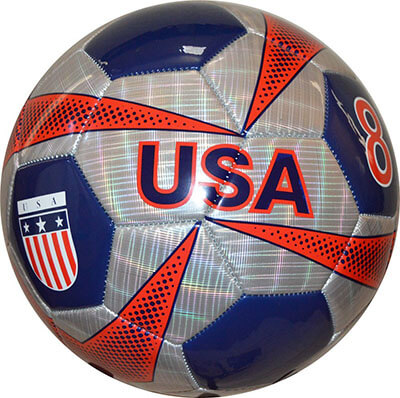 This is the perfect ball for young children to practice drills before any competitive soccer game. Besides, if you love anything "USA," you'll surely want to buy this colorful and shiny ball by Vizari. It has a pocket-friendly price tag, and you'll truly feel your money's worth when you buy it. It comes deflated and sells in three different sizes. The ball is pretty durable and can be used on most surfaces to practice drills.
8. Under Armour Desafio 395 Football Soccer Ball
The Desafio 395 new soccer ball has UA TOUCHSKIN Technology that helps deliver a soft touch and an excellent feel when handling the ball. It is made of PU exterior material that is great for power transfer. Besides, the ball has an SBR Foam layer that adds softness for improved performance while the high rebound rubber bladder ensures excellent control and touch of the ball. It can be bought in two different sizes and selecting the best color depends on your personal preference.
7. Nike Obsidian 5 Unisex Supporter's Ball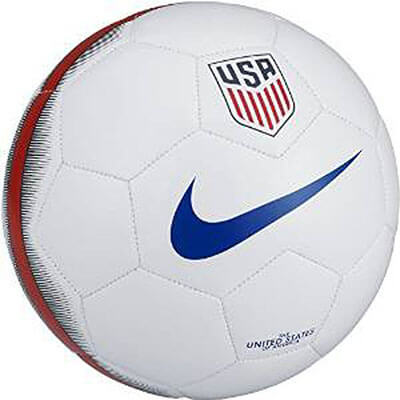 The Obsidian 5 has trademark graphics paying tribute to the USA national team. It is a prestigious soccer ball to add to your soccer equipment if you love buying anything US. The material used is 12% EVA, 13% polyester, 15% polyurethane and 60% rubber. These top-quality materials ensure great performance and excellent ball control to help improve your playing skills in the field. The material is durable enough to handle day to day use, and machine-stitched construction reduces water absorption while equally ensuring durability. It has a rubber bladder that enhances air retention and shape.
6. GOLME Superlative Match Football Ball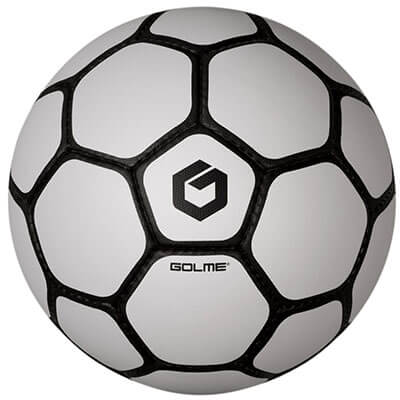 This Superlative Match Soccer Ball was truly designed with the player in mind. It ensures excellent touch and trajectory and would be the best ball for players looking to improve their soccer skills and play like pros. It has a compression-balanced latex bladder and aero-textured microfiber shell that delivers smooth ball handling on the field while equally ensuring accurate control over its flight path through the air. It is hand-stitched and thermal bonded making it very durable and the most powerful soccer ball on the market. The GOLME soccer ball has bright neon and luminous pearl hues to give it a blood design that makes it look quite elegant and also improve your performance on the pitch.
5. Chastep Blue and Black Soccer Ball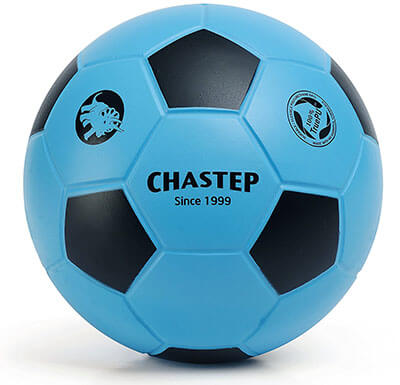 Chastep's football ball has 8-inch foam which is just the right weight for kids above three years. It can be a good gift to little ones and equally double as a great training street soccer ball for beginners and exercise. It will help your child practice coordination to help build their endurance and resilience. The blue and white soccer ball is bouncy with soft foam and will not make a lot of noise during play. It is made of Phthalate-free Polyurethane material that is eco-friendly and safe.
4. Ace Glider II Adidas Soccer Ball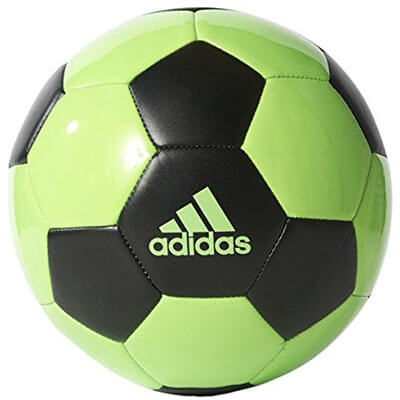 If you love Adidas products and are looking for a new soccer ball at an affordable price, then the Ace Glider II would be the ideal product to add to your soccer equipment. It is part of ACE soccer collection and is the best football ball for your daily practice and drills. The ball is made of unique TPU material that will resist abrasion while the machine-stitched design and nylon wound carcass ensures durability and long-lasting performance. It has a butyl bladder for air retention while equally ensuring the ball remains in perfect shape throughout your training session without deflating.
3. Performance Confederations Cup Glider Adidas Soccer Ball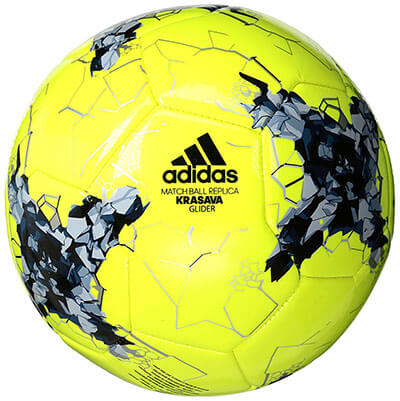 It comes deflated and has printed Adidas brand mark and colorful design to give it an elegant look. It sells quite reasonably and comes in different sizes so that you can choose one product that meets your particular needs. The ball has nylon wound and is machine stitched for long-lasting performance and increased durability.
What's more, its TPU construction ensures a soft touch and equally improves durability thus you can be sure you'll have it around for a very long time. It is similarly designed with a butyl bladder for the best air retention that helps also maintain its shape and keep it inflated for long.
2. Premier League Pitch Football Ball by Nike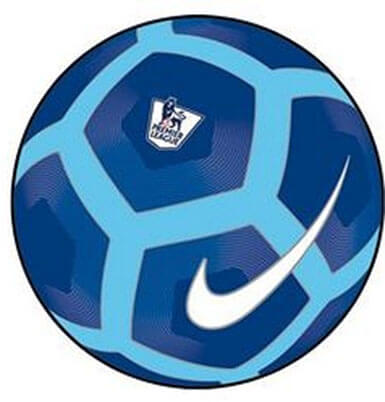 If you love Nike products, then you need to buy this soccer ball that sells at a low price but still has excellent features for outstanding performance. It features a 32-panel design that makes it quite durable and a machine-stitched TPU casing that allows consistent play. The high-contrast graphics ensures easy visual tracking while the reinforced butyl bladder maximizes speed and enhances air retention.
1. Adidas Soccer Ball Performance Confederations Cup Glider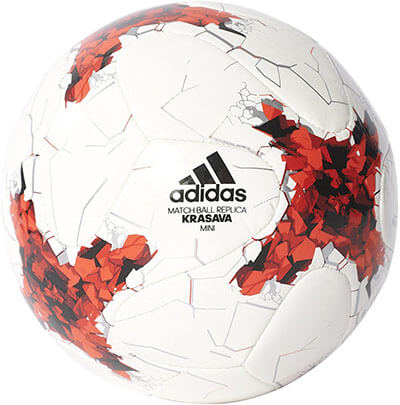 This is a great ball to buy below $20 because even at this low price, it comes with excellent and unique features that make it rank among other best soccer balls on the market today. It comes deflated in different shades and sizes, so you're sure to find one that meets your unique needs.
It is machine-stitched with a nylon wound that ensures long-lasting performance and durability. Its TPU construction makes it smooth and soft for improved performance while the butyl bladder allows air and shape retention for a long time. The printed Adidas brand mark and colorful design make it stand out among other soccer balls.
Conclusion
Whether you're shopping for a street soccer ball or looking for the best football ball to help improve your skills and learn a few drills before your next competitive soccer match, you will never go wrong with any of the above soccer balls. We made sure to highlight the best products available in the market today made by top brands like Adidas and Nike so that you can find a high-quality ball with unique features that will help you improve your skills. These products will be a great long-term investment, and a must buy to add to your soccer equipment.