Who doesn't like having a lot of beautiful and fancy shoes? With more and more people getting desperate to have the latest shoe designs, shoe clutter is increasingly becoming a major problem in many homes. Many shoe lovers barely keep their priced pairs organized in one place.
If you're also grappling with the same problem but lack the finances to expand your home's closet, one of the best shoe storage solutions is purchasing a well-made shoe rack. While they may be simple, they have sufficient storage space for your shoes. Besides, a shoe storage cabinet is very affordable, quite easy to assemble and give you easy access to shoes whenever you need them.
You can always buy shoe rack online or from a brick and mortar store if you're looking to manage clutter and save space. However, to most buyers, finding the best shoe rack can be quite daunting with numerous designs presenting such a dilemma. To help you save time and money, here is a list of 20 best shoe organizers you can purchase and install.
List of Best Shoe Racks
20. Songmics ULMR04P Metal Shoe Storage Cabinet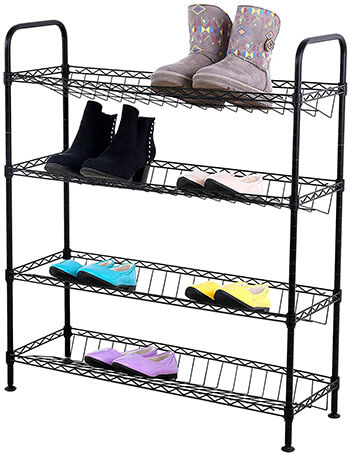 This 4-tier metal shoe rack is made of high-quality, sturdy carbon steel. It is perfectly inclined and has four shelves that have raised sides. This shoe rack can store 16 pairs of heels or 12 pairs of men's shoes. It has adjustable feet that let you adjust its height to make it more stable for a safer user experience.
This shoe rack's shelves can be adjusted to store additional pairs of shoes. Furthermore, the assembly is quick and easy thus making it very user-friendly. The maximum load per shelf of this 9.26lbs is 44lbs. It has a stylish design with a powder coated finish making it perfect for your living room or bedroom.
19. Honey-Can-Do SHO-03012 Stackable Best Shoe Rack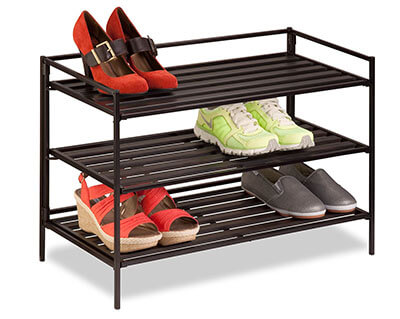 It measures 26.6 inches in length, has a width of 12.125 inches and a height of 18.5 inches. The rack has a stackable design that lets you add multiple racks for more storage space. It has a beautiful design you can put it in your hallway, bedroom or closet. And while the open slots are spacious enough for air circulation, they are very close to hold small items like your purse.
The sturdy steel frame has a fold-out design making it easy to assemble without tools. The 3-tier stackable composite shoe rack is made of durable metal thus guaranteeing long-term service. Its flat surface means your shoes will always stay in place while the adjustable leveler feet make it sturdy on uneven surfaces.
18. Household Essentials Shoe Storage Solutions Revolving Shoe Tree

It has a bronze plated steel construction and measures 12 inches by 38 inches. The tiers are movable and can rotate making it very easy to get your footwear. The attached handle is designed to help you lift and reposition the tree whenever you want. Besides, this shoe tree has a weighted base with anchoring screw that makes it steady. Assembly is also very quick and easy with this shoe tree by Household Essentials. The revolving racks can hold up to 18 pairs of shoes.
17. Whitmor 4-Tier Shoe Storage Cabinet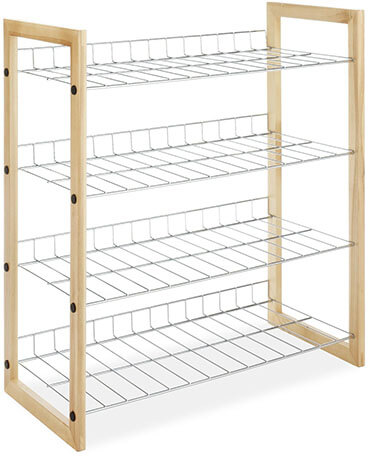 Whitmor offers you a simple yet functional shoe closet accessory shelf at a pocket-friendly price. It ranks among the best shoe organizers in the 2019 market to help you clear clutter and save space. The rack has grid wire shelves with natural pine wood frame that not only makes it highly functional but equally elegant.
Packaging includes a hardware and allen wrench meant to make assembly easy. Its construction not only makes this shoe storage cabinet functional but also durable for long term use. It has four shelves that can store your shoes, hats, bag or folded clothes. With this multi-functional nature, you can comfortable place it in your bedroom, entryway or garage.
16. Whitmor Chrome Rolling Best Shoe Rack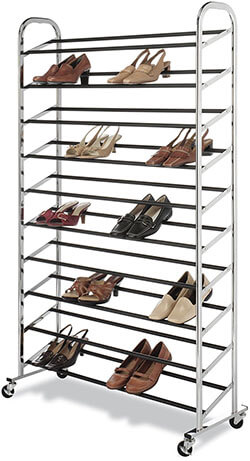 This rolling shoe tower can hold up to 50 pairs of shoes in an organized manner. It has ten tiers of non-slip tubes that will securely hold your shoes in place. The rack features a chromed metal frame that is durable to serve you for a long time. It measures about 14.6 inches in diameter, 36.5 inches wide and has a height of 59.5 inches. Among the four wheels, there are two lockable ones, but you can always use the rack with or without them. The wheels make maneuverability easy.
15. Neu Home Organize It All Ebonize Shoe Storage Cabinet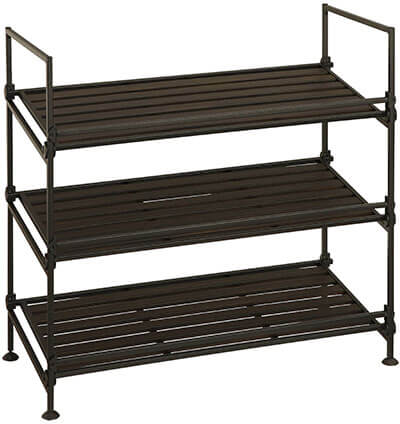 The rack has three shelves that can hold nine shoes in your home or office. It comes at a reasonable price and would be perfect for the shoe lover working on a fixed budget. The espresso color gives it an elegant look that will truly catch your attention. The metal frame is sturdy and offers excellent performance for a very long time. Besides, this shoe rack is pretty easy to assemble, and you do not need any tools to make this possible.
14. Oceanstar SR1231 Bamboo Shoe Storage Solutions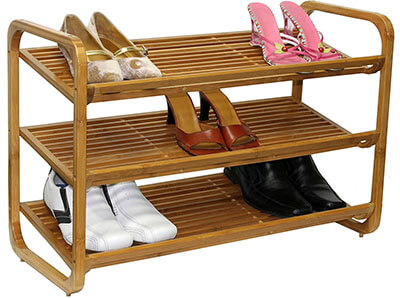 Among the best shoe organizers rank Oceanstar's SR1231 3-tier bamboo-made rack. Its sleek design makes it stand out from other models in the market while the market price will meet your budget. You may want to consider this model if you want to buy shoe rack online because it is pretty easy to assemble, clean and maintain.
Further, the rack is made from carbonized bamboo giving it a sturdy and durable nature. It can hold at least nine pairs of adult shoes, but you can also use it for your bags or other accessories. Unlike other enclosed shoe cabinets, this shoe storage cabinet has open slats that allow air circulation between shoes. The adjustable design lets you choose between having an angled or flat surface to rest your shoes.
13. VonHaus Black 16x Interlocking Shoe Storage Cabinet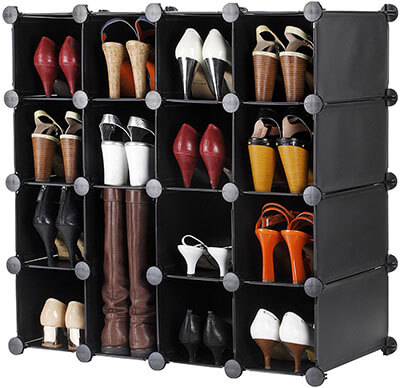 You'll love the attractive modern look of this shoe rack. And at just an affordable price, you'll be able to have an excellent functional model that not only lets you organize your shoes but also your clothing, DVDs, and Kids' toys. It has 16 large storage cubes and can be built into any shape or size according to your needs.
Its metal frame is well-made and durable while the body is pretty easy to clean and maintain. Its beautiful look and finish will complement your home's décor. Assembly is easy, and you can fit it in your closet or entryway.
12. StorageManiac Free Standing Shoe Storage Cabinet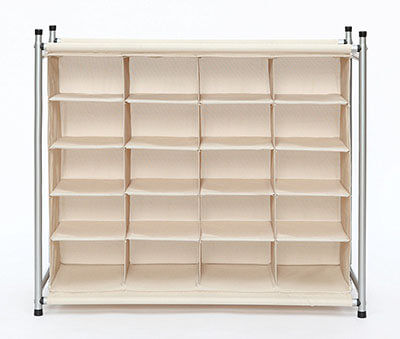 There are 20 durable compartments for 20 pairs of shoes on this 5-tier storage cabinet. It has a sleek design to complement your room's décor while allowing you the freedom to keep your shoes organized and save floor space. It installs very quickly and is additionally easy to clean. The rack is made from polyester canvas fabric that is durable making it the perfect solution if you want a model that will serve you for a long time. It is multifunctional and can also store purses, hats or scarves.
11. Home-Complete Shoe Organizers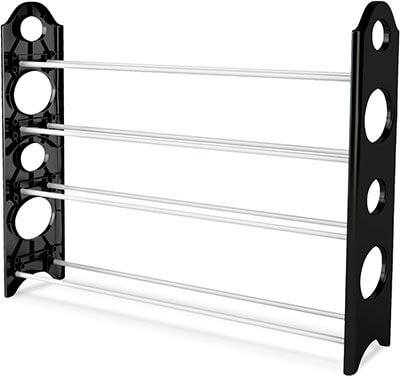 This shoe rack has received lots of praise from happy buyers because of its sleek design, affordable price, and convenient nature. It is made of high-quality polymer plastic and stainless steel thus giving it a robust and durable nature. You can store 20 pairs of footwear on this shoe rack. Besides, the rails width and height can be conveniently adjusted making this rack ideal for boots and sneakers. No tools are required during assembly. It comes with a 10-year limited warranty to give you peace of mind.
10. Lynk Vela Stackable Platinum 2-tier Shoe Storage Cabinet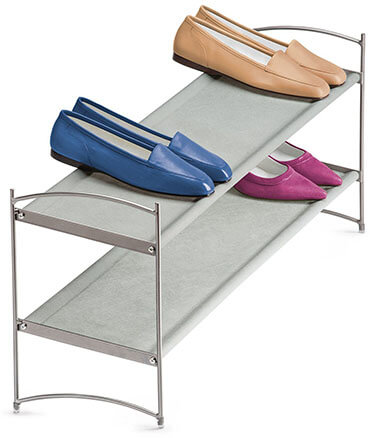 If you want to buy shoe rack online that is affordable and offers excellent performance, then you need to give this 2-tier best shoe rack your undivided attention. It has a compact design making it great for rooms with limited floor space. It is 98% epoxy-coated steel and 2% PVC.
You can be sure that this rack will serve you for many years because of this sturdy and reliable construction. And while it is a 2-tier shoe rack, you can still stack four shoe racks to get eight tiers of storage space for your shoes. It has strong connectors that will lock the shelves in place when stacking.
9. Neu Home Organize It All Basic Shoe Storage Solutions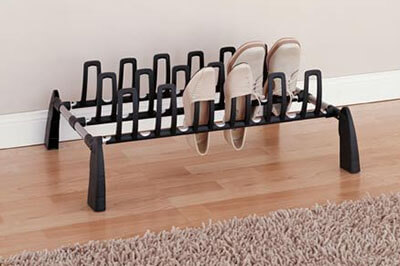 It weighs three pounds and measures approximately 26.8 by 18 by 9.5 inches. It comes at an affordable price and has an attractive look that will catch anyone's attention. It is the best shoe rack to purchase if you have limited space though even with this compact design, you can comfortably store at least nine pairs of shoes. Its design makes it ideal for any room while the durable nature means it won't break easily.
8. Songmics URXJ10G Shoe Storage Cabinet with Cover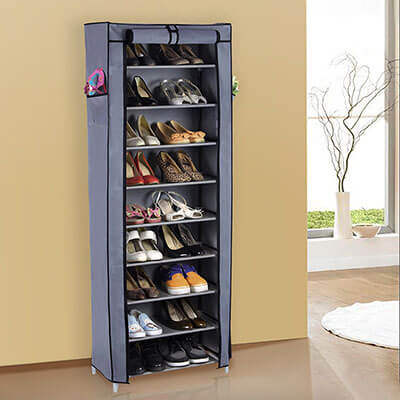 This rack is very easy to assemble and comes with a zippered cover designed to keep shoes away from dust. It has ten tiers for your 27 pairs of shoes. There are side pockets designed to store keys and shoe brush. It is made from non-woven fabric, PP Plastic connectors, and quality steel tube. It is also easy to put together without any tools. Moreover, you can always remove a layer when the need arises to fit your boots and high heels.
7. Homdox Metal Shoe Storage Cabinet 5 Tiers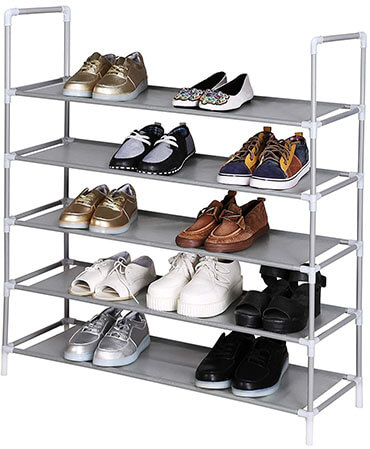 This shoe rack is available in three colors you can get one that matches your preference. It is affordable and has an attractive design that will match any room décor. The rack can store 20 pairs of shoes on the durable five tiers. You can be sure of long-term service without any breakages because this rack by Homdox is made from quality breathable fabric and durable metal pipes. Installation and maintenance are also easy. The shoe rack will surely save you lots of floor space and is ideal for kids', men and women shoes.
6. Homdox White 10 Tier Shoe Storage Solutions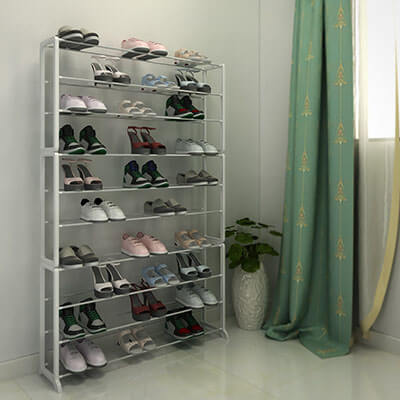 For a wallet-friendly price, you get Homdox's space saving shoe rack that has ten shelves to store 50 pairs of shoes conveniently. It is very light and portable and is equally great for small spaces. Each tier holds at least 3kg. It has a height of 138cm, width of 17 and a length of 92cm.
The sturdy and durable material used to make this shoe rack promises you long-term service without worrying about breakages. You can keep your shoes organized on this rack in your bedroom, closet or entryway. Aside from being easy to assemble, the rack is easy to maintain and comes with a one-year warranty when you buy.
5. Langria Metal Mesh Best Shoe Rack Tower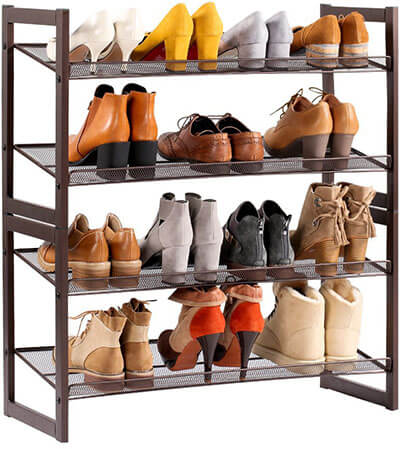 This space-saving storage rack has a size of 73.41 by 30.48 by 82.04 cm and has four shelves to give you enough room for your 16 pairs of shoes. Just like other models, this metal mesh shoe rack does not need any tools to install making the process easy.
The shelves have a contoured front that holds shoes in place and prevents them from sliding. It features a mocha copper stoving varnish finish that is durable and of high quality to protect the rack from rust, corrosion or water. The all-metal frame prevents this product from wobbling giving you stable shoe storage solutions to give you a tidy room.
4. Homdox 10 Tiers Black Space Saving Shoe Storage Cabinet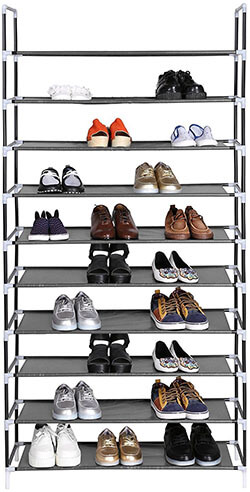 The quality breathable fabric and durable metal pipes give this shoe tower cabinet a strong and lasting nature. It is suitable for men, women and children's shoes. Among the best shoe organizers, this shoe rack has received much acclaim because of its space-saving nature since it can hold up to 45 pairs of shoes on the ten shelves.
It has an elegant design and is sold at a wallet-friendly price. It rests perfectly on your bedroom floor, entryway, closet or living room to give you a tidy room. Installation is pretty easy with this shoe rack.
3. Songmics ULBS94Z Bamboo Shoe Organizers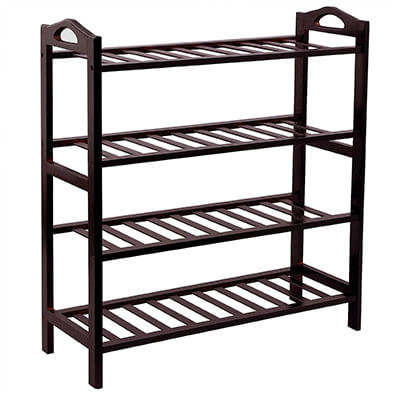 This multifunctional environment-friendly shoe rack is made from bamboo and offers four racks for shoes, toiletries, bags, and baskets. The natural and smooth finish makes it look quite elegant while the rounded corners help protect children from being scratched. The spacious gaps on the shelves let the shoes breath thus preventing any odor. The shoe rack has a slim design thus you can put it in your wardrobe, closet garage or entrance.
2. Songmics 2 Tier Shoe Organizers Tower Shelf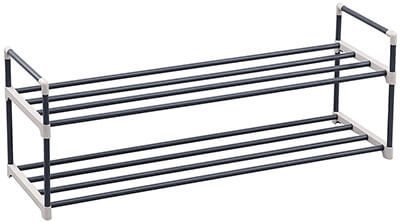 It holds at least ten pairs of heels or 8 pairs of men's shoes. It has an incredible size of 91.7cm x 29.3cm x 33cm. This compact size ensures that it can fit in your closet, wardrobe, entryway or cabinet. The rack is made of thick iron tubes and plastic connectors that are high quality.
1. Songmics DIY 12-Cube Shoe Storage Cabinet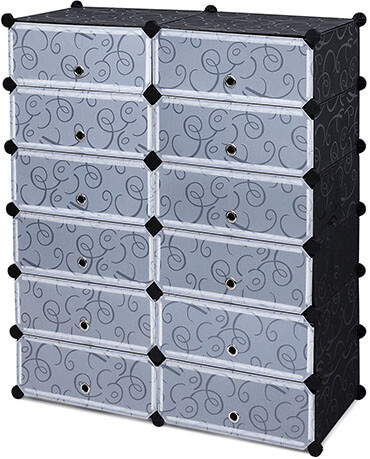 This DIY Shoe Rack ha an elegant design that perfectly adds to your room's interior décor. You can assemble it in different styles to meet your specific needs. Each cube measures approximately 17-3/4 inches by 13-3/4 inches by 6-3/4inches. It is made with an eco-friendly material; the connector is made from ABS material, has a PP plastic panel and rust-proof iron frame.
Each cube has a load capacity of 10lbs. There are plastic doors with a metal ring designed to make opening and closing very easy. It is long-lasting and easy to clean with water.
Conclusion
You can never go wrong with these shoe organizers that guarantee long-term use, has excellent features and offer great functionality. Finding the best shoe rack lets you have a tidy room while equally saving floor space. Besides, these shoe storage solutions are quite durable and have sleek designs that can match any room décor. If you want to buy shoe rack online or from your nearest store, we hope this list has helped make shopping easier.