Are you caught up in a dilemma looking for a worthy control boat for your kids? Well, kids love it, and you need some familiarity with the available brands before making the purchases. You are in the perfect place at the apt time because we are going to take yours through an exploration of the best remote control boats available across the market today. We need to take you through some factors you need to consider before clicking on the purchase button. They present themselves in a fantastic variety of designs, and hence some are incredibly small to fit on small water surfaces such as ponds.
Equally, they are ideal for outdoor waters such as lakes or sea. Basically, this toy boat is linked and communicates with the controller via the radio waves. So, an ideal remote control boat is the one that operates on a variety of frequencies. The wide range of frequencies allows the kids to play in proximity without frequency interference. It would be such an annoying instance where one kid's remote could control another kid's boat.
On the other hand, you need to investigate on their speeds, battery capacity as well as ability to regain upright position if it topples sideways. When the battery capacity is high, your kid can have unlimited fun for many hours without recharging the battery. And finally, kids love to shine and be the talk of the day. Hence, you must focus on the aesthetics of the toy boast and be sure that it will appease the user. Without a lot of discussions, let's first see these top-rated remote control boats that everyone is talking about.
List of Best Remote Control Boats
10. USA Missile Warship HT-2877 RTR Remote Control Boat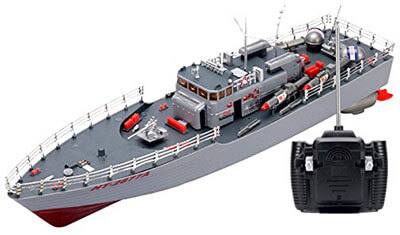 This Battleship Cruiser comes fully assembled and painted. Controlling with the included FM radio is easy. The remote control boat has a length of 50 cm, a width of 13 cm and a height of 16 cm. It has an ABS plastic body with glossy exterior paint and detailed deck superstructure.
The boat has a speed of 5 to 10 mph and requires a full charge of at least 3 hours for the best experience. It is perfect for small ponds, pools, rivers and also lakes. The touch-water-to-run safety function lets the propellers to operate only when the boat touches the water. Ensure that you leave it to dry after playing so that the water does not damage the circuit board and the motor.
9. USA Toyz UDI001 Venom Remote Control Boat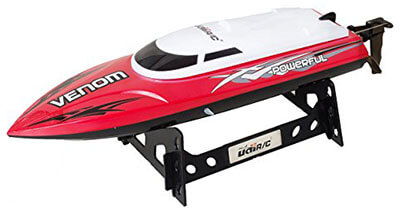 This model is also among top-rated RC boats this year. It has a pocket-friendly price tag and boasts a stylish design with excellent features. The boat lets you race at 15 mph to stand out among other RC boats. Aside from this, it can perform extreme sharp turns and flips. The self-righting feature keeps the remote control speedboat in play even when it capsizes.
It is indeed the best remote control boat to buy for your little ones. The 4-channel 2.4 GHz frequency controller allows multiple remote control boats for kids to race at the same time. It features a powerful water-cooled motor for safe operation. It also has a rugged ABS anti-tilt hull. The low battery alert lets you know when it is time for a charge. Besides, safety features like the over-charge feature keep the boat safe and protected at all times.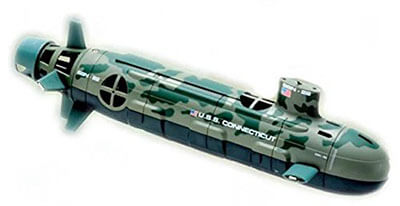 This is a mini Navy Submarine that operates with a radio control remote. It is perfect for kids above eight years. You can give it to your little one as a gift on his birthday. The RC boat comes fully assembled and ready to run with Omni-directional maneuverability. Significant features of this submarine include the multiple propellers and the ability to swim freely in the water. The submarine can dive and ascend upward back to the surface. It weighs 1600 g and measures 35 by 10 by 9 cm.
7. SZJJX RC Submarine Boat
This is the best remote control boat to give to your 8-year old as a birthday present. It sells at a reasonable price and has a far control distance. It covers a range of 5 meters and submerges to a depth of 1.0 m underwater. The remote control boat is easy to install, and the transmitter needs 4 AA batteries to operate.
It is the perfect size home bathtubs, pools, small ponds and rivers. The product is safe for your child because the material is non-toxic and the boat has no sharp corners. The high-quality material ensures excellent performance and gives the boat a durable nature. Its powerful motors and multiple propellers let it swim freely in the water. It can submerge and go up rapidly.
6. Fistone RC Seaport Workboat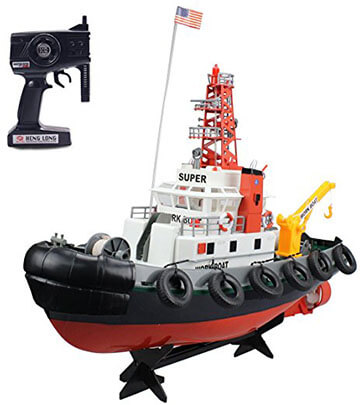 This Seaport Workboat is made of superior quality ABS plastic material. It weighs only 3.06 kg and measures approximately 23 by 17 by 9 inches. It operates on a rechargeable battery that requires 3 hours of full charge. This should give you at least 20 minutes of play time.
The boat is ideal for children above 14 years and is great for outdoor use. Unlike other fast remote control boats, this high-end model by Fistone boasts a speed of about 10 km/h. It uses a 5-channel remote control. The boat is super detailed: it has a workbench hook, board buffering rubber tire, workbench tower, and a mooring rope.
5. Blomiky F1 RC Electric Boat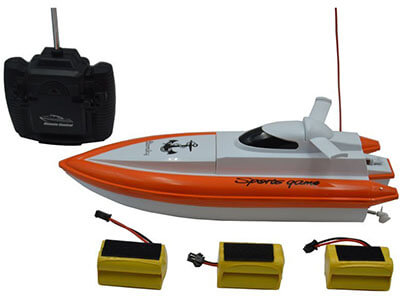 If you want to buy remote control boat that your little one will appreciate, then this is the best model to consider. It comes packed with every feature to make their playtime a fun experience. The remote control speed boat gives them a playtime of about 20 minutes after a 3-hour charge. The remote control supports a distance of nearly 50 meters. The boat measures 29 by 11 by 9 cm. It boasts a powerful motor that gives your child the best experience in the water. This boat undoubtedly stands out from the competition.
4. Tipmant Mini Military RC Boats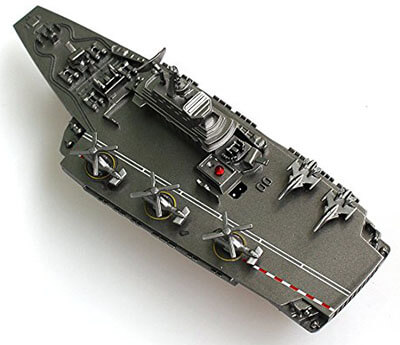 This model has the lowest price tag on this list of RC boats. It is an electric water toy with a high simulation aircraft carrier design. The boat turns on when you put it in water and goes off automatically when it leaves the water. The remote control lets you turn left/right, forward/backward.
It supports a distance of up to 15 meters and has a charging time of about 12 minutes. Give your children 8 minutes of complete fun with this entry-level remote control boat by Tipmant. The aircraft carrier has a built-in battery that can be charged by the controller. You need 4 AA batteries to operate this controller.
3. Toyen Electric Remote Control Boat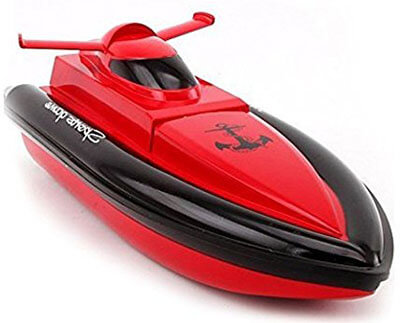 If you are shopping for remote control boats for kids, you can check out the Toyen Electric RC boat. The model has a sleek design with a beautiful red and black finish. It boasts a durable transmitter with a control distance of about 50 meters. This RC boat only works in water.
It comes with a powerful motor that gives it a driving speed of up to 20 Kmh. The self-balancing stable sailing and the precise port position make this boat the best model to buy this year. It uses a rechargeable battery, and the remote control requires at least two AA batteries.
2. Toyen GordVE Remote Control Boat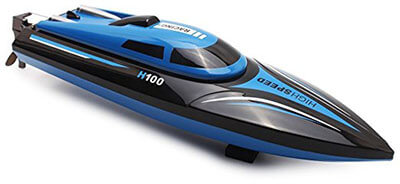 Just like the previous model by the Toyen brand, the GordVE RC boat boasts a sleek and stylish design. The blue and black tone finish adds a nice touch to the model. The GordVE model has a compact size and a high speed of up to 30 km/h. It is easy to control and turn up to a distance of 50 meters.
The model comes with a waterproof hull while the ABS plastic material makes maintenance an easy task. The LCD shows you the battery capacity while the auto-low battery alarm lets you know when it is time for another charge. Another great feature of the Toyen GordVe is the capsize recovery feature. Your kids will surely have a great time with this remote control boat.
1. USA Toyz H102 Velocity RC Boat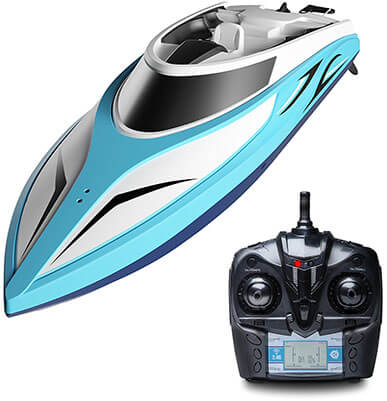 This remote control speed boat is great for outdoor use. It will give your kids the best experience in the pool or lake. The Force 1 high-speed Series is a great model both for kids and adults. It blasts past other boats on the water at 20 mph thanks to the large propeller. Keep track of the boat with the large LCD screen. It has a durable anti-flip design. Besides, the boat is super easy to control in the lake. The battery has a long life, and the company throws in an extra battery to extend your play time.