Reach grabbers also known as helping hand is an excellent tool to have in your home. Just as the name sounds, these tools are superb when you are performing a variety of activities. Be its waste management, gardening, stores, and others; they eliminate the need to struggle to reach a certain point. Unlike other tools for grabbing distant objects, this one has a mechanical mechanism that allows it to grab items.
Typically, the grabbing end has arms that hold the target once you press the handle. Apart from the jaws, some come with suction cups that enable people to grab round objects. Depending on where you are working, it calls for the right grabber to make the work easy and smooth. On the other hand, reach extenders are made if different materials like metal and plastic. To get the best reach grabber, here is a full list of reviewed ones in 2021.
List of Best Reacher Grabbers
10. Grabber Buddy Reacher Pick-up Tool Rubber Tips Ergonomic Handle 48″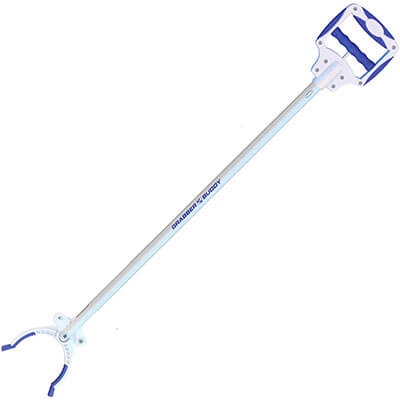 Grabber reachers are designed to increase your range of motion. For instance, when you want to pick something that falls under the sofa and you can't reach it with bare hands. As the name suggests, the Grabber Buddy features an ergonomic handle. The grabber features rubber inserts to ensure easy catch for different types of items. Besides, it is adjustable for short and long distance reach. The jaws are covered with special rubber to ensure it can catch tiny objects hassle-freely. Moreover, the handle can pivot at 90 degrees for different kinds of tasks.
9. Unger Professional Nifty Nabber, 36"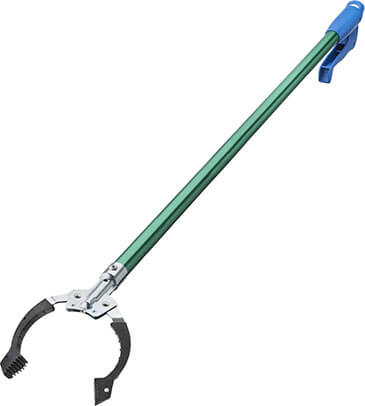 Stop risking your life when you climb up a stool trying to reach high things. Also, you need to stop straining your body as you try to bend low and reach things that are under the bed. The Nifty Nabber is designed to help you catch items low or high without making the extra effort. It features 36 inches aluminum poles. The grippers at the tip of the pole feature rubber inserts. These not only prevent damaging the items but also ease the task. With built-in magnetism; you can use it for catching tiny metal objects.
8. CQ Wellness Pick Up Grabber Reaching Tool, 32 Inch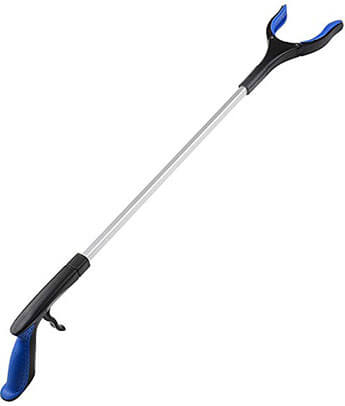 When versatility is the key, CQ Wellness could be the best grabber reacher for you. It features innovative engineering that makes the task far much more comfortable than using other means. It combines aluminum and plastic materials to make it lightweight and durable. Surprisingly, it is one of the best grabbers to use outdoors since it can withstand weather elements. The comfortable grip trigger handle makes the use of this device extremely easy. Due to its versatility, you can use it to grab litter, remote control, keys, and other items. The handle is ergonomic in that it allows all fingers to be utilized on the trigger. Hence, it is an excellent grabber reacher for persons with a weak grip.
7. Royal Medical Solutions RMS Grabber Reacher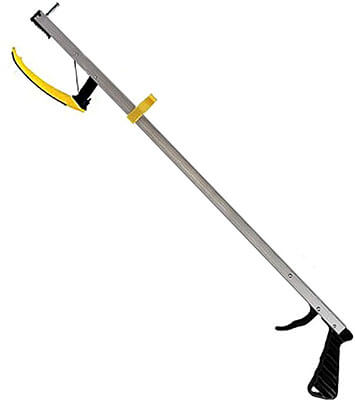 As products name hints, this grabber reacher is one of the few recommended for medical reasons. You no longer need to be extremely low trying to reach items hidden in tight places. With this grabber equipment, you only need to utilize the trigger mechanism to grip objects and bring them near you firmly. It features aluminum material to make it lightweight and weatherproof. It also features a magnetic tip to help you pick tiny objects. Asides, it is fitted with a post to help in dressing. It also features a yellow clip that fastens in walkers and wheelchairs so that the equipment is kept nearby for convenient use.
6. Fit Plus Grabber Tool-Fit Plus Premium Reacher Tool- 32″

The best grabber should allow for easy grabbing. Well, the Fitplus grabber tool features an innovative design to allow you to pick items with ease. This device is perfect for picking coins, envelops, litter among other things. Also, the innovative design boasts extra strength gripper. The textured rubberized ends allow easy grip on items. For an even more comfortable grip, this tool features a contoured handle design. Further, the grabber's head rotates at 180 degrees for increased maneuverability.
5. Fangfang Grabber Tool, Foldable Reacher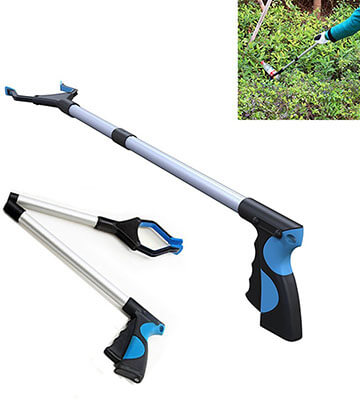 Many are the times when you need a helping hand as you try to reach far or hidden objects. Your hassles will be over once you have the Fangfang grabber tool. It is specially designed to help you reach items that are up high or very low, and you can reach them by your hands. So, Fangfang features an innovative design with an extendable handle. So, you won't hassle getting items that are close and hidden or far beyond your hands reach. It features a pistol trigger to make its use smooth and convenient for everyone. It features a strong frame made of aluminum material. Unlike many others, this one uses suction cup ends to help you catch smooth surfaced objects.
4. Rirether 32″ Reacher Grabber Tool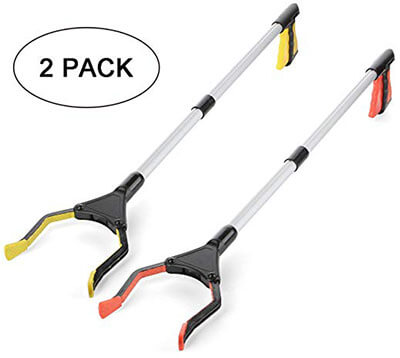 Are you searching for an innovative way to reach anything easily? The Rirether grabber tool features an innovative design to help you to have anything you want at any time easily. So, it is a tool that guarantees greater maneuverability s that you will no longer need to bend, stretch or squat to get what you need. The toll features high-quality aluminum alloy material. This has unmatched strength and durability. The handle is quite thick to help in convenient fatigue-free use of the device. So, it is a great object for people with disabilities or with limited grip strength.
3. Futureup 2 Pack – 32″ Suction Cup Grabber Reacher-Foldable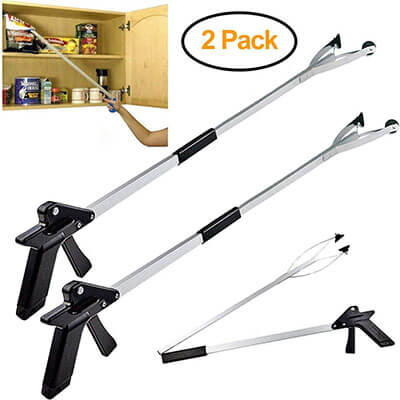 There are some unique aspects of this grabber tool that make it of high value. Well, it features an upgraded design that combines high-grade aluminum alloy with premium quality ABS material. This increases the strength of the grabber without adding unnecessary weight. It features a contoured handle that increases the practicality of the tool. The grip uses a suction cup mechanism which is very efficient in grabbing different objects. It features wide leaf-style jaws which are perfect for holding objects such as coins and others that have smooth edges. The folding design allows easy storage as well as maneuverability for grabbing objects at different scenarios.
2. VViViD Stainless Steel Magnetic Pick-Up Claw Grabber Tool – Flexible 2ft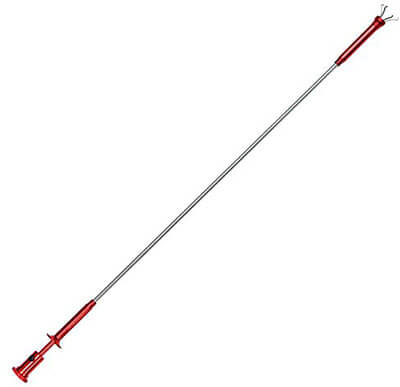 Perhaps you're tired of looking for the best grabber tool that can reach many hidden points. This is the tool for you. It features a steel coiled spring design to ensure maximum flexibility. Apart from reaching tight places, this object is resisted to grime, water, and rust. It features amazingly strong one-inch finger prongs. They are surprisingly strong and nubile making it ideal for lifting heavy objects. Equipped with a sturdy magnetic ring, this device can grab all ferrous metal items. With built-in LED lights, it is perfect for hidden and dark places.
1. Saymeto Grabber Tool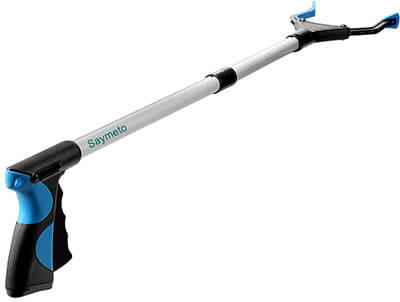 If you're searching for the most versatile grabber reacher, here you have it. It is none other than Saymeto Grabber reacher. It features an ergonomic design with a rotating and rubberized jaw. Well, the head can swivel at 360 degrees and 90 increments for both vertical and horizontal use. Coated with unique rubber material, the device is perfect for holding and lifting slippery objects. In fact, it can conveniently hold and lift glass objects. With its foldable length, it is perfect for outdoor use, and you can even store in cabinets. Featuring lightweight aluminum alloy material, it is incredibly strong and is a perfect choice for reducing labor intensity. It is among the best grabber tool for people with limited dexterity, carpel tunnel syndrome, arthritis, and other disorders.