Gym Power racks are great accessories that are created with high versatility. They are most important to weightlifters whereby they enable many functions. These accessories are common in commercial gyms and are great choice to help customization and efficiency in a home gym. From storing the weight to performing variety of training, they are exactly what you need to keep your gym organize and safe.
One thing why people opt for buying power cages is to improve the safety in the gym. Weight lifting is demanding task. The cage efficiently allows free weight lifting while boosting the security of lifter through the fitted safety spotters. Apart from the safety, is that power cages for home are easy to utilize. The designing of the racks enables the user to lift weight from a convenient height. This means that you won't struggle and will get efficient training. Moreover, the versatility in the power racks is outstanding and renders them essential to own.
Now, you might be planning to buy a power cage for your home gym but have no clue on what you should look. However, getting one should not be a complicated task. Most of the times, you just need to know what you intend to achieve with your rack and purchasing becomes easier. Some of the general qualities that one need to check are the size, safety pins, pull up bars, weight holder, and dip bars. With these, you are now a step away from getting the ideal gym power rack.
List of Best Power Racks for Home Gym
10. PowerLine PPR200X Power Rack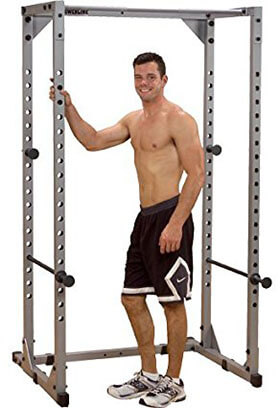 The wide walk-in design of this power rack allows side-to-side movement for exercises like squats, incline, and decline. The model measures approximately 82 by 44 by 46 inches giving you enough room to exercise safely and efficiently. It comes complete with 18 adjustment levels, two saber-style safety rods and two heat tempered lift-offs to maintain your routine the way it should be, safe and easy. The 136-pound power rack carries a 10-year warranty on the frame and a 1-year warranty on other parts.
9. Valor Fitness BD-7 Home Power Rack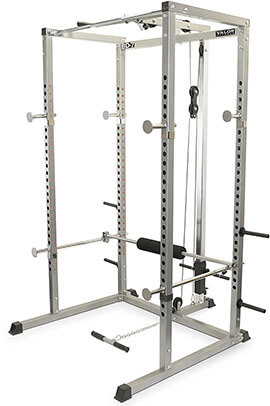 The BD-7 model has a 2 by 2-inch steel frame and offers a working space of 23.5 inches and 43.5 inches. It measures approximately 83 inches from the floor and supports a maximum weight capacity of 350 lbs. You can achieve perfect adjustment with the 276 variable positions for bar supports that are between 17.5 inches to 68 inches in height.
Features of this model include four plate storage pegs, four steel chrome adjustable weight bar supports, pull up station at the top of the rack, a low pulley station, and a lat pulldown station with a plate loading carriage. The outer dimensions of this model are 59 inches by 63 inches and an 86-inch height.
8. Deltech Fitness DF4500 Power Rack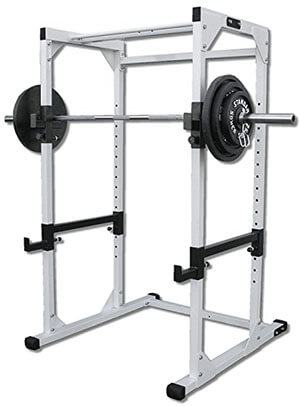 The DF4500 model by Deltech Fitness includes a 300 lb Olympic Weight Set. It is the best power rack for a home gym with all the features you need for a variety of exercises. The model may not be ideal for the budget-conscious person, but if you are willing to dig deeper into your pocket, then you will enjoy every dollar you spend on this power cage. The weight set includes two 2.5-pound plates, two 5-pound plates, through to two 45-pound plates and a 7-foot 45-pound Olympic bar with a capacity of 750 pounds. The set is truly all you need to maintain your regular exercise routine.
7. Rep Fitness PR-1000 Power Rack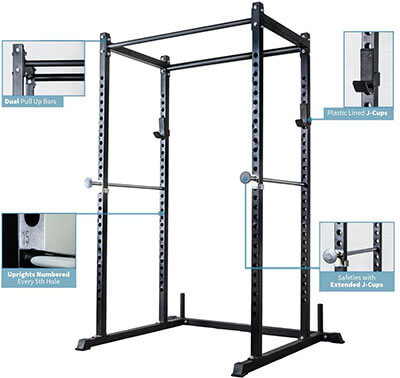 This power cage will truly give you all the benefits you need at a very affordable price. Standing at 84 inches tall, this power rack is undoubtedly the best model to put in your basement gym or spare bedroom. Features of this model include a 1.25 inch and 2-inch fat grip, power rack with dual pull up bars and a 2 by 2-inch steel frame.
The rack has a matte black powder coating and weight horns on the back to improve stability. The pull-up bar capacity is 400 pounds, and the dip attachment capacity is also 400 pounds. The rack measures 83 by 48 by 48 inches and is 58 inches wide at the rear bottom brace. The dip handles are padded for comfort and have an adjustable width, so you adjust it depending on your need.
6. Impex Marcy Pro Power Rack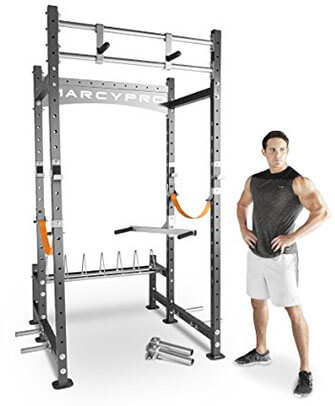 This is the best power rack to buy this year because of its versatile nature. It allows a variety of workouts including squats, chin-ups shoulder press and many more. The maximum user weight of this home power rack is 300 pounds, and the bar catches and strips boast the same weight capacity. The Marcy Pro Power Cage has a heavy-duty nature and a generous area where you can work up the sweat.
This rack has enough room to fit a weight bench, weights and Olympic barbell for your convenience. Besides, you also have the freedom to attach resistance bands for more exercise options. If you want a power cage for your home gym that is durable and can securely stay in place to hold your weight, then this home power rack with a maximum capacity of 300 pounds is the ideal model for you.
5. XMark Fitness Power Cage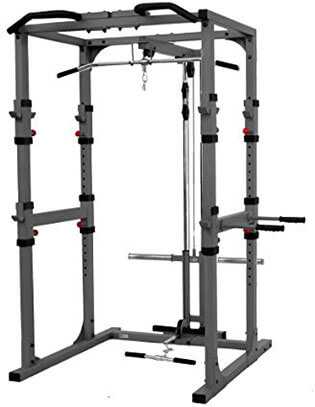 This model is designed with heavy-duty adjustable pull-in spotters, split grip pull-up bar, and triceps dip handles. It is truly a multi-functional model designed for a variety of exercises making it ideal for the serious home trainer. It is the best home power rack for anyone working with a small space. The heavy-duty steel with scratch-resistant powder coat finish makes it durable enough to stand years of frequent use. There are two chrome Olympic sleeve adaptors, a short row bar, and lat pulldown bar for improved functionality.
4. Fitness Reality 810XLT Power Cage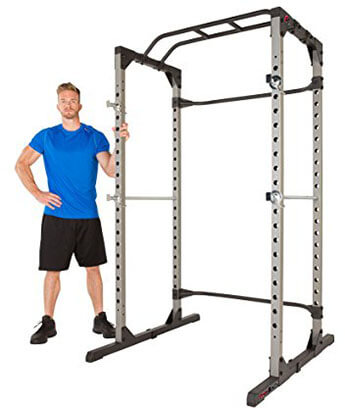 This power cage has a maximum weight capacity of 800 lbs and boasts a large walk-in space that allows easy side to side movement. It features a 2 by 2-inch square steel frame and has two 23-inch long dual mounted safety bars that are compatible with 7' Olympic bars. There are 19 adjustable heights for the safety bars to allow you a variety of workouts depending on your particular need. The multi-functional nature of this heavy-duty model makes this the best power rack to buy for your home gym if you are serious about routine workouts.
3. Fitness Reality X-Class Power Cage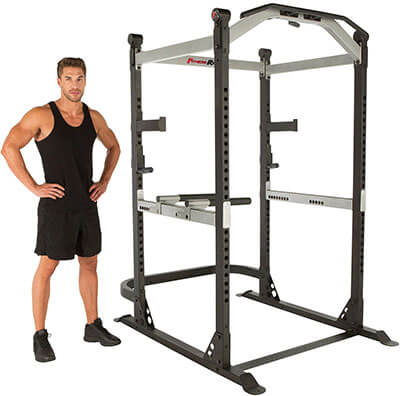 This is a professional-looking power rack that boasts a maximum weight capacity of 1500 pounds with safety bars compatible with 7' Olympic bars. It is made of a heavy-duty tubular steel frame that is durable to stand years of use without breaking. The two adjustable rubber grip dip handles have a user weight of 600 pounds. This model allows you to perform over 24 exercises depending on your particular need.
You can expand this model by adding the brand's lat pulldown attachment. The power cage has plenty of space inside for a variety of routines and an additional spotter. The product weighs 256 pounds and measures approximately 71 by 52 by 86 inches. It comes with a 10-year warranty on the frame and three years on other parts.
2. Akonza Athletics Fitness Home Power Rack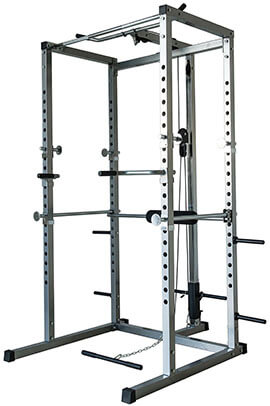 This home power rack features 17 variable positions and is designed to allow the mainframe to double as a chin-up bar. This rack is very versatile and strong allowing you the freedom to do a variety of exercises effectively without spending too much time so whether you want to do squats or chin-ups, then this is your all-in-one exercise station.
If you are serious about exercise, then you appreciate this power rack with a maximum weight capacity of 700 lbs. Special features of the Akonza Power Cage include an internal squat rack, four plate storage pegs, and heavy-duty steel. The overall dimensions of this unit are 51 by 63 by 85 inches, and each bar holder can support a maximum capacity of 500 pounds.
1. Popsport Fitness Power Rack for Home Gym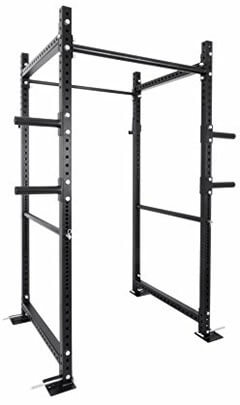 This model measures 91 by 53 by 45 inches and supports a maximum weight capacity of 1000 pounds. It is made of high-quality solid steel that is durable to last for a long time. The deep squat rack series allows you the freedom to work out safely and efficiently while performing a variety of exercises like bench press and squats.
Its extra-deep design gives you enough room inside for different exercise positions. For just a few hundreds, you can get a durable and multi-functional model that gives you all the features you will find in other high-end models. If you are working on a tight budget, you will appreciate this model's specifications.