Do you wonder why car tire pressure decreases over time? Some people have also complained that their car tires lose pressure soon after refilling yet they recently purchased a new set of tires. The truth of the matter is that there are numerous causes of tire pressure loss. Most of the causes are subtle and include leaking tire valve, temperature changes and probably some unnoted prick while on the road. That's not quite an issue, but knowing how to amend the problem is the real challenge.
Some people are forced to call for rescue, yet it is a challenge that you can solve all by yourself. This is where portable air pumps come handy. Moreover, driving an underinflated car is a complete hazard on the road since it jeopardizes car functions such as braking, traction and makes your car prone to accidents due to loss of control. Nobody would wish to be in such a dangerous situation.
And, the simplest way to arrest this challenge is to ensure you always carry a portable air pump. Having over a thousand brands of portable air pumps on the current market poses a real challenge when selecting the best value for your money. Some of the considerations when buying a car tire inflator pump include; a power source, gauge accuracy, and readability, inflation speed, portability, noise levels, power cord length, duty cycles among others. Without taking a lot of your precious time, let's jump over to the top 10 best portable air pumps for car tires.
List of Best Portable Air Pumps for Car Tires
10. Kensun Portable Air Pump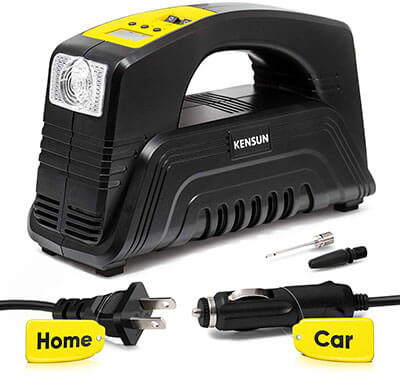 If you are looking for the best portable air pump to buy, then Kensun has something for you that sells at a reasonable price. The tire inflator has two power cords so you can use it both indoors and while on the move. Its compact design truly makes it a great portable product to buy because you can easily store it in the trunk. Some of the best features of this product also include a digital screen, LED work light and an auto shut-off function. The Kensun Portable Air Pump boasts a powerful 120W motor that pumps at 30 liters per minute. This is not only a portable car tire pump but you can also use it to pump your soccer ball, basketball or any pool toy.
9. FORTEM Digital Portable Air Pump for Car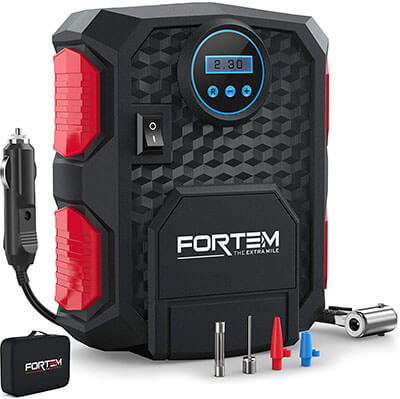 FORTEM ranks as the best portable air pump for car tires within this price range. It also ranks among Amazon's Choice for car tire inflator. This should come as no surprise as we have also read for the numerous customer reviews. Customers praise this product for delivering the best results while still selling at quite a reasonable price. One thing we loved about this portable air pump is that it is easy to operate. It also comes with multiple nozzle attachments making it great for motorcycles, sports balls, water toys and bicycles. The FORTEM portable air pressure pump has a built-in LED flashlight and comes with a handy carrying case for easy transportation. Another thing that makes this product stand out is the durable lightweight plastic and sturdy hose.
8. BLACK+DECKER Multi-purpose Inflator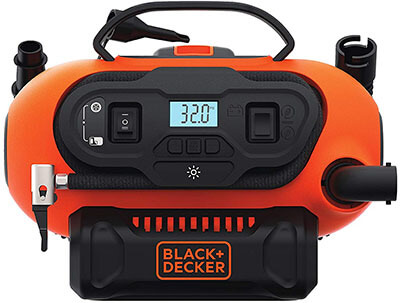 BLACK+DECKER's BDINF20C model is a multi-purpose inflator that handles all your inflation needs anywhere. This portable car tire pump boasts three power sources for inflation at home, in your backyard or while on the move. For the price, this model truly delivers as expected. The BLACK+DECKER air pump has a high volume output that helps fill larger inflatables like rafts quickly. The model boasts a digital pressure gauge and an auto-shutoff function for the best performance. Anyone who is shopping for the best portable tire pump can consider this 20V cordless inflator.
7. Kensun Portable Air Compressor Pump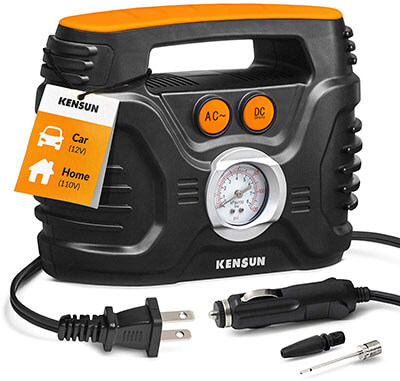 This is also another great model to consider if you want a multi-purpose portable air pressure pump. The portable pump is quite easy to use and perfect for emergency situations while on the move. It is also the best portable air compressor pump for inflating your sports balls and air beds. You can use it while on the move or from home because it works both by 110V (AC) and 12V (DC). Another reason you will love the Kensun portable air compressor is that it is super lightweight and compact enough to carry in the trunk. There is also a carry case so you can keep everything together even in a small space. You will love the accuracy of this device and the set of adapter nozzles it has.
6. Audew Portable Air Pump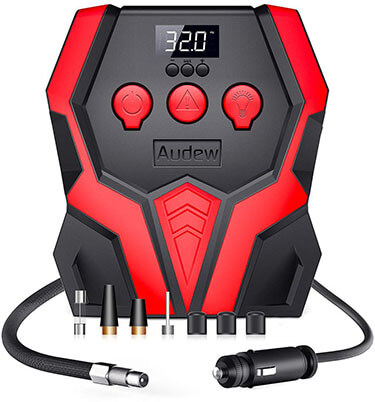 Audew packs all the best features on the market but still sells at quite a reasonable price. The portable air pump for car tires is easy to use and inflates tires quickly thanks to its strong and powerful motor. You can also use it for sports balls and other inflatable toys. The air pump is equipped with bright LED lights and an LCD digital display. It has 4 pressure units and a maximum inflatable pressure of 150PSI plus it shuts off automatically when the proper pressure is reached. Its compact design lets you store it even in small spaces.
5. Avid Power Portable Air Compressor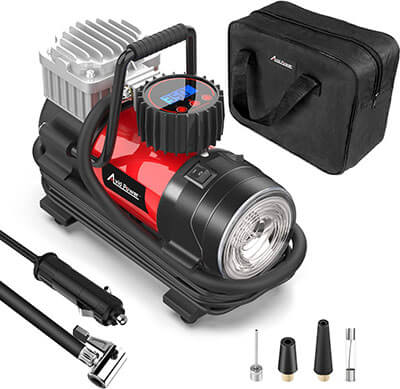 This package includes a portable air compressor, three nozzle adaptors and an extra fuse. There is also a carrying bag for convenient storage and transportation. Having the best portable air pump is one simple way to keep your car tires in great condition. After analyzing its unique features, Avid Power tire inflator is a great product in this regard. It boasts a maximum air pressure of 150 psi and airflow is 35 liters per minute. This practically means that the device can inflate a standard car tire from 0 to 30 psi in less than three minutes.
Also, it boasts multiple usages. In fact, you can inflate a bike, car, sedan, midsize SUV, truck, bike, etc. It is a safe air pump as it has an auto-shutoff feature. You only need to preset the value depending on the size of tire you're working on. Besides, it has to overheat protection, and a bright LED to ensure safe operation.
4. Oasser Portable Air Compressor Mini Air Inflator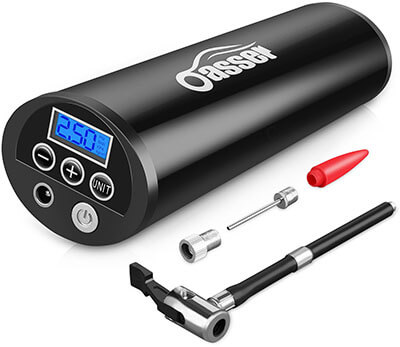 Despite its mini-compact design, the Oasser portable air compressor performs wonderfully. It features a sturdy and elegant stainless steel body. Besides, it is versatile as it supports both DC and AC adapters at home. It also works with 110V and 12 V cigar lighters. This device is equipped with a bright LCD to ensure easy operation and customization.
With maximum air pressure of 150 PSI, it is a reliable inflator for bike, sedans, SUV, medium cars. However, it is not ideal for big trucks tires. It provides four different unit values including PSI, BAR, KPA, and Kg /cm.²Moreover, it features built-in LED lights, which can be independently switched to provide a reliable way of lighting in an emergency.
3. NEU MASTER Tire Inflator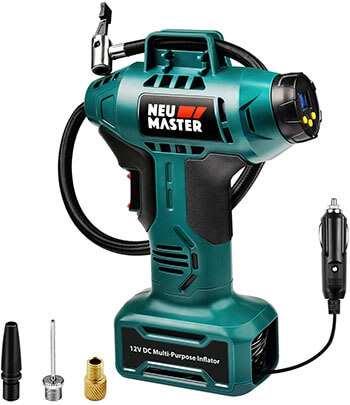 While examining the best portable air pumps, you need always to consider its multiple uses. The NEU master tire inflator is ideal for inflating toys, pool raft, bike tires, and cars. It is also a great inflator for sports balls. It comes with a 10-foot cable so that you can easily access it from a cigarette lighter. Compared with its rivals, it provides excellent inflating rate.
In fact, it offers a 3 gallon per minute rate. This practically means that it can inflate a mid-sized car tire from 0 to 34 psi in about 4 minutes. Its maximum pressure is 160 psi. It is easy to use as it has a large LCD which readings in PSI, BAR-and KPA. Besides, it has an auto shut off feature to prevent your tire from over-inflating.
2. Akface DC 12V Portable Air Compressor Pump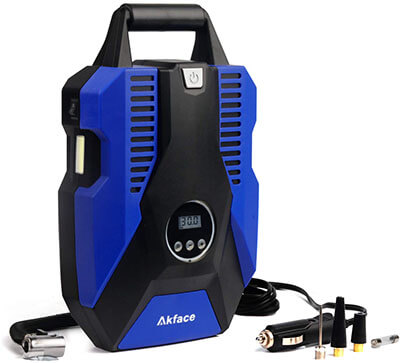 Are you looking for a car tire inflator that does the job in seconds? The KFACE AIR COMPRESSOR PUMP is a perfect choice. It features a sturdy ABS and stainless steel construction. So, this digital air compressor pup wills serve you for a long time. Included in the package are four nozzles, they allow you to inflate different equipment. The package also includes adaptors for inflating inflatable boats, air mattress, balls among other sports equipment.
In addition, it allows you to observe the pressure readings without any struggle. Thanks to the LCD and LED lighting. It is a high precision LCD which displays readings in BAR, PSI, KPA, and KG/CM². It is pretty easy to use because you just need to flip the switch and leave the rest for the machine to do.
1. Rocboc Cordless Air Compressor Tire Inflator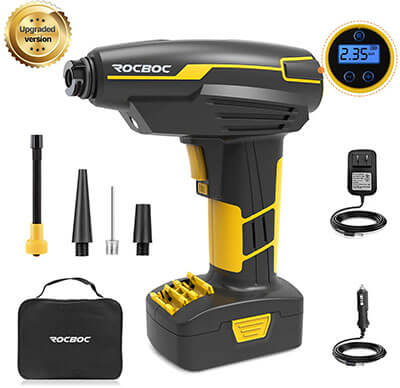 This tire pump is fast, safe, and efficient. It provides airflow of 27 liters per minute. It features a powerful lithium battery possessing the latest technological design. Fortunately, it uses no cable and is compact to ensure easy portability. Also, it comes with a storage bag to ensure its portability almost effortlessly. Hence, it is excellent for traveling, driving, or home use.
It also features a digital display with LED lighting. It shows the readings in different pressure units. Equipped with 4 nozzle adapters, it is suitable for bikes, cars, sedans and midsize SUVs. However, it can be a challenge to inflating truck tires. It comes with extra nozzles for inflating sports and household equipment.