Pocket knives are essential tools especially when you are on a camping expedition. Besides being useful for outdoor usage, they are handy tools which their usefulness can't be downgraded at home. In fact, these tools are regularly used at home for a variety of tasks multiple times in a day. They are small and folding for the safety and also to facilitate ease of carrying.
To get the best pocket knife, one must strive to check the qualities he wants from the tool. This is because; they are available in a variety of blade shapes, size, handle material and material of construction. Whether you want the best hunting or camping knife, it is ideal to go for the best rated. The below list is our pick of the Top 15 best pocket knives in 2021 reviews to ensure you buy the perfect one.
List of Best Pocket Knives
15. ANVIL BLADESMITHSTM BULLSHARK G-10 8CR13 Pocket Knife with Glass Breaker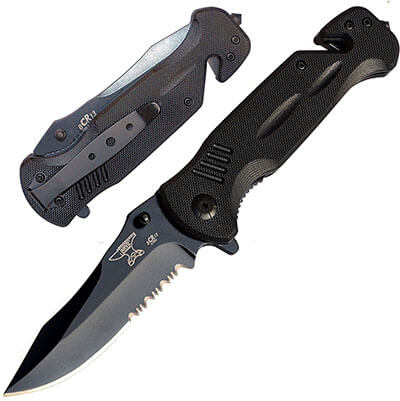 Having a reliable pocket knife is an ideal option as it can act as an emergency tool. This one from Anvil Bladesmith is a heavy duty pocket knife which is useful during emergencies. Unlike other knives, it only requires one hand to open since is spring assisted. This makes it a perfect tactical and rescue knife. Further, at the tip, it has a glass breaker as well as seat belt cutter and also a belt clip. The blade is super sharp and durable since it is manufactured from stainless steel. The handle is ergonomic and easy to grip when wet or dry.
14. Rogue River Tactical 6-in-1 Pocket Knife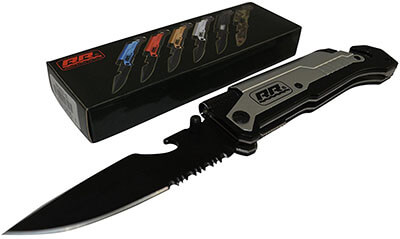 Rogue River Tactical 6-in-1 Pocket Knife is a perfect tool that you should always carry when camping, hunting or any outdoor activity. It has a perfect construction featuring 6 functions which are useful for day to day use. The knife is fitted with a magnetic LED light which is useful at night as well as inbuilt Ferro rod starter thus ideal for starting the fire. In the case of emergency, you don't have to struggle to detach yourself from seat belt of parachute ropes. The knife has sharp belt cutters hence easy to cut belt without causing injury. Others include a bottle opener and glass breaker. The blade is 3.5 inches and is stainless steel to facilitate durability.
13. Polarbear's Shop ELK RIDGE Folding Pocket Knife
With a quality knife like this ELK RIDGE Folding Pocket Knife, you can bet on durability and performance. It is a sturdy knife featuring compact construction it perfectly fit in your pocket. The blade has a satin finish and a stainless steel construction to prevent corrosion or rusting. On the other hand, the Brown Pakkawood handle makes the knife aesthetic and comfortable gripping. Carrying this knife is easy through the integrated belt clip. It measures 4.75 inches when open and 3.5 inches folded.
12. Rugged Knife Company Multitool Pocket Knife – Swiss Style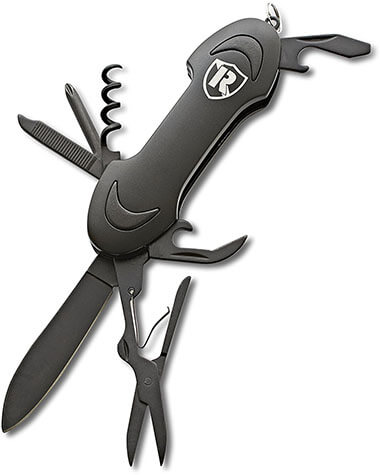 This rugged pocket knife from Rugged Knife Company is all you need and enjoy an outstanding style and variety of tools. Featuring Swiss army style of construction, it has rugged tools which are ready for use when as need arises. Its cutting blade is stainless steel hence will cut for an extended time without requiring sharpening, corroding or rusting. Also, the knife as inbuilt Philips and flat screwdriver, can opener and corkscrew. The nail cutters and file ensures your nails are neat as well as the incorporated scissors. The knife is compact, lightweight and can be carried conveniently through the available key ring.
11. Gelindo Pocket Multitool, Knife, Sheath, Pliers, Saw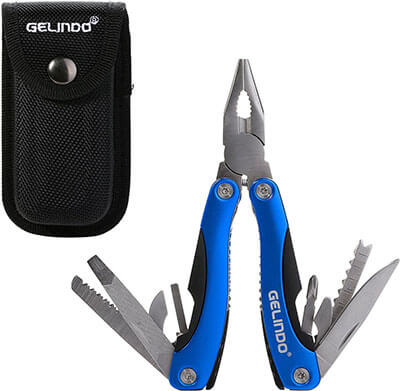 This Gelindo pocket multi-tool is a fantastic product worth investing your money. You don't haves to buy various handy tools as it comes featuring 15-in-1 tools. Therefore, it is suitable different t tasks like fishing, camping, and quick fixing activities. It is durable as all components are constructed from stainless steel which guarantees years of extra performance. Despite all these features, it is easy to use though the non-slipping handle the tool comes with a storage pouch for easy to carry. The available tools include Nipper pliers, Sharp Knife, Saw, Wire Cutter, Ruler among others.
10. OutNowTech VANTAGE Folding Pocket Knife – Multi-Purpose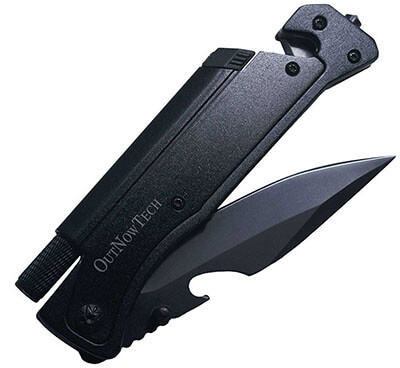 A pocket knife isn't just for chopping; it should be multi-purpose with other incorporated features to increase versatility. This vintage folding knife from OutNowTech allows you to enjoy 7-in-1 features in your pocket. It comes with smooth and serrated edges as well as recessed blade which is ideal for emergency belt cutting as well a glass breaker. This makes it perfect to carry in your vehicle. Also, it is enhanced with a fire starter which is removable and a LED mini-flashlight. The knife is easy to open with one hand due to spring assisted spring. Additionally, the knife is available for left or right handed people.
9. TAC Force TF-848 Pocket Knife, Titanium Blade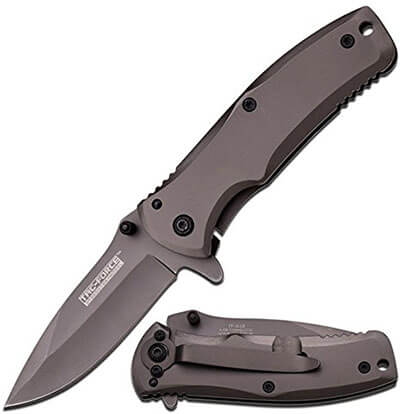 TAC Force TF-848 is a highly versatile knife which can be used as a tactical, camping or rescue knife. It is an easy to use tool since it only needs one hand to deploy and is safe since the blade features locking feature. The blade is stainless steel with a titanium coating handle which gives it a sleek finish. Further, the blade measures 2.75 inches long, 2.3mm thick and 3.5 inches when closed. When you are traveling carrying this TAC Force TF-848 is easy since it comes with a pocket clip.
8. BlizeTec Pocket Folding Knife Versatile 5-in-1 Knife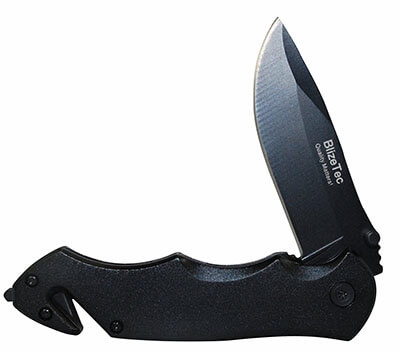 This simple looking pocket knife is sophisticated and capable. The tool is reliable and is used by different departments for use during emergency situations. Designed for use in all your outdoor activities, BlizeTec Pocket Folding Knife is sturdy and ergonomic. The blade is sleek and attractive as it has a black finish and non-slipping aluminum handle. Further, the blade is extra sharp to ensure it effectively cut anything whether soft or hard when you are in the field. Apart from cutting, the knife has integrated glass breaker and inbuilt belt clip. The liner lock ensures the safety when your knife is in the pocket while double thumb stub is ideal for single hand opening.
7. Victorinox Bantam Pocket Knife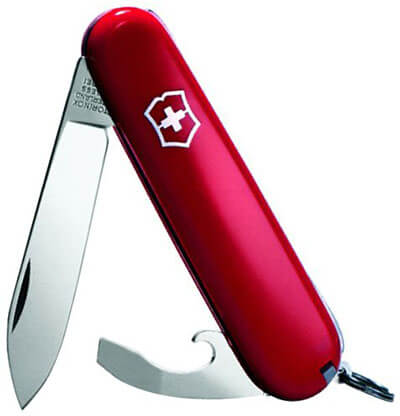 Victorinox Bantam is a perfect selection if you want a pocket knife with additional features. This is because; it allows you to enjoy these features as well as compactness of the tool. When you are outdoors, there is no straining when you want to cut anything as it has a strong blade. Further, the inbuilt cap lifter and can opener are perfect in opening your food cans. Other incorporated features include Philip screwdriver, tweezers and wires stripper. This assist when there is a quick task when you are in the field. The tool weighs 1.1 ounces while the blade is 3.3 inches.
6. Boker 110723 Ts Copperhead Dual Blades Pocket Knife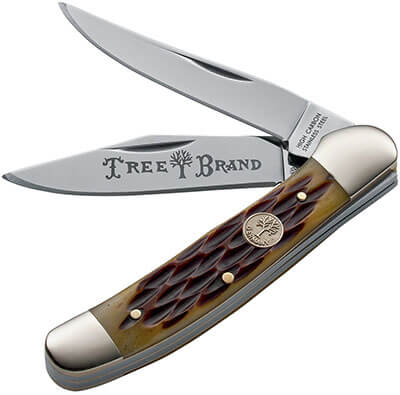 This dual blade Boker Ts copperhead pocket knife is a highly engineered tool to give you maximum performance and satisfaction. It is manufactured from premium material to withstand field condition without compromising its performance and durability. The blade is stainless steel, 440c hence resistant to breakages and corrosion. The handle is unique; unlike other existing ones, this one is from scaled bone which complements its appearance. Further, it comes with two blades with lock back mechanism for improved safety of your fingers. Its blade measures 3 inches and 6 inches overall length.
5. Gerber EAB Pocket Knife, Replaceable Blade

If you want a reliable and durable pockets knife, get this one from Gerber. It's a trustable tool which is designed for multi-use. The knife can is ideal for daily use without shortening its life span due to stainless steel construction. You can use it in your vehicle, when outdoors and also useful indoors. This is a fantastic knife which is unmatchable with existing ones, when the blade is blunt you can easily replace it. On the other hand, it weighs 2.2onces and 2.4 inches whens closed, thus will perfectly fit in your pocket. Pocket clip enhances easy portability while liners locks keep the knife closed when in the pocket.
4. Victorinox Classic Pocket Knife – Swiss Army Design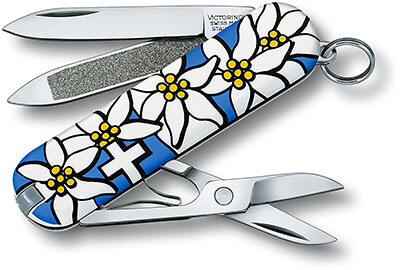 Enjoy all your adventures in style with this multi-use Victorinox pocket knife. It's an amazing knife featuring 7-in-1 functions to ensure convenience all the time. The knife is durable, and its performance is classic since its blade is stainless steel made. In the field, your nails might crack requiring quick clipping. You don't have to worry as this pocket knife has an inbuilt nail clipper and a file. Other useful features include a scissor toothpick, tweezers, and key ring for easy attachment. Its handle is ABS plastic constructed and has a beautiful flower decoration which makes it attractive.
3. Kershaw Leek Pocket Knife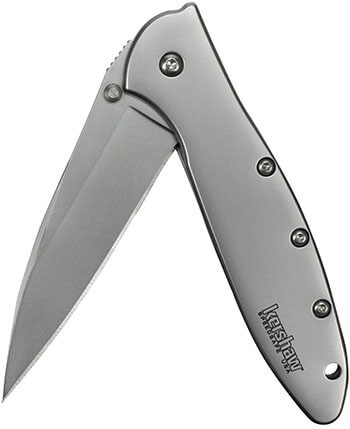 Kershaw is a renowned brand for the production of high-quality knives. This leek pocket knife is lightweight and compactly designed to fit in your pocket as you enjoy your exploration. It's a simple too, to use though the assisted speedsafe opening mechanism. This involves pushing the manual button on the thumbstud, and the blade opens. Further, the frame lock ensures the blade is safe and won open while in the pocket. The knife comes with pre-drilled holes which enable you to change the knife tip. It has a beautiful look with a durable stainless steel handle.
2. Schrade 8OT Senior Pocket Knife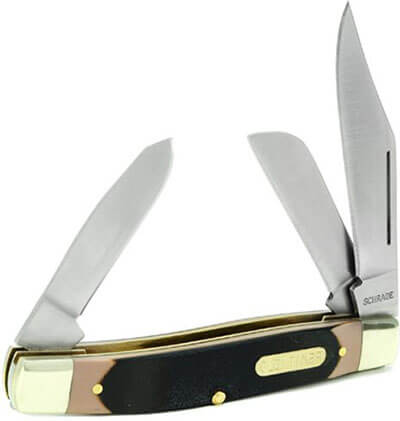 Old timer 8 is a reputable pocket knife from Schrade for its superb performance and durability. It's a highly constructed knife to deliver under any circumstance of use; whether you are using it indoors, outdoors, recreations and hunting. It has multi-blades which are carbon steel constructed to resist corrosion or staining as well as breaking. Further, it features a sawcut handle enhanced with brass pins and nickels silver bolster. The back springs are strong to aid in openings the blades, and they are heat treated.
1. Victorinox Fieldmaster Pocket Knife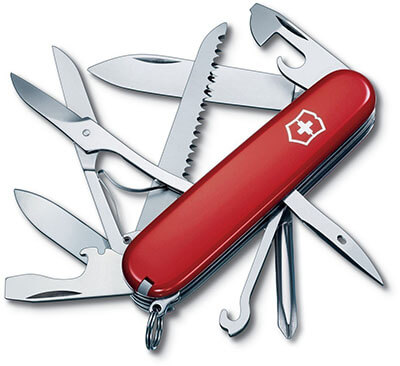 Victorinox Fieldmaster Pocket Knife is among top most pocket knife available today. It is an ideal tool that every person who loves field expedition must acquire. With it, you can enjoy the 15 inbuilt features hence easing your work. It features a saw which is ideal for sawing woods or fruits, a pair of scissors are perfect for trimming leaves and other functions. The Philips screwdriver is an excellent tool for ease of driving screws without damaging them. You can also open your bottles though incorporated opener. Others include multi-purpose hook, can opener Reamer and wires stripper.
Conclusion
A pocket knife is an ideal tool that one should possess all time. It is important as it can assist during emergencies and when outdoors. On the others hand, these knives are legal to carry and can act as a self-defending tool in case of an attack. Get your today and experience outstanding performance.