We live at a time when our lifestyle typically dictates our health with obesity and fatal conditions as heart problems rapidly claiming many lives. This is why medical professionals repeatedly stress on doing physical exercises and their benefits. Outdoor cycling is one great way of staying fit since it helps burn lots of calories while improving your cardiovascular system.
Investing in a home cycling bike gives you all the benefits of outdoor cycling while adding you the advantage of cycling at any time or in any weather condition. If you lack the time or money to join any gym, then purchasing an indoor exercise bike would be very beneficial.
Aside from working out in the comfort of your home, the best indoor cycle trainer equally engages your muscles since their design mimics the motions involved in outdoor cycling. And just as any other fitness equipment, you need to do some research before settling for an indoor cycle since there are different models each with varying features.
We give you a list of the best models so you can compare and find the best indoor cycling bikes that meets your needs.
List of Best Indoor Cycling Bikes for Fitness
10. Sunny Health & Fitness Asuna 5100 Commercial Indoor Cycling Bike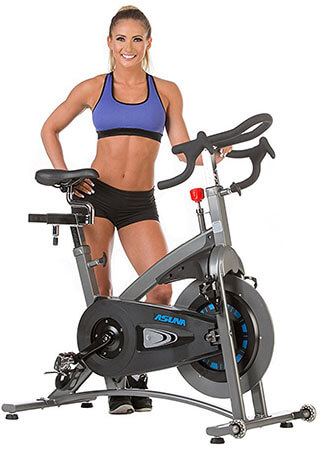 The Asuna 5100 Commercial Indoor Cycling Bike is perfect even for the at-home fitness enthusiast. It has all the features to give you an amazing cardio workout sure to help you achieve your fitness goal. Its maximum user weight capacity is 300lbs and has assembled dimensions of 49 inches length, 21 inches wide and 47 inches high.
Its fully adjustable seat can comfortably be customized to fit any rider while the multi-use handlebar will adapt to any biking condition. The Asuna 5100 has a 37.5-pound heavy duty Flywheel that gives you smooth rides without any jerky out of control movements.
Its cushioned seat is ergonomically designed and can easily adjust to meet your needs. Additional features such as convenient reversible cage-like pedals, easy to reach bottle holders and transport wheel makes the Asuna 5100 highly functional.
9. Sunny Health & Fitness SF-B901 Pro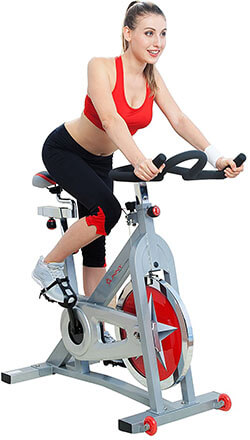 This indoor exercise bike has a heavy-duty flywheel that is 40 pounds. Its design makes exercising very convenient, easy and also fun. The padded handlebars easily adjust up and down as well as the padded leather seat. You can switch your workout intensity with the tension knob to challenge yourself throughout the workout.
It has a smooth chain drive mechanism and a heavy-duty crank system. Besides, the SF-B901 weighs 97lbs with a maximum user weight of 275lbs. There are transport wheels designed to make mobility easy.
8. Sunny Health & Fitness SF-B1002 Indoor Cycle Trainer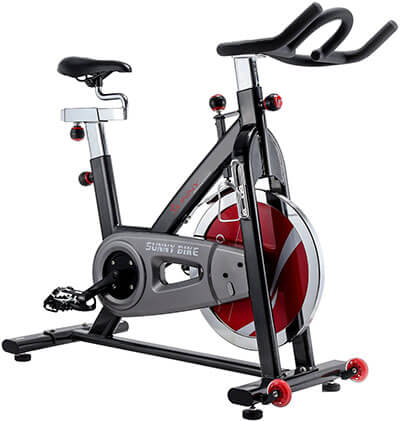 This quiet home cycling bike will make exercising convenient and effective. It is engineered with a 49lb heavy-duty flywheel and a steel frame that makes it sturdy and stable.
It has a metal bottle holder and transportation wheels that make it portable and easy to move around. Both the padded leather seat and handlebar easily adjust to ensure you're comfortable during your workout. It has a maximum user weight of 275lbs and an adjustable Inseam Height 40 inches maximum and 29 inches minimum.
7. Sunny Health & Fitness Indoor Exercise Bike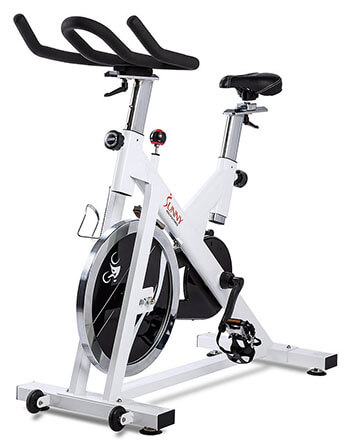 This model could perhaps be the best indoor cycle trainer you'll ever find in the market because of its unique features and top-notch design. It has a chain drive mechanism system designed to give you a smooth and quiet workout from the comfort of your home. The maximum user weight is 250lbs while the flywheel is 44lb.
If you're up for a challenge; this indoor exercise bike has an adjustable resistance that can make peddling difficult to whatever level you want. Sunny Health & Fitness' indoor bike is versatile, comes with adjustable handlebar and seat with a heavy duty crank. The dimensions of this model are 44L by 20W by 44.5H.
6. Spinning Sprint Premium Authentic Indoor Cycle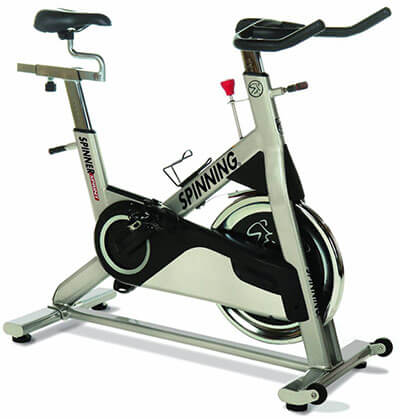 Spinning's Indoor Cycle is durable with a commercial grade construction that will serve you at home for as long as you want. It has a 43lb weighted flywheel that delivers smooth momentum. It boasts of a stable fixed handlebar angled five degrees up for better and comfortable grip.
The leather top-down brake pad makes braking reliable while increasing its life span. It additionally has an optimized Q-factor at 155mm that rivals real outdoor bikes and comes with four spinning DVDs.
5. Exerpeutic LX7 Indoor Cycle Trainer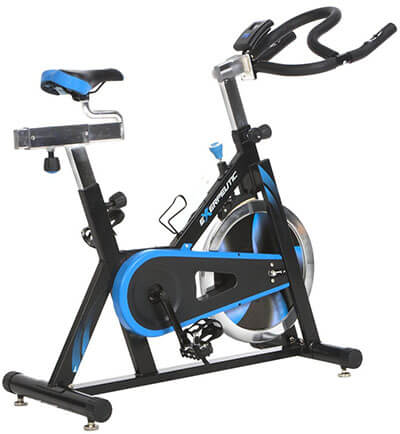 The LX7 is equipped with a computer monitor and heart pulse sensor making it unique thus ranking as the best indoor cycling bike available at an affordable price. It has an attractive black and blue design and boasts of multi-grip soft foam handlebars that adjust up and down locking into three different positions.
This model has a 40-pound cast iron flywheel with chrome rim. The easy dial tension adjustment allows you a more challenging workout which also adds up as a top-down emergency brake.
The cushioned seat is ergonomically designed and will adjust four ways; forward, backward, up and down. The Exerpeutic LX7 additionally lets the user stand up and pedal giving you an uphill road experience.
4. Sunny Health & Fitness P8100 Pink Indoor Cycling Bike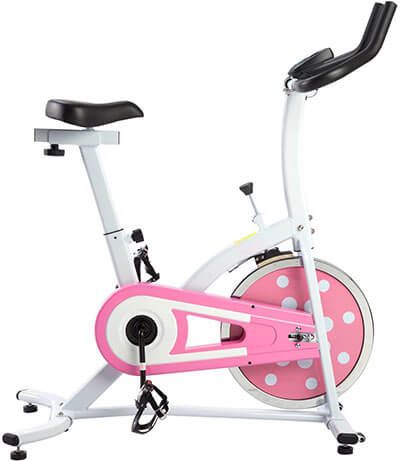 The P8100 is a highly-rated budget-friendly bike with an attractive pink design that makes workout easy and convenient from your home. It has an adjustable seat and handlebar with a felt brake pad and micro adjustable tension. The heavy-duty steel frame makes it strong and durable promising you long-term use.
It additionally features a chain drive transmission system that makes exercise quiet and smooth. The P8100 has a maximum user weight of 220lbs and is equipped with a chromed 22lbs flywheel. You can track your progress on the screen that displays time, distance, speed, and calories burned.
3. Sunny Health & Fitness SF-B1421 Home Cycling Bike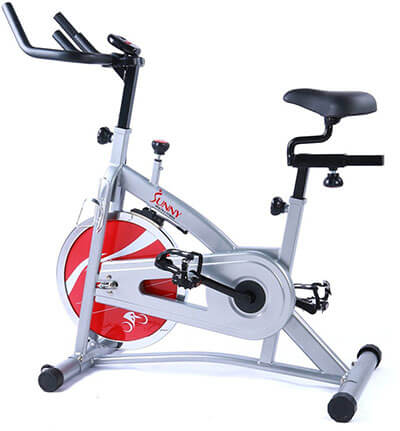 With a 30lbs chrome flywheel, the SF-B1421 by Sunny Health and Fitness is the best indoor cycle trainer for any intermediate and experienced user looking to achieve their fitness goal. It boasts of ergonomically designed fully adjustable seat and handlebar. Moreover, it has a micro-adjustable resistance knob with a press down breaking system.
Your workouts will surely be worth the effort with this model that lets you track your progress on the LCD screen. You can always track your time, speed, scan, distance and calories with the SF-B1421. Its user weight capacity is 265lbs. The heavy duty crank and steel frame makes this machine durable thus you're sure you'll have it for a very long time.
2. Sunny Health & Fitness SF-B1509 Indoor Exercise Bike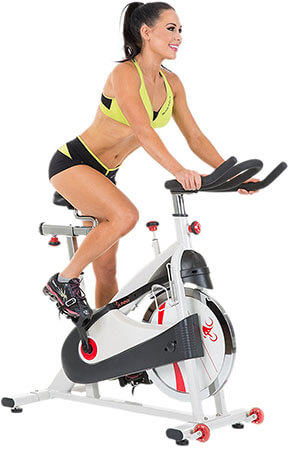 The SF-B1509 is a home cycling bike designed for enthusiastic home gym users looking to achieve their fitness goal. It has an extremely attractive design with a sleek finish. It is adjustable in both the handlebar and seat for a customized body alignment. Its frame is made of high-quality steel.
The dual action click and caged combination pedals ensure your lower body is positioned for excellent performance. Besides, the Sunny SF-B1509 has a 40lb solid flywheel and micro adjustable resistance. The belt drive mechanism ensures workouts are not only smooth but equally quiet.
1. Fitleader UF4 Health Fitness Indoor Cycle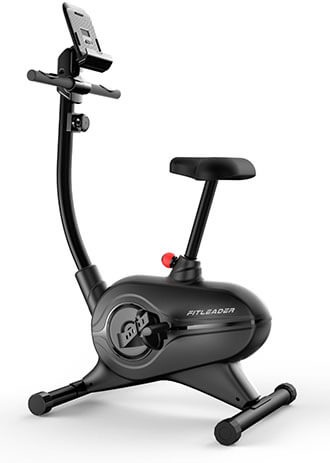 You'll love the sleek design of this model by Fitleader. Besides, it has a price tag that is very budget friendly you won't have to spend a lot of money. The seat has an adjustable height ranging from 28 inches to 36 inches. It has a weight capacity of 250lbs and additionally features an ergonomically designed pedal that makes peddling quite comfortable and efficient.
There are eight levels of resistance and course profiles. Besides, the UF4 has a weighted perimeter flywheel that gives you a quiet, smooth, true road feeling. Furthermore, this model is equipped with transport wheels that make it easy to move from room to room.
Conclusion
You can compare and settle for the best indoor cycling bike from this list that has models with unique features guaranteeing excellent performance. Features such as the flywheel weight, resistance control system and adjustability should be taken into account when shopping for an indoor exercise bike. While the design may not be important, you want to consider a model that matches your personal preference and is equally affordable. Finding the best indoor cycle trainer isn't a task to take lightly. After all, you want to achieve your fitness goal so be sure to take your time making comparisons to find one that meets your specific needs.