No other group has a higher population than insects. But, some insect-like flies, mosquitoes, and others cause great nuisance. With people moving away from the conventional ways of eliminating bugs by chemicals, bug zappers are becoming a useful option. They employ a safe mechanism to kill insects hence safe to the environment and household use. Typically, zapper traps use a source of light that attracts insects. The surrounding grid with high voltage electrocutes insets, therefore, killing them.
Since these equipment are a bit safe to the environment, they are great options to keep your house free from bugs. But, if you are new to these gadgets, it can cause you great agony to select the ideal one. Usually, when equipped with right information, you virtually buy everything. Well, the same case applies to bug zappers. Especially, for indoor use, they need to be safe and effective.
Indoor zappers come in various styles and sizes. Thus, you need to choose the right size and style to fit your target area. Also, the construction is essential in ensuring zapper is reliable and efficient. On the other hand, the effective killing range is something worth giving a lot of attention. Besides the light attraction, the zapper should also be able to enable chemical and other insect attractants. This gives it even more enhanced killing ability. For insect free house, you need these top 10 best indoor bug zappers in 2021.
List of Best Indoor Bug Zappers
10. Flowtron BK-15D Electric Insect Killer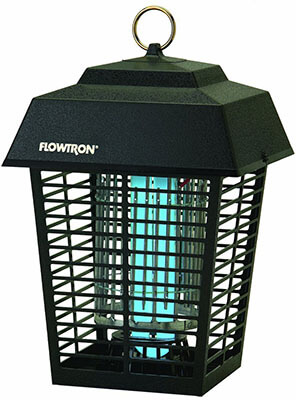 The BK-15D is an outdoor bug zapper with 1/2-acre coverage. This lantern-style model uses nontoxic ultraviolet light to kill mosquitoes and other insects. As opposed to using chemicals, this unit is safer and cleaner to use. It has patented non-clogging killing grid and also features a protective outer enclosure that keeps your little ones safe. The electric bug zapper uses a 15-watt bulb that is easy to replace. Its rugged weatherproof construction will not crack, rust or fade.
9. Kapas Electric Indoor Bug Zapper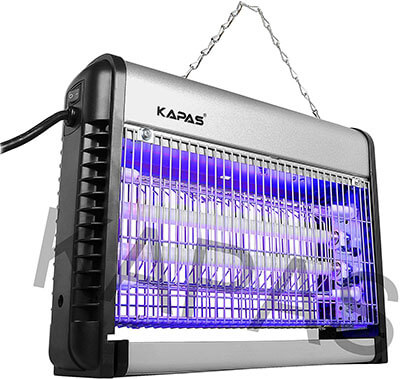 This is the best bug zapper for home and commercial use. It uses 60HZ frequency and a special tube that emits ultra-violet rays to lure and kill insects. The indoor bug zapper utilizes blue light which is safe and clean to human eyes. The metal grid is also safely designed to protect your kids and pets from touching it. This unit operates silently and does not produce fumes or any smell. There is a removable tray and a hanging chain so you can place it on the wall.
8. Ylovetoys Outdoor Bug Zapper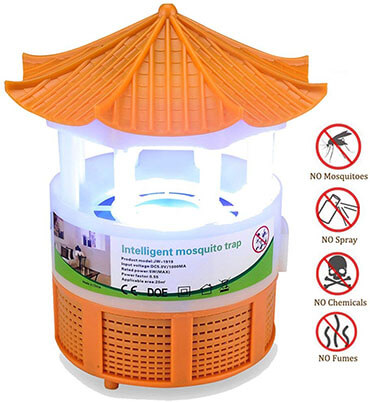 This unit uses a soft blue light to lure flying insects into the killing grid. There is a built-in fan that sucks the insects into the storage box. The unit has no irritating noise or dangerous electric currents that can be harmful to kids and pets. It is safe and sleek that you can use it in your child's room. Its stylish and portable design equally serves you as a night lamp. This bug zapper is perfect for infants and pregnant women. You can put it in the kitchen, living room or car. It is powered by USB with DC 5V. The detachable parts make it easy to clean and maintain on a weekly basis.
7. VIVREAL Indoor Insect Killer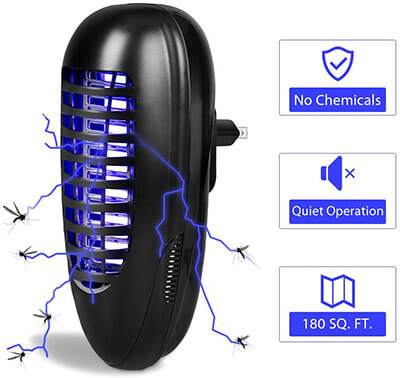 Vivreal's indoor bug zapper spreads light in all directions making it effective for a coverage area of 180 square feet. It is ideal for your bedroom, kitchen or office. As opposed to traditional mosquito killers, this unit is 100 percent safe to use. It has no harmful chemicals, smell and does not produce irritating noise. Its silent operation makes it the best indoor bug zapper to use in your child's room. The unit boasts a durable outer mesh that protects your children and pets from touching the killing grids. It's very simple and easy to use with little maintenance. The small size makes it easy to carry around.
6. Douhe Bug Zapper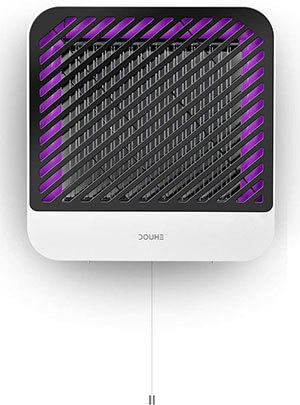 The unit stands out from the competition because of its futuristic design. It uses light cycling, heat, and scent to deliver the best results. It is designed for indoor use and can cover a wide area of up to 800 square feet. Its compact size makes it great for any room in your home or office. It has a pull switch string that makes it easy to operate the bug zapper without touching it. It is also easy to clean and maintain thanks to the detachable storage tray included in the lower part. The material used is safe but you can still mount it on the wall to keep it out of reach. The zapper operates quietly during the day and night but will likely deliver the best results during the night.
5. YUNLIGHTS Electronic Mosquito Zapper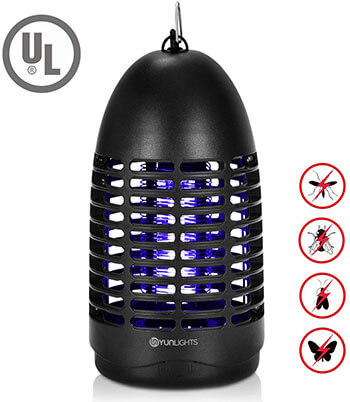 YUNLIGHTS' unit is an efficient indoor bug zapper equipped with 8W ultraviolet bulbs that attract flying insects to the high-voltage charging metal grid. The external mesh design should protect you and your loved ones from touching the metal grid accidentally. It also comes with a detachable tray that you can easily pull out for cleaning. There is a ring on top of the unit so you can mount it on the ceiling away from children. It is equally small with a flat surface so it may not take too much space in your room. Like most units, this bug zapper is odor-free and has no chemicals that could potentially cause harm to your loved ones.
4. PexFix Mosquito Killer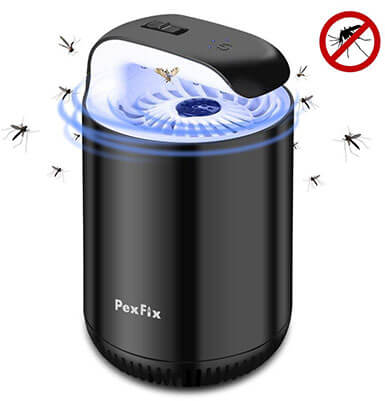 PexFix is a rechargeable bug zapper with a sleek and stylish design. The wireless bug zapper can be charged by power bank or adaptor. It produces a UV waveband of 365nm to lure and kill flying insects within and outside your home. The model has a convenient handle on the top that makes it easy to carry around. This unit is perfect for both indoor and outdoor use. You can either put it in your bedroom, washroom or camping tent. This bug zapper has a light-controlled sensor switch that automatically turns on the lamp in the night and closes during the day. The unit does not have annoying electric noise and it is not toxic so it is safe around children and pets.
3. Mosquito Magnet Patriot Plus Mosquito Trap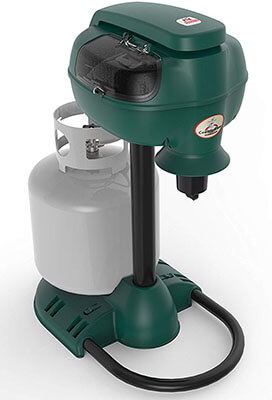 This unit has a special design and boasts some of the great features that promise you a mosquito-free backyard. The trap uses heat, CO2, moisture and other secondary attractants to lure and kill irritating mosquitoes in your home. The insects are sucked inside the trap where they dehydrate. It is designed for outdoor use only and can cover an area of up to 1 acre. It has a 50-ft power cord and boasts a sturdy base so you can conveniently place it in any location within your yard. It also features a large self-contained rigid net that is easy to remove and replace. The trap is easy to assemble and you can use it immediately if you want to see noticeable results.
2. Avriaid Mosquito Killer Lamp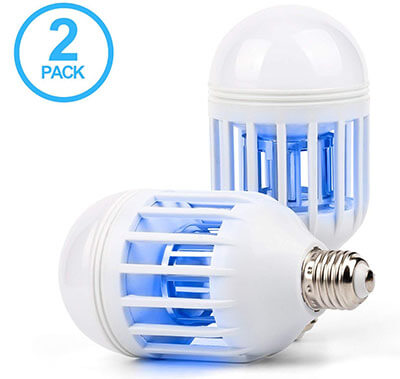 You might want to check out this model if you are shopping for the best indoor bug zapper on the market. This multipurpose lamp comes in a pack of two. You can choose from three modes depending on your preference. The lampshade is made of PC material that is durable. This mosquito killer lamp is perfect for both indoor and outdoor use. The bulb adopts the latest and most advanced light-wave technology with a built-in light trap to effectively kill all flying insects. Its 12W LED bulb provides up to 50000 hours of bright and soft light. Unlike noisy models, this bug zapper light bulb works without any irritating sounds or annoying disturbances. It is safe to use and pretty easy to install. The lamp base fits standard 110V sockets so you can install it anywhere.
1. Homecube Bug Zapper and Camping Lantern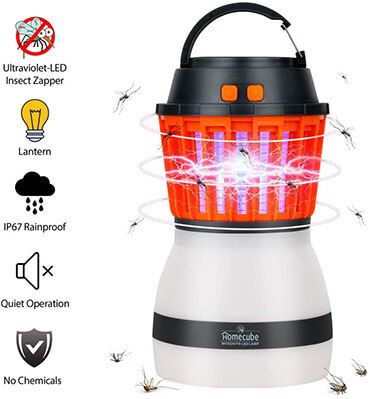 This is both a bug zapper and camping lantern. It looks stylish and the 2-in-1 design makes it the most preferred unit for many people. You can use it both indoors and outdoors. The unit's UV light should give you a 16 by 16 ft mosquito-free area. This bug zapper is highly waterproof so you don't have to worry about the rainy days. The lampshade is removable and can easily be changed. Besides, this unit is small and highly portable; you can pack it in your bag on your next camping trip. You can choose from three different brightness levels depending on your lighting needs. On a full charge, this lantern should give you a minimum of 12 hours use while the zapper only setting gives you more than 28 hours of use.