These days, with improving technology, TVs has moved from traditional connectivity to HDMI. This helps in better quality pictures and also broad range connectivity. However, TVs only come with one or two ports. Therefore, connecting many devices needs you to disconnect to connect the other device. This is where HDMI switches come in. They have several input ports that allow the user to switch manually or by use of a remote control.
Well, these switches come in different designs depending on the picture quality. Therefore, depending on your TV, you will have to look for the right and compatible switch. Some of the highest quality supporting switches are capable of supporting 4K X 2K. They are premium and can also enable the user to play 3D content. They usually come with 4 ports hence able to connect to various devices. The other type is 5 X 1 switches that are designed for HD TVs. They can support 1080p thus delivering sharp pictures.
The 3 X1 HDMI switches are also great and designed for use with basic devices. Like DVD players. Although they are capable of supporting HD content, they don't have many ports like other types. The good thing about these switches is that have various function apart from supporting pictures. Therefore, one can get ideal one for their needs. If you want to have an easy time with your TV, these top 10 best HDMI switches are perfect choices.
List of Best HDMI Switches
10. Kinivo 301BN 3-Port High-Speed 4K HDMI Switch IR Wireless Remote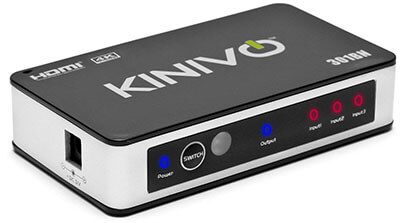 Are you a gaming or movie enthusiast and you have a taste for other stuff? Kinivo 301BN 4k HDMI switch is all you need to have an excellent capture of all your favorites. Since you are able to switch between different HDMI sources, there is no need to fill cords everywhere. This HDMI switch ensures that there is only one cord that enters your HDTV and then you can enjoy seamless transitions. It is among the best HDMI switches available and with excellent flexibility. It allows you to enjoy favorite media in a crisp crystal clear 4K resolution.
9. J-Tech Digital 8 by 8 HDMI 1080 P Matrix Switcher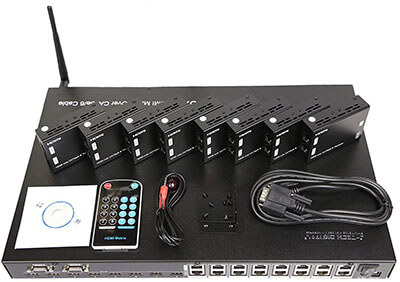 This 8 x 8 matrix designed HDMI switcher delivers exceptional functionality. It provides a simple method to control the HDMI sources to a maximum of 8 HDMI displays. Featuring HDCP protection, this device routes any full HD content to any destination without any challenges. To facilitate easy set up this matrix includes an application for PC for HDCP or EDID configurations.
8. DotStone HDMI Switch 4K HDMI Splitter- Bi-direction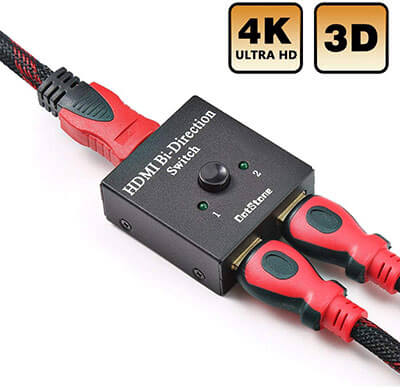 Dotstone HDMI switch features an innovative design that offers luxurious video and audio. It supports all video formats such as 3D, 1080P, 2k, and 4k resolution. Besides, it features a broad application range and hence works with all devices possessing HDMI port. These are great for electronic shops, concert rooms, big malls, and clubs. Unlike other models which are small, this one is in its own class. It features a tiny cubical design.
7. GANA 3 Port HDMI Switch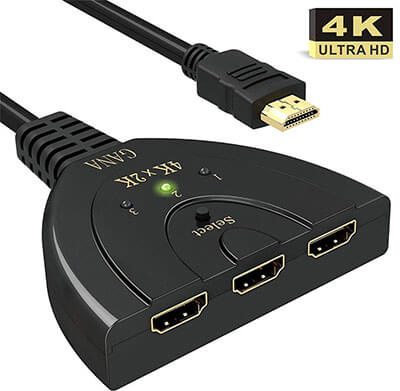 The GANA HDMI switch features a classic design that is easy to use and compatible with modern devices. It features a smart manual operation with a keypress function. You can use with modern HDMI devices such as XBOW360, PS3, Blu-ray player, Apple TV, laptops and HD monitor. It supports 3D display to ensure you enjoy the superb movie, gaming, and video resolution. It is compatible with HD audio and HDCP. The audio formats supported include LPCM, Dolby, DTS7 and others.
6. IHarbort 2-Port HDMI 2.0 Splitter Adapter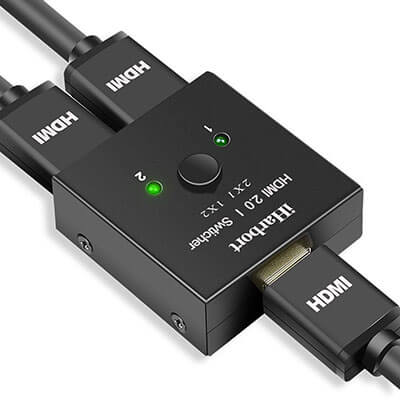 Are you encountering ups and downs when you try to toggle between displays or when using one display with several HDMI sources? Featuring 18 Gbps data transmission, it supports all resolutions starting from 480p all the way up to 4K. Moreover, it is compatible with projectors, HDTVs, computers, monitors and other screens with an HDMI port. Besides, it is compatible with all HDMI standards even the latest HDMI 2.0 standard.
5. TILVIEW High Speed, Five-Port HDMI Splitter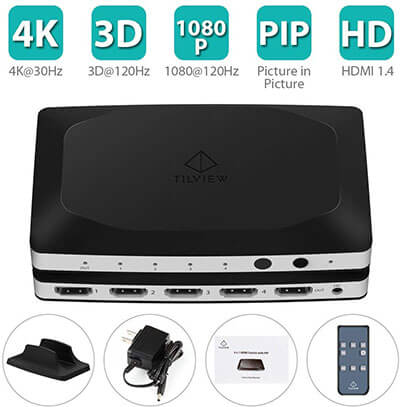 TILVIEW HDM Splitter delivers excellent four-ports HDMI switching. It offers perfect transitioning between gaming, movie and TV channels. Besides, it supports 4k resolution so that you can still enjoy full HD content. The same is for the audio quality. It is a high-performance HDMI switcher that supports 2k to 4k resolution. It also supports PIP and IR Remote Control that enables easy switching between various signals.
4. DINGER Three Port HDMI Switch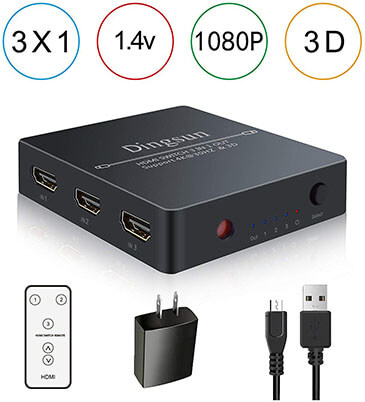 Dingsun 4k HDMI Switch is the best for home entertainment, meeting rooms, training facilities, and other places. It features a high-quality core chip, and it has a signal amplification function. The output function is very effective and delivers HD videos and audio to HD display. The design supports plug and plays function, and it is very easy to connect even for the first-timers.
3. SNANSHI Three Port HDMI Switch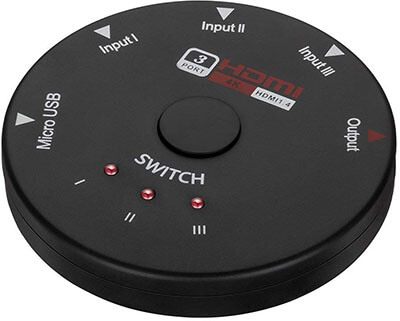 This is the best HDMI switch when you have several input media devices, yet you have one TV. It features a three in one out design that allows you to connect 3 sources to one HDMI sink such as a projector, monitor and HDTV. It features sophisticated built-in resolution enhancement elements. Thus, it supports 3D devices, full 1080p, and 4k devices. Besides, this switch doesn't need a power adapter since the HDMI cable can get power from the connected devices.
2. Fosmon Three-Port HDMI Switch, HDMI 2.0, HDR, HDCP 2.2, [email protected] 1080p Wall-Mountable HDMI Switcher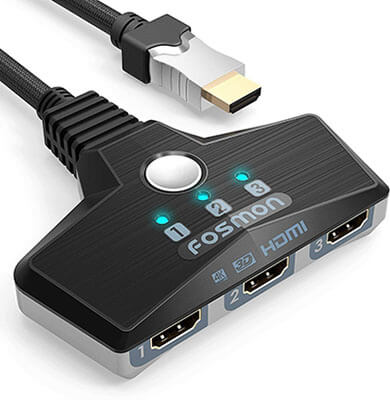 Are you looking for the best HDMI video switcher? Fosmon three port HDMI switch offers a perfect answer for you. It supports the latest HDMI standards. In fact, it is designed to support HDR and [email protected] allowing incredible resolution. The smart design allows intelligent switching between various input devices. Moreover, it allows the addition of extra power via the micro USB port available on this device. Also, it features metallic alloy plug and together with braided outer cable.
1. No Hassle AV HD baseT 4K HDMI Matrix SWITCHER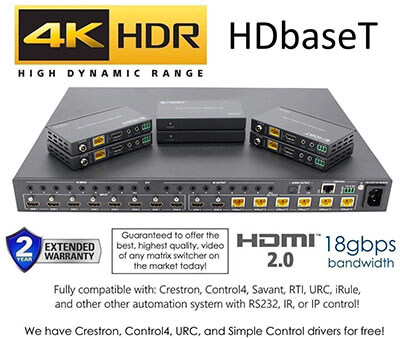 The recent developments in TV accessories require the use of HDMI switch. One of the best HDMI switches is the NO Hassle and has a lot to offers. It supports the latest Dolby formats, and this makes it really marketable. It also features HDBaseT receivers and bi-directional IR. It allows you to connect a total of 8 HDMI enabled devices. It supports web control in your PC, Android or Apple device. Thanks to the 6 DBase receivers which don't need external power. It supports RS232, IP, and IR Remote Control and this guarantees superb compatibility with Crestron, savant and another RS232 control system.