Why are the electronic dartboards so popular nowadays? The reason why people prefer electronic dartboard scoring is more convenient. Well, amateurs and professionals seem to love the electronic dartboards. Moreover, the automatic scoring in these dartboards allows easy and convenient gaming for all player levels. As you already know, you will be required to use a pen a paper t record everything in the case of bristle dartboards.
If you join the greater dart community, you need to invest in the best electronic dartboards. This incredible technology allows everyone to see the score in real time. Furthermore, there is lots of built-in game to select in the case of electronic dartboards. As results, you will enjoy a longer playing fun. Besides, electronic dartboards are incredibly durable. Unlike the bristles dartboards, these suffer negligible damage if any. So, let's hop over the top 10 best electronic dartboards.
List of Best Electronic Dartboards
10. Arachnid Cricket -quality Electronic Dartboard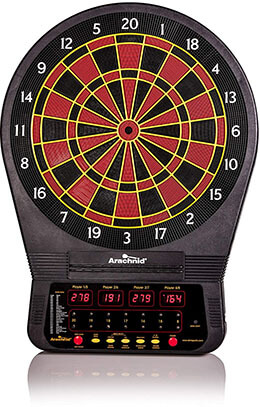 If you're bored of frequent bounce pouts while playing dart, you need to invest in the pro tournament electronic dartboard. It features a nylon material and thin segment designs which are meant for reducing bounce outs. Apart from the improved playability, this board is also incredibly durable. The battery life is excellent regardless of the hours you send in the game. It has a regulation size of 15: inches and consists of 24 games and 132 variations. This also includes five cricket games. Well, due to these exciting features, it is an excellent device for professional and newbie players.
9. Arachnid Bull Shooter Cricket Maxx 1.0 Electronic Dartboard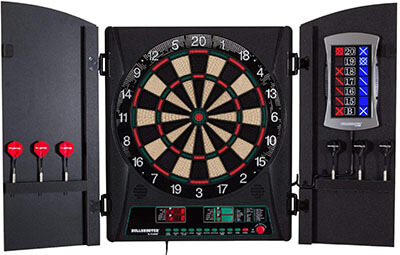 The electronic dartboards have changed people's perception of the dart game. In the midst of the best-rated dartboard, the Arachnid Bull shooter takes a commendable position. It features 13.4 inches target size and is made of the unique thermal resin material to minimize bounce outs. It offers stylish storage since it boasts wooden cabinet doors with a walnut finish. Also, it is supported by a heckler features which mocks the bad darts and applauds the valid scores. It features a total of 8 players alongside 2 XO cricket.it has a large LCD and a total of four score displays. The displays are LED lit, and hence they are ideal for low light rooms. It supports 34 games and 183 options.
8. Gran Board 2-Bluetooth Electronic Dartboard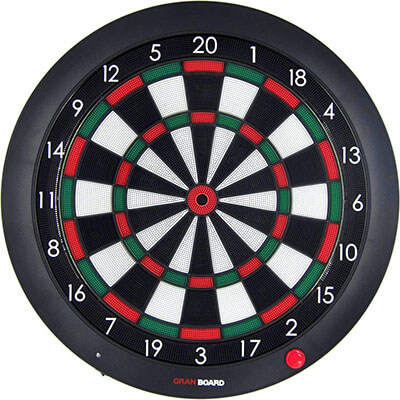 The durability of the battery and the bright LCD makes this dartboard fantastic. It features 9 computer opponents and provides excellent practice games. Through the integrated app, you can play online dart, and you will find a lot of players in the lobby. Besides, the app stores all your statistics free. It is solidly designed and features elegant engineering making it a lovely piece to boost your wall décor. Moreover, it features the same size as the regulation soft tip. Thus, it is just like playing the bull shooter. Also, it comes with a unique mount which lets you hang it on the wall within five minutes. Moreover, it features a nice sheet which you can tape on the wall to assist you to install it.
7. Viper Showdown Electronic Dartboard by GLD Products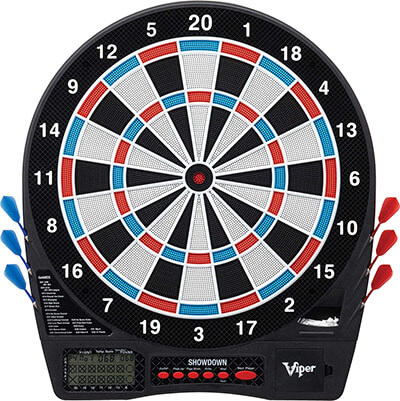 The viper showdown electronic dartboard features a stylish design and is excellent for beginners. It has a bright LCD for you to see the scoring statistics. Thus, it eliminates the need for manual scorekeeping. With a total of 32 games and 590 options player of different levels will enjoy it to the maximum. The built-in storage can accommodate 2 sets of the dart. With this dartboard, you don't need to worry about errant throws. It features a primarily missed dart ring holder. It operates on 3 AAA batteries and is incredibly energy efficient. It features thermal resin segments providing an incredibly durable playing surface.
6. GLD Products Viper Orion Electronic Dartboard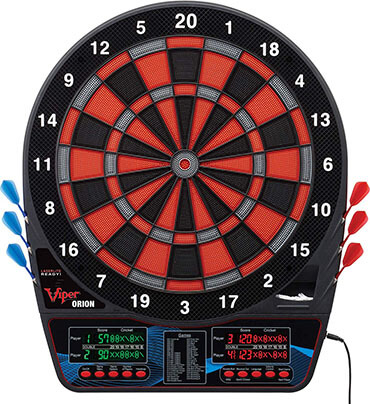 The best electronic dartboards are known for their durable playing surface. One of the best electronic dartboards to buy is the Viper Orion. It features 15.5 inches target face and is built with tournament quality thermal resin. So, it is of great quality and long-lasting than many other brands roaming the market. With the ultra-thin spider, you won't face the hassles of bounce-out. Thus, it allows closer dart groups to enjoy maximum scoring. It features a total of 32 games and 300 options. With a bright LED display, you can enjoy a crisp view of scoring and statistics. Besides, it comes with 6 soft-tips starter darts.
5. Eagle Dart Luminous Electronic Dartboard, Bluetooth 4.0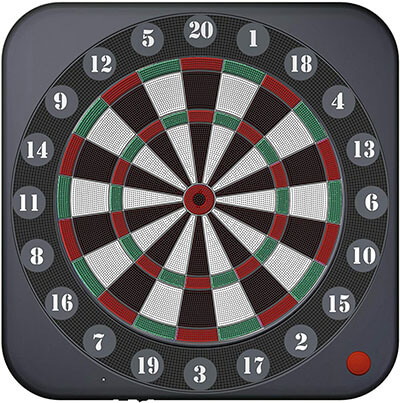 This dart game surpasses most of its competitors due to its stylish design. It is an app-driven 15.5-inch standard size and is powered by 4.0 Bluetooth technologies. It is compatible with iOS and androids version 4.3 and later. It is powered by 2 AA batteries and can accommodate up to 22g dart. Its numbers are perfectly designed, and each has LED lighting. These lights add an excellent flair to the game. Apart from beautiful design, it features sturdy construction. Besides, it comes with easy hanging instructions to make the installation quite simple.
4. Viper Vtooth 1000 Ex- Electronic Dartboard, App-Based Scoring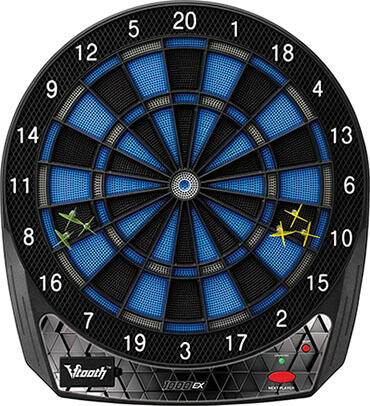 The viper electronic dartboards rule the market for a reason. The built quality is great and offers excellent playability. Several features make the Viper Vtooth 100EX electronic dartboard among the best. It features a state of the art technology which that combines a mobile app scoreboard. With an unparalleled construction, it features 13 inches target face and concave segment holes aimed at reducing bounce outs. With this dartboard, you will probably never leave any player in the sidelines. Well, it supports up to 4 players, and the custom profiles are available to track the statistics. It comes with 6 soft tip darts great for starters.
3. Funsparks Magnetic Dart Board Game – Full Set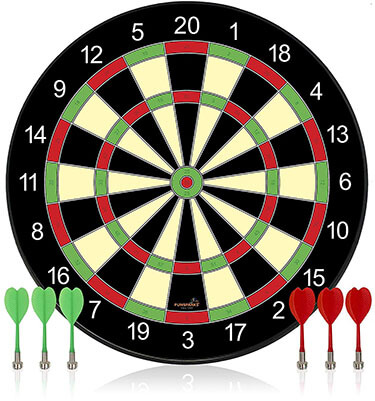 Some people consider dart game as very dangerous due to bounce outs. However, this will be long gone when you invest in one of the best dartboards. As the name implies, it uses a magnet mechanism to hold the darts in place. It has a uniquely designed keyhole for easy mounting. It offers 14.5 inches target surface and includes three red darts and three green darts. Well, due to the safety precautions employed in its design, it is one of the best dartboards for kids and adult beginners. With this device, there are zero chances for darts to bounce out. The magnetism employed is quite strong to ensure you play the game safely and enjoyable.
2. Gran Board 3-LED Bluetooth Dartboard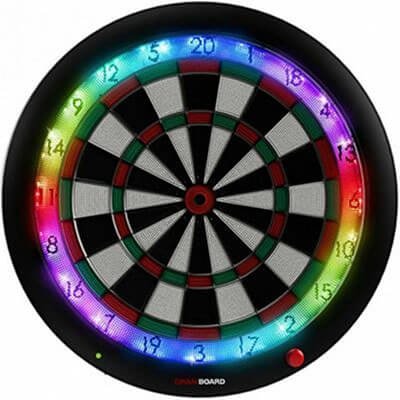 The good thing with electronic dartboards is that there are online supports. Adding new games with the Gran Board Dartboard is quite easy. You can link the game with your tablet, iPhones, smart TV, Androids, IOS to enjoy great graphics and scoring. Besides, many people are waiting for you to play with them online. The new games and upgrades are free, and you don't need to pay anything. However, you must have Bluetooth version 4.0 for you to connect the app and the board. All the numbers are multicolored, and features LED lighting to ensure excellent illumination. It features unique thermal resin and segments are ergonomically shaped to minimize bounce outs.
1. WIN.MAX Electronic Dartboard Set with Cabinet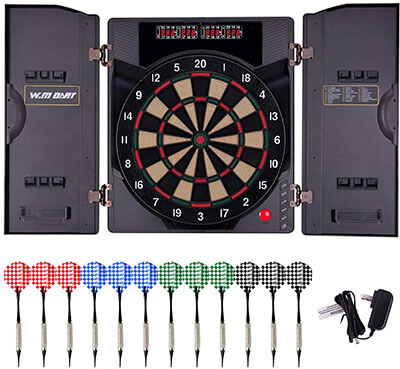 According to the features available in this dartboard set, there should be no doubts why it is regarded as one of the best electronic dartboards. It features a total of 27 games and 195 scoring variations. It ensures endless entertainments as it supports up to 8 players. Also, it supports cyber play with five different skill levels. Featuring concave segment holes and a thin spider, it reduces bounce outs by a great degree. Besides, there is a large catch ring strategically positioned around the target face. This ring offers 360 degrees landing zones for any missed slots. So, your wall will never face any damage no matter how the game is tightly contested. The storage area features sturdy abs material for secures storage of darts and other vital accessories.