Every professional electrical technician understands the advantages of having a tool bag – not any tool bag but the best electrician tool bag available in the market. It's pretty easy to forget an item when you're working on something every time you set it down. Even worse, you won't even notice you misplaced your tools until the next time you'll be contracted to fix something else.
Electrical tool bags help do away with this problem. They give you enough room to put all your equipment and have zippered closures to keep them secure every time.
We have numerous options available; from affordable tool bags, those with more room for extra storage to bags made from high-quality materials. You may have a hard time settling with the best tool bag. Here is a list of our top tool bags to help narrow down your choices.
List of Best Electrician Tool Bags
15. Custom LeatherCraft 1165 22-Pocket Bag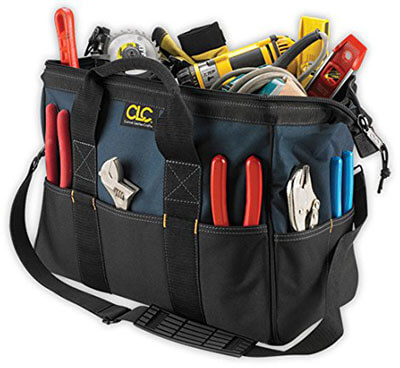 This is the bag you need if you want to look organized. It has a box shaped design that will keep it from tipping even with unbalanced loads. The bag has a big mouth and opens wide enough to allow easy access to contents inside. It has 12 pockets inside and ten outside tool organizers that let you look like the professional you truly are.
The Custom LeatherCraft Tool bag is made of 600D polyester sewn with heavy stitching for durability. Along with this, the Custom LeatherCraft 1165 bag has an adjustable shoulder strap, extra tough carrying handles, measuring tape clip and an electrical tape strap making it highly convenient.
14. Custom LeatherCraft 1132 Tool Backpack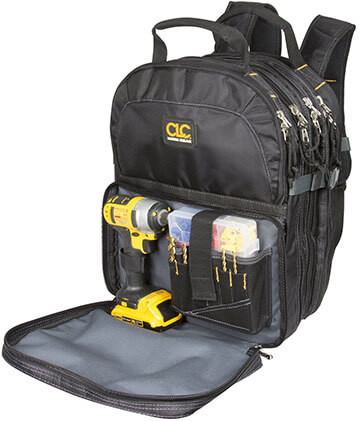 Even with its budget-friendly price tag, this backpack will offer you more than just a chic design with its six zippered compartments. It is a 75-pocket tool backpack made of high quality durable ballistic poly fabric. The interior panels will hold lots of tools from a 14-piece wrench set, extension cords, screwdrivers, electric drills and a lot more.
This backpack additionally includes a seven by 5 inches multi-compartment plastic tray. It is the best tool bag for HVAC service reps, cable television technicians and any worker looking for a convenient hands-free tool bag. The various shapes and sizes allow for a tidy organization while the hook-and-loop flap closures will keep your tools securely in place.
13. Custom LeatherCraft 1528 23 Pocket Electrician Tool Bag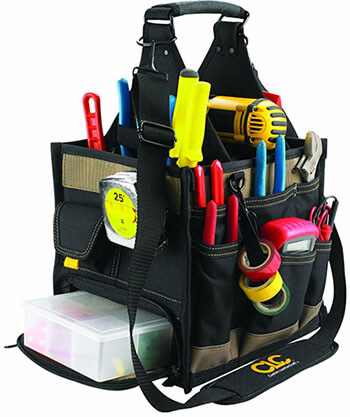 This tool bag is the best option for electricians, installers and repair technicians who access their tools more frequently. It has a flat base and a box-shaped design to prevent it from tipping. It additionally features an 11 by 6 inches multi-compartment plastic tray for extra tool storage.
The Custom LeatherCraft 1528 has 16 outside pockets and seven inside pockets allowing for tidy organization of a wide range of tools. The adjustable shoulder strap and padded carrying handle make this bag even more convenient.
12. Custom Leathercraft 16 Pocket Tool Bag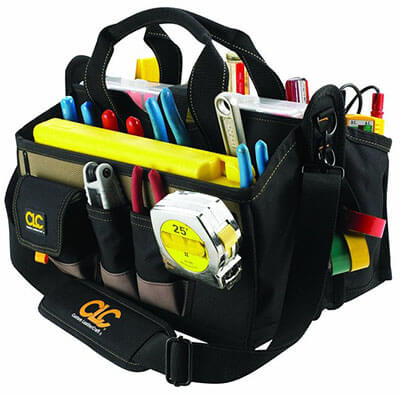 It is made with polyester fabric that makes it durable and capable of handling heavy loads. This 10 inches high and 10-inch wide bag will keep everything you need within arm's reach, and the 13 and a half inch by 9 inches plastic tray will give you, even more, room to store nails and screws.
It equally features an adjustable shoulder strap, padded carrying handle, Metal tool snap, and electrical tape strap. There are eight inner pockets and eight outer pockets giving you sixteen pockets to organize your tools and accessories.
The main pocket additionally has web loops making it easy to accommodate larger handle tools. Besides, you can always safely keep your valuables in the back zippered compartment to prevent loss.
11. Custom Leathercraft 1164 Tote Bag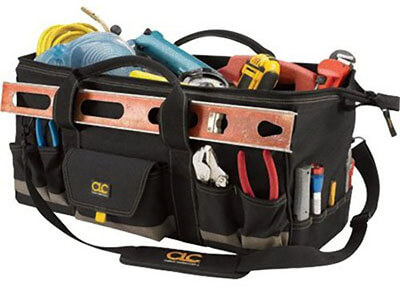 This 24-inch megamouth tool bag will organize all your tools and accessories in the eight multi-use inner pockets and 24 outer pockets. The interior is vast it can accommodate circular saws, power tools, and hard hats. Its padded handle and the adjustable strap ensure you feel comfortable whenever you carry this bag around.
The Custom Leathercraft 1164 tote bag has a size of 24 by 11 by 12 and features an internal metal frame that holds the bag open giving you easy access to contents.
10. Custom LeatherCraft 1539 Tool Carrier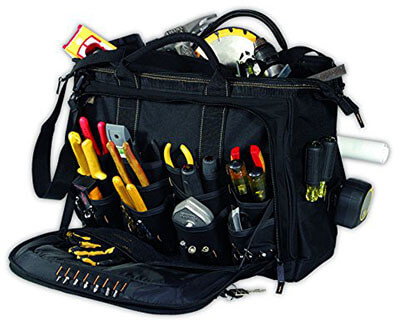 For just a few coins, you get this electrician tool bag with 54 inner pockets and four outer pockets, large enough to keep all your work tools within reach. Its size is 18L by 7W by 14H with a large center compartment to carry various power tools.
The Vertical tool pockets are designed to keep your tools in sight for quick access while the zippered sides panels help prevent tool spillage whenever you carry or store this tote bag. The sturdy and reliable construction of 1539 guarantees that you'll have this bag for as long as you'll provide your professional services to customers.
9. DEWALT DG5543 Tradesman's Tool Bag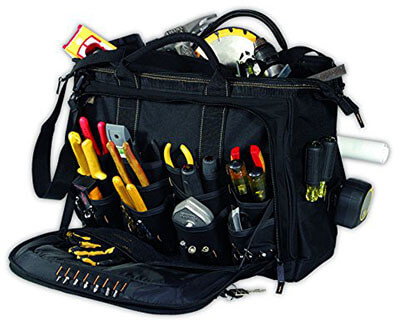 The DEWALT 16 inch tool bag has a pop-open design and large interior compartment for quick and easy access to tools and accessories. The 14 inner pockets include a zippered pocket that will keep all your valuables safe from your keys to money.
Aside from the heavy duty poly ballistic fabric construction, the DEWALT DG5543 equally features four base pads that protect the bottom for dirty and wet conditions. The 20 exterior pockets additionally allow for tidy organization.
8. Craftsman 9-37535 Soft Tool Box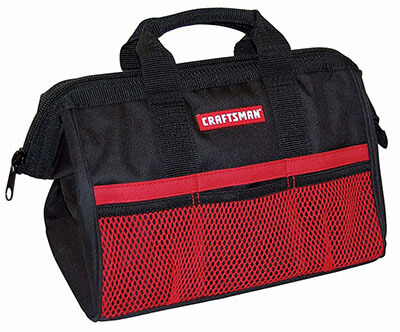 Weighing at just one pound and 13 inches in size, the Craftsman soft tool box is durable enough to carry all the heavy tools for your job. It equally has a sleek red and black design you'll always notice it from a variety of bags.
What's more, this soft tool box has a wide opening for quick and easy access to contents. It has been reinforced at base providing excellent performance while the three mesh and triple regular exterior pockets allow for convenient tool storage.
7. Stanley STST70574 Soft Sided Bag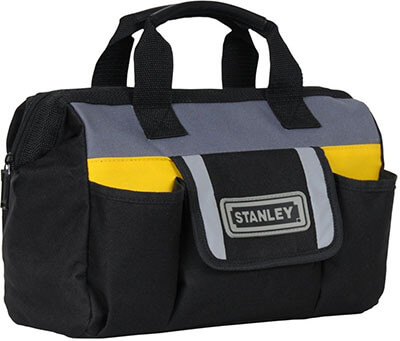 Stanley's 12-inch soft sided tool bag is ideal for keeping hand tools and small to medium items. It is very comfortable because of the cotton-padded handles. The adjustable strap makes it very easy to access contents whenever you want. This bag would be the best choice for any technician who barely moves around with large tools.
Aside from keeping the bag sturdy, the rubber foam bottom ensures the bag's content is protected in case of any hard falls. Besides, you can use the outer mesh pocket to store your personal belongings or other small accessories you'll need.
6. Carhartt Legacy Tool Bag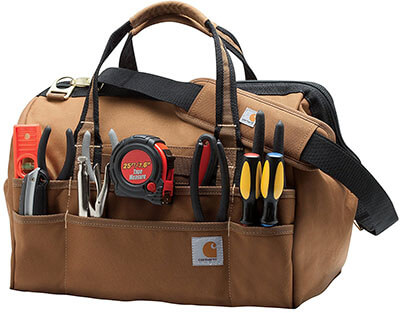 This 16-inch tool bag assures you that you'll be able to get the job done without worrying about misplacing your tools. It has a durable 1200D polyester construction equally promising you long term service. Besides, its durability makes it resistant to water punctures or scrapes ensuring that all the content is safe inside the bag.
Its internal metal frame prevents the bag from collapsing unnecessarily giving you quick access to contents. With the different sized pockets, you'll always have tools organized making them very easy to find whenever you need them.
The Carhartt Legacy Toolbag indeed beats most electrical tool bags with additional details as the YKK zippers, reinforced webbing, comfort grip haul handles and metal hardware.
5. Husky Electrician Tool Bag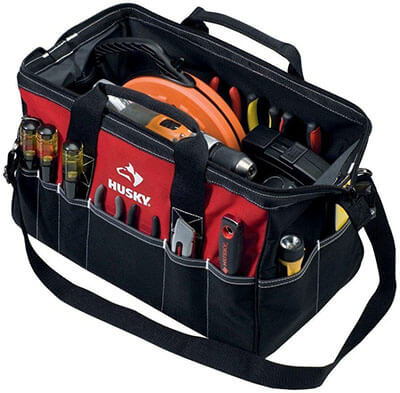 Not only will you love the budget friendly price tag of the Husky tool bag but also the sleek design with a nice touch of red and black. Aside from these, this bag has lots to offer with unique features that make it stand out and rank as the best tool bag for every electrician.
It has a dual zipper top and a shoulder strap adding to its excellent performance. What's more, there are 13 pockets inside the bag with 16 exterior pockets giving you sufficient space to keep your tools tidy for easy access.
You can never go wrong with this tool bag. It is simple to open and close and is conversely water-resistant given the fact that it is manufactured of sturdy materials that make it very durable.
4. BOSTITCH 16-Inch Bag BTST516155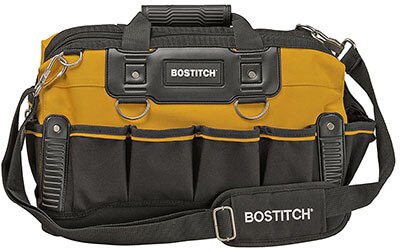 The 600 by 600 denier polyester fabric used to make this 16-inch bag protects it from wear and tear. Further, the sturdy waterproof plastic bottom ensures your tools stay dry even when on wet surfaces.
Even with heavy loads, this bag will serve you well, and the reinforced handle area makes it durable while improving comfort whenever you carry it around. You'll love the rubber pull zippers and features such as the multiple pockets and loops add to its excellent performance.
3. DEWALT DGL523 Lighted Tool Backpack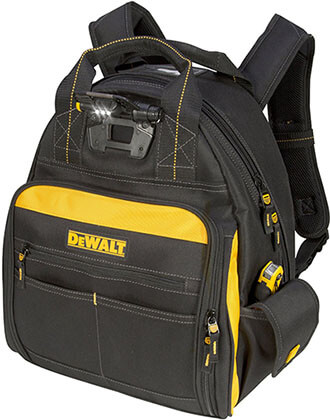 If you prefer a tool backpack, you might want to consider the DEWALT DGL523 with 57 pockets. The bag features 48 internal pockets and nine outer tool pockets for easy access to frequently used tools. The heavy duty material makes it capable of holding extension cords, drill bits, wrench sets, screwdrivers and almost any tool you'll use at work.
The built-in LED light has a maximum output of 39 lumens to light up your work area or inside the backpack. This is what makes this tool backpack bag unique. Use the front zippered pouch with pockets to store your favorite and frequently used tools. The bag further has a padded back, shoulder straps and padded carrying handles to increase user comfort when walking.
2. Viper Tool Storage V30TBKPU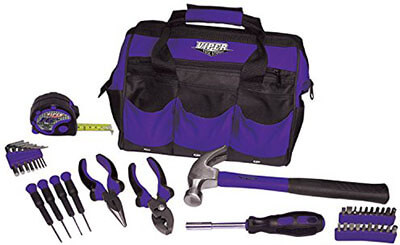 The Viper Tool Storage has an eye-catching purple color from the bag to all the included tools you can be able to differentiate your tools from other technicians. This is a bag truly built with the professional electrician in mind and comes with a lifetime warranty giving you peace of mind.
It will store all the essential tools you might need for repairs around the house. The wide mouth makes access to tools inside fast. It has a total of 24 inside and outside pockets adding more storage space.
The 30-piece set includes tools like a hammer, pliers, tape measure, precision screwdrivers among other tools. Conversely, you can buy this unique set as a gift for your friend moving into a new house.
1. Carhartt Legacy Brown Tool Bag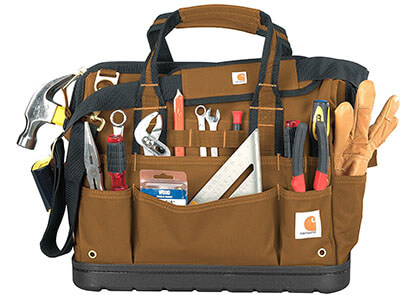 The Carhartt Legacy brown tool box has a large zippered main compartment with 11 interior pockets and 23 exterior pockets. It has an internal metal frame preventing it from collapsing so that you can easily access tools inside the bag.
What makes this bag rank among the best is the sturdy synthetic fabric material used to design it that makes it durable and water resistant. Further, it has a rugged comfort-grip haul handle, YKK Zippers, an ID tag and metal hardware.
Conclusion
Electrical tool bags are imperative to the life of any professional electrician. Bags featured in this list are affordable with a variety of designs to give every professional a convenient, roomy tool bag for daily work. If you want an electrician tool bag with great organization and great storage, you ought to consider any of these tool organizers.