Hoverboards, also known as self balancing scooters are making a comeback, but this time, UL certified to ensure safety. This means that as opposed to previously produced models, manufacturers are now producing hoverboards that are safe to use. They have turned out to be pretty popular with many people using them to commute from place to place while others just prefer to have them for fun at the park.
With advancements in technology, self balancing hoverboards are now available in different models, shapes, and sizes. While some may force you to dig deeper in your pocket, some will come very cheap. Some self balancing scooters will equally be basic while others may be highly improved and feature filled.
So how do you find the best balance scooter? Well, whether it's a one wheel electric scooter or a two wheel self balancing scooter, it is paramount to look for a model that offers you the best of both world; unique top quality features and market price affordability. We help you find the best model with our 2020 reviews of the best brands available in the market so read on.
List of Best Electric Self Balancing Scooters
10. Segway miniPRO Self Balancing Personal Transporter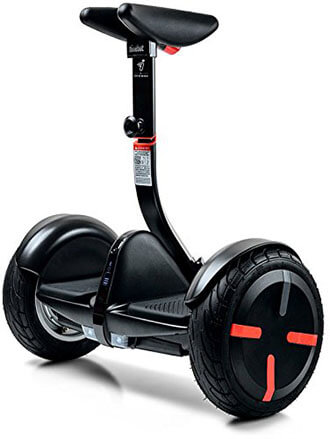 Being a UL 2272 (Underwriters Laboratories) certified, the Segway miniPRO meets fire and electrical safety standards. It has numerous features that rank it among the best models available in the market. This electric self balancing scooter has an incredible top speed of 10MPH allowing you a distance of 14 miles on a full charge.
It has two electric motors delivering a massive power of 1600 watts able to accommodate riders weighing up to 220lbs. besides, the Segway miniPRO has electric LED lights – both the headlights and taillights – that illuminates your way while making you visible to others.
Furthermore, with this model, you can use the designed app to choose from a variety of various taillight colors. Besides, you can also use this app to operate this machine via a remote control, lock your scooter with a tamper-proof Anti-theft alarm or modify the safety features.
As opposed to other hoverboards, this two wheel self balancing scooter has an innovative knee bar control allowing riders easy maneuverability when turning either right or left. What's more, this knee bar control can comfortably be adjusted to fit any individual rider, short or tall.
9. Swagtron T1 Electric Self Balancing Scooter

This is a hoverboard that truly matches and beats competition due to its impressive traveling speed and time. It is equally UL 2272 certified meeting all the electrical safety standards. The Swagtron T1 boasts a top speed of 8MPH and an 11-mile range. It can comfortably carry individuals weighing up to 220lbs.
This motorized scooter has other unique features including battery indicators that let you know the amount of power you have, LED headlights to light your path at night and rubber bumpers. It additionally has a smart battery management system, an upgraded 250-watt motor and a gear stabilization feature allowing for downhill traction and tighter control.
8. FBSport Scratch Protector Wrap Rubber Cover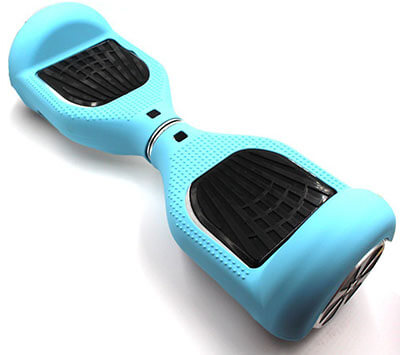 If you're tired of all the nasty scratches on your scooter, then this scratch protector would work just fine. This silicone case protector has been designed for 6.5 inches two wheel scooter. It gives your balance wheel a whole new look with the wide array of shades available you can always buy multiple hues to match the day.
It is equally very easy to plug on and off. Before riding, though, ensure the silicone skin if attached fully without touching the wheel. Give your scooter board a whole new look and full scratch protection with the FBSport Silicone case scratch protector.
7. Hoverzon XLS Two Wheel Self Balancing Scooter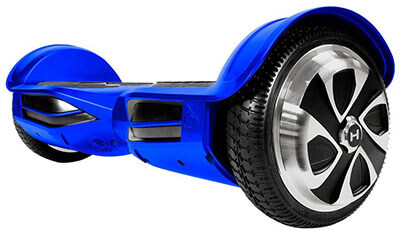 With Hoverzon's 'aegis armor' technology and a UL2272 certification, you can be sure you'll be riding a safe scooter. This scooter has anti-slip sensor pedals and a fireproof exterior casing thus you can be certain you're fully protected. This scooter has a dual independent motor, and the gear stabilization feature gives the rider ultra-responsive control.
What's more, Hoverzon's XLS self balancing scooter has a smart battery management system providing the battery improved overall performance. Besides, this model has five levels LED battery indicator making it quite easy to know how much power is left.
Enjoy your favorite music with the built-in Bluetooth speakers that make this blue model cooler than ever. With a Bluetooth enabled phone or iOS device, you can get Hoverzon's app and use it to check your scooter's battery information and the speed.
6. Byouker Self Balancing Electric Scooter Safety Handle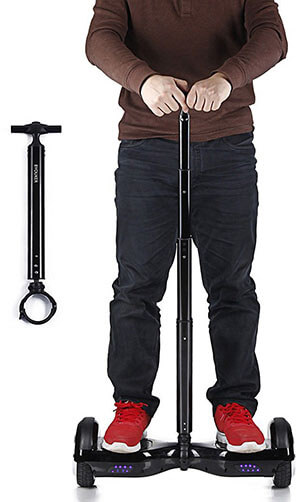 This safety handle will let you walk firmly on the road by controlling the balancing scooter even better. It has a rod length that can adjust from, 55cm to 105cm making it ideal for both adults and kids. What's more, it is very portable and has a snap ring to buckle in the middle of the hoverboard.
This black safety handle applies for 6.5-inch electric smart self balancing scooter hoverboards for models like SWAGTRON T1, POWERBOARD, and HOVERZON. The aluminum alloy material used to make this long adjustable rod for your hoverboard durable thus promising long-term service.
5. EPIKGO Self Balancing Scooter Hover Self Balance Board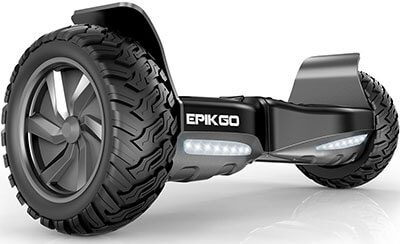 Purchasing this scooter gives you total control over your board without worrying about safety. It has 400W dual motors helping it climb steep slopes. On a single charge, this extra sturdy balance board can last more than one hour at a 10MPH top speed. The solid rubber tires make this perfect for all terrain riding.
Besides, it is water resistant and very sturdy it can easily maneuver through mud, grass and sand. As opposed to other models, EPIKGO is two times more powerful and 30% larger. This means that it has more foot space giving you more control and a more stable ride.
Its two-hour fast charge technology additionally gives it a plus making it more sophisticated and the best balance scooter you'll find on the market.
4. Skque Self Balancing Hoverboard
This scooter has a maximum payload of 220lbs. it has passed all the UL safety regulations thus you can be sure this hoverboard is super safe to use. It has an upgraded and newly improved motherboard with tuned gyro sensors offering you very smooth rides.
The extra sturdy shell and enhanced chassis are made of a top quality material providing unmatched product durability. With the built-in wireless Bluetooth speaker, you can link up your Bluetooth enabled phone with the board to enjoy music while on the move.
You won't even have to worry about night rides since this model has built-in bright LED lights that illuminate your path during the dark hours.
3. Innerneed Self Balance Wheel Scooter Skin Case Wrap Cover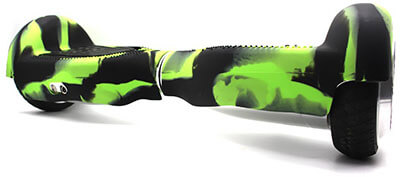 This skin case wrap cover by Innerneed was designed to offer protection to any 6.5-inch scooter. It is made of food grade silicone while the special spray on the surface makes it nonstick of dust or dirt.
With this skin case wrap cover, you'll still be able to access all buttons and holes accurately. It is skid-resistant, scratch resistant and equally water-resistant. While protecting your scooter, you can equally give it an elegant look with the different colors available from black-green to black-white.
2. Skque X1 Electric Two Wheel Self Balancing Scooter with Bluetooth Speaker
Skque X1 is a black 8-inch self balancing electric scooter that gives you fun and safe rides. It is UL 2272 certified so you can always rest easy knowing you or your family member is safe. The improved motherboard and professionally tuned gyro sensors will give you smooth rides all through.
Besides, you'll love this product's durability due to the sturdy material used to make the shell and the enhanced chassis. Always take your music with you when riding the Skque X1designed with a built-in wireless Bluetooth speaker.
1. GameXcel Electric Scooters Skin Two Wheel Self Balancing Scooter Smart Protective Cover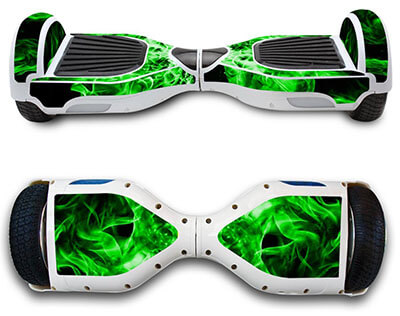 This protective cover made from durable and waterproof superior vinyl and premium HP eco-solvent inks will give your hover scooter years of lifetime operation. Installation and removal are pretty easy without any bubbles or wrinkles. It covers your whole scooter protecting it from scratches.
Moreover, the self balancing scooter skins create an entirely new look to your board setting your hoverboard apart from the crowd. It works with many leading brands in the industry. Thus you'll have to see a list of compatible hoverboard models.
Conclusion
The above list of the best hoverboards in 2021 is just a handy tool to help you decide which two wheel self balancing scooter or one wheel electric scooter you want to purchase. These models have been designed to give any rider great hoverboarding experience. When choosing the best balance scooter, select the right fit by considering the specifications, design, and price.