Contrary to what many people believe, the electric pressure cooker has been around for a very long time. However, they have grown even more popular today and become a must have kitchen appliance in many homes. Why the sudden growth in popularity, though? Well, many people now understand that having a programmable pressure cooker is the key secret to enjoying a scrumptious meal within the shortest time.
As opposed to the traditional stove or oven, this appliance comes in handy especially when you want to prepare large cuts of meat, flavorful dishes or stews within a fraction of the time. Besides giving exceptional results, the stainless steel pressure cooker is equally very easy to use, extremely flexible and comes at a very affordable price. If you want the best electric pressure cooker, here is a list of the most convenient electric pressure cookers that are also budget-friendly.
List of Best Electric Pressure Cookers
10. Cuisinart CPC-600 Electric Pressure Cooker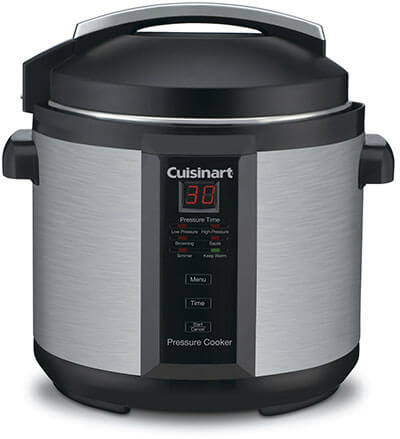 The Cuisinart is a familiar name being among the leading manufacturers of kitchen appliances. It presents you an affordable model that will give you a faster and healthier way of preparing family meals. This 6-quart stainless steel pressure cooker will cut your cooking time up to 70% compared to when you use the traditional stovetop cooking method. Its tight seal holds heat and locks in moisture and flavor to give you a healthy mouthwatering meal.
It offers you easy cooking with the preprogrammed settings, push-button controls, and easy-to-read LED. The pressure cooker additionally has a 99-minute timer, and cool-touch side handles. It is a 1000-watt pressure cooker with a nonstick cooking pot and digital thermostat. This fingerprint-proof stainless steel pressure cooker is dishwasher safe. The package also includes a recipe book. It has a three-year limited warranty.
9. Instant Pot IP-DUO60 Multi-Functional Programmable Pressure Cooker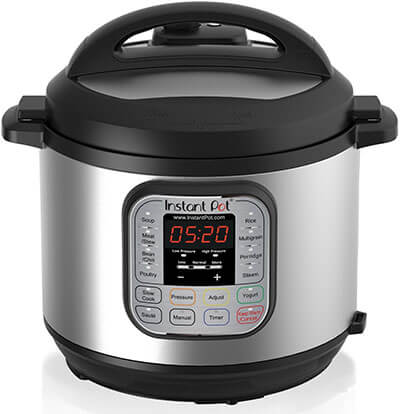 Why is this model among the best electric pressure cookers? Instant Pot's IP-DUO60 7-in-1 pressure cooker is very easy to use and is engineered with significant safety mechanisms. Cooking will always be simple and convenient with the IP-DUO60 that has programmed setting, automatic keep-warm feature and up to 24 hours delayed cooking. It is ergonomically designed to fit even the left-handed Cook.
The inner pot and the lid are dishwasher safe made of high-quality stainless steel. It has an outer pot made of steel and is coated with paint that is heat resistant. You'll love the safety lid lock that helps prevents unexpected accidents when the cooker is pressurized. Features such as the pressure regulator, anti-blockage vent, automatic pressure and temperature control make this cooker a preferred option to many people.
8. Instant Pot IP-Smart Stainless Steel Pressure Cooker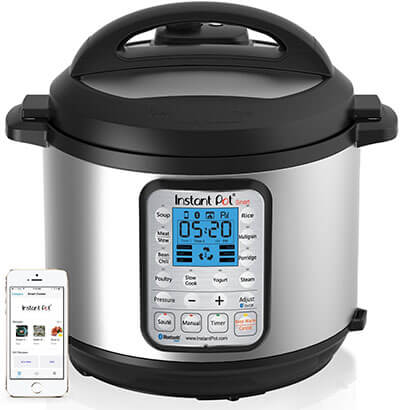 Instant Pot makes cooking even easier with their Bluetooth-enabled cooker that lets you program and monitors cooking with their free Android and iPhone app. It has adjustable cooking modes, features automatic keep warm and offers you delayed cooking of up to 24 hours.
This model is also very safe to use since it is ULC certified. It is made of stainless steel and has an ergonomic design that makes it perfect even for the left-handed user. This electric cooker uses up to 70 percent less energy and produces healthy food within the shortest time.
7. Midea BT100-6L Automatic Programmable Pressure Cooker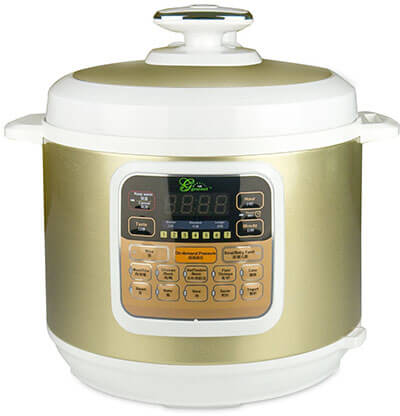 Midea's electric pressure cooker boasts of a stainless steel removable pan with a large capacity of 7 quarts. It has a power rating of 110V and will cook your meals automatically without any manual operation. This cooker ranks as the best electric pressure cooker because it can cook nearly everything from porridge to large meat. Selling at an affordable price, you can get this model that gives you clean cooking, unlike other models.
6. Giantex 6-Quart Brushed Stainless Steel Pressure Cooker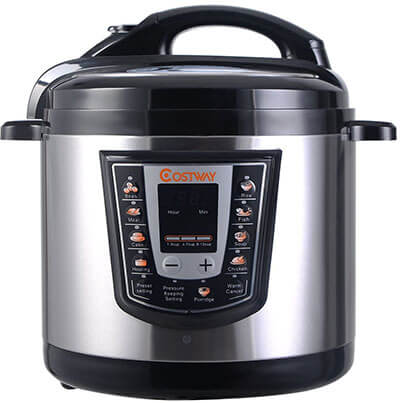 This model by Giantex is made of brushed stainless steel material and aluminum making it highly durable and long lasting. It has a power rating 1000W and a 6-quart capacity. The power cord has a length of around 4.9ft. Its nonstick aluminum-coated inner pot makes cleaning a very easy task.
Moreover, the cooker is pretty easy to operate and saves energy. It additionally features a preset timer for delayed cooking and automatic pressure and temperature control. Boasting of reliable safety and fashionable design, this electric pressure cooker will make every cooking experience in the kitchen quite enjoyable.
5. Aicok Multi-Functional Electric Pressure Cooker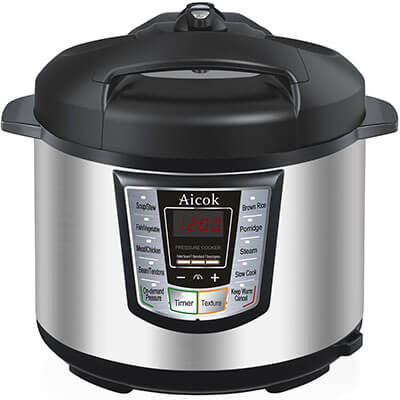 This 6-quart 7-in-1 multifunctional cooker will prepare anything from porridge to rice and meat. It has ten built-in smart programs and high-pressure settings for fast cooking. The Aicok multi-functional electric pressure cooker is ideal for anyone looking for an affordable model with the same features as other high-end models.
It weighs 11lbs and has a voltage rating of 120V and power rating of 1000W. You can leave it unattended without any worries because once cooking is done; its pressure will drop automatically and keep your food warm till ready to be served.
4. Fagor LUX 935010054 All-in-One Electric Pressure Cooker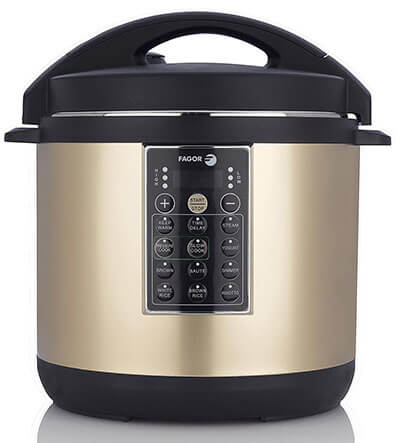 You can prepare a variety of meals in this multi-cooker whether its meat, your dessert or yogurt. The pressure cooker weighs 16 pounds and has four cooking programs and six assist cooking functions. It has high, and low-pressure cooking options (up to 99mins) as well as keep warm function (up to 12hrs) and a time delay function (up to 6hrs).
Furthermore, this model by Fagor comes with a dishwasher-safe non-stick cooking pot with a convenient measuring guide inside. You can choose a copper-coated model, a silver-coated model or a champagne-coated model. It has a power rating of 1000W and uses regular household 120V. You can never go wrong with this 6-quart best electric pressure cooker that has a pocket-friendly price tag. Moreover, when you buy this model, you also get a recipe booklet along with the user manual for exceptional results.
3. GeekChef YBW60P-1 11-in-1 Multi-Functional Electric Programmable Pressure Cooker
Enjoy cooking and time in the kitchen with this electric pressure cooker by GeekChef that serves as a steamer, yogurt maker, rice cooker, and soup cooker among other options. The stainless steel inner pot has a maximum capacity of 6.3 quarts. The rated power is 1000W while the voltage rating is 120V.
This model by GeekChef has 11 proven safety mechanisms giving you a stress-free quick cooking experience of mouth-watering family meals. The body is made of stainless steel thus giving it a durable and reliable nature that will serve you for a very long time. The high pressure and adjustable temperature will save energy and reduce cooking time unlike using other traditional pots.
2. Homegeek Professional Electric Pressure Cooker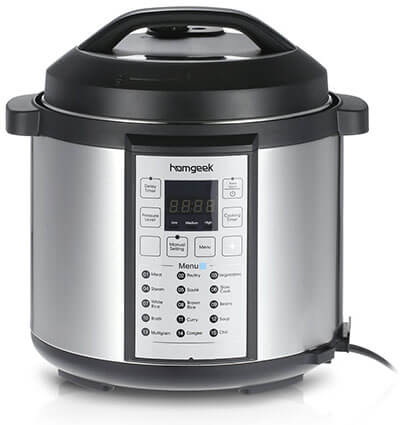 Many kitchen-lovers have recommended Homegeek's electric pressure cooker because of its exceptional features and world-class design. It has LED screen and large control panel. Besides, it functions as a slow cooker, a rice cooker, steamer, warmer and pressure cooker. It has a 15 preset menu and has a 24-hour delay timer that makes it perfect for those people who need to be away for a long time.
This programmable pressure cooker has a stainless steel housing and inner pot with a beautiful black and silver finish. Its working pressure is 70kPa allowing you a quick and easy cooking process. Aside from this, the 14.7-pound pressure cooker has a power rating of 1000W, a Voltage rating of 120V and 6-quart capacity. Packaging additionally includes an English user manual, measuring cup, rice paddle and porridge ladle.
1. Homeleader K47-020 Programmable Electric Pressure Cooker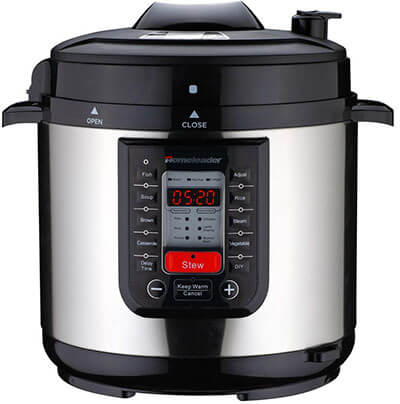 When you purchase this model, you are guaranteed of faster healthy cooking especially because Homeleader is a well-known brand in producing high-quality and convenient kitchen appliances. If you want to change your lifestyle, then you'll need to consider the K47-020 model that locks in your food's nutrients for a healthy finger-licking meal. It has a power setting of 1000W and volume of 5.45 quart.
This programmable pressure cooker will help you prepare nearly any type of food within the shortest time. The large control panel is easy to use and gives you all the convenience you need for a better cooking experience. This model by Homeleader has eight cooking modes and features built-in smart programs making it quite reliable. The brushed stainless steel housing and nonstick-coated inner pot make cleaning very easy.
Conclusion
The above reputable models can speed your cooking time up to six times the conventional cooking method would. Besides, we have given you an easy task of finding the best electric pressure cooker that will cater for your cooking needs while utilizing up to 70% less energy. So aside from having a programmable pressure cooker that gives you the benefit of a healthy nutritious meal, you will be able to save a lot of cash on electricity bills.