It is time to upgrade how your computer looks. Now, what is the best option? Curved monitors take the best bet. With ever evolving innovation, picture experience is improving daily. From CRTs, flat screens and now we have curved. This has been promoting user viewing experience with bettering pictures now and then. Watching a movie or pictures from a curved screen reduces eye strains. This is because the monitor curvature coincides with human eye design.
Mostly, these curved screens are utilizing latest technology thus they are either HD, UHD, QHD or 4K. Additionally, theses monitors enjoy LED, OLED technology which renders them energy efficient unlike the older models.. by the fact these screens are utilizing high tech, they are beneficial to people who need high-quality images processing. Additionally, they are perfect for gaming, and other content as the majority has high motion rate.
When on the process of buying a curved monitor, you need first need to identify your requirements. Among these, screen size is the first consideration. Depending on your work, size will greatly matter. For basic task, like office work, 20 inches will do perfectly. Medium ones around 21-27 inches are ideal for generals home use. Above 28 inches, they are perfect for gaming and professional works like graphic designing and video production. On the other hand, connectivity of a monitor is vital since it will ensure multiple uses. Without forgetting, mounting, speakers and resolution. In most cases, curved screen ranges from HD all the way to latest 4K. However, before buying, ensure your computer supports your target screen.
For ease of buying, here is a collection of top 10 best curved monitors in 2021 reviews which will rock your computer.
List of Best Curved Monitors
10. Acer Predator X34 Curved UltraWide QHD, 34-inch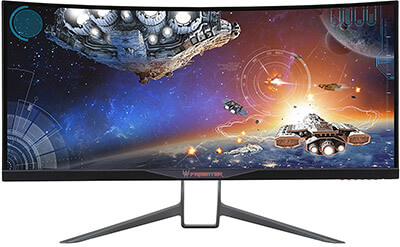 When you want to get real HD, a reliable screen is a must. The Acer preditorX34 QHD screen is an absolute choice for gamer and HD movie lovers. The 34 inches curved design is sleek and helps in delivering captivating pictures. No more screen tearing since it is enhanced with NVIDIA G-SYNC technology which gives extended durability to continue enjoying your gaming moments. On the other hand, this display delivers ultra wide QHD 3440 x 1440 resolution which gives even the finest details. To ensure you get smooth picture motion, Predator X34 boast clocked 60 Hz and when overclocked can get up to 100 Hz making ideal for any gaming without blur. Unlike other monitors, this one features high speed HDMI port and five USB 3.0 for connecting your mouse, data transfer and charging your phone. This monitor reduces power consumption by up to 68 percent and is Energy star rated.
9. LG Electronics 34UC88-B 34-Inch QHD IPS Monitor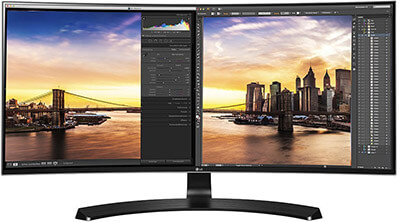 LG Electronics has been producing a broad range of high-quality appliances. This LG 34UC88-B is a premium screen which aims at bring excellent pictures and ultimate gaming experience in your home. Boasting 21:1 ultrawide QHD this screen has 3440 X 1440 resolution which delivers outstanding pictures. Amazingly, with 99 percent sRGB spectrum, it makes a perfect solution for graphic designers, photographers among other looking for excellent colors. When you want to have different contents running on one screen, this one comes with a screen split 2.0. this allows spitting screen into 14 options. Additionally, the onscreen control allows easy and quick access to controls with just a few clicks. Adjustable stand is fantastic in the positioning of the screen in your required height.
8. Asus ROG PG348Q QHD Swift Curved Gaming Monitor, 34-Inch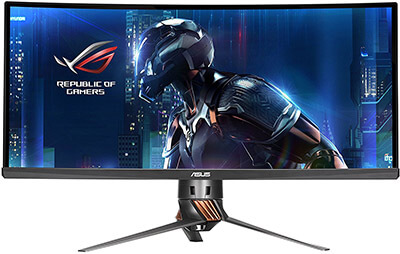 Asus is one of the top leading manufacturers of computers and monitors in the world. This time they bring to you Asus ROG PG348Q QHD monitor. Dedicated to heavy gamers, this monitor is premiumly designed to deliver the best experience. Created featuring NVIDIA G-SYNC tech and 100 Hz, it means it provides smooth pictures with super immersion. Also, the screen is curved which ensure you get immersive even when looking the screen at a wide angle. The Asus eye car technology is ideal for preventing visual damage due to lowered blue light which also eliminates flickering. For easy game control, the monitor boast 5-Way OSD Joystick which provides an intuitive gaming experience. 3-years backs this monitor for assured quality.
7. Samsung CF591 Series Curved FHD Monitor, 27-Inch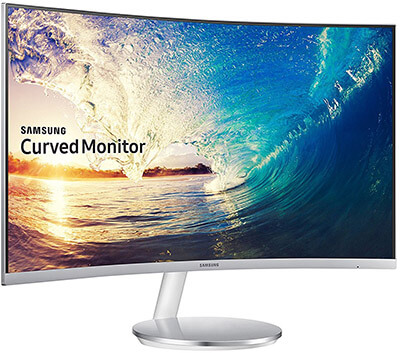 Samsung have been a long time companion in production of high quality screens and others electronics. Presenting this CF591 series curved FDH monitor, it gives you the ability to get highest quality images. To bring a sleek style in your home, it features a stylish design with silvery finish and a curved design. When gaming, this monitor delivers uncompromised images due to AMD FreeSync technology used in its construction. As a result, it significantly reduces latency which in turn removes image tearing and stutter. With inbuilt 5 watt speaker, the monitor brings a surrounding sound during gaming. There is no more blue light and flickering due to the eye saver modes which is ideal for keeping your vision properly cared.
6. Samsung CF398 Series Curved FHD Monitor, 27-Inch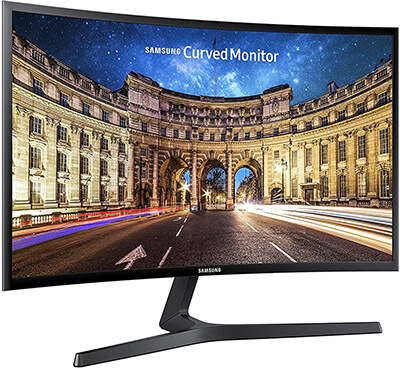 Are you looking a premium screen to give your gaming an upgrade? Then, you should not look anymore. The Samsung CF98 series 27 27-inches monitor, your gaming is not a stress again. This is because, it features 1800R screen curvatures which delivers a rich and immersive viewing. Additionally, the rapid 4ms response time ensures clear images even when there is fast motion. The display port and HDMI allows multiple connectivity. Its stand is T-shaped which is stylish and offers maximum stability. Further, the monitor is compatible with windows 10 and has 3.5mm jack for audio output. The Eco-friendly plus feature is ideal for minimizing power consumption and comes without PVC construction materials.
5. Samsung CURVED DMI VGA Monitor, 27-Inches, 1920×1080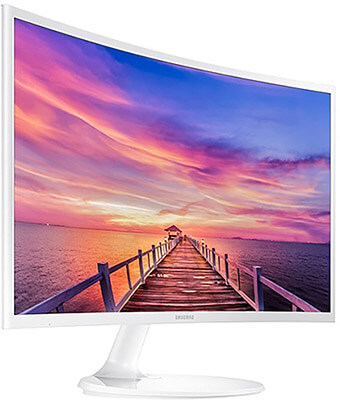 Samsung never disappoint when it comes to delivery of high quality monitors. With this 1920×1080 VGA 27-inches monitor, you will get unmatched pictures. The panoramic and immersive experience is enhanced by the curved design. Also, the 1800MM screen curvature gives it resemblance to the eye curving which helps in providing immersive images and wide angle viewing. Notably, AMD FREESYNC technology, it ensure smooth motion even when gaming fast fast moving games which increases the viewing experience. To fit your space, it is ultra slim and stylish. Above all is screen optimization which ensures perfect gaming.
4. AOC C3583FQ VA Curved LED Monitor 2560 x 1080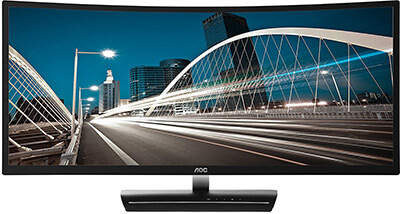 If you have been looking way to have HD gaming AOC C3583 LED screen, is a superb selection. Measuring 35-inches, this screen provide the best resolution ever. This is due to the curved design which delivers immersive and crystal clear images. Connectivity is also excellent in this screen whereby it comes enjoying VGA, and 2 MHL-HMD and 2 display connection ports. Additionally, the inbuilt speakers dual 5-watt speakers delivers a deep sound which delights your ears when gaming. It is possible to set multiple screens with the display ports and and border blends perfectly to bring real gaming experience. The 160 Hz refresh rate ensures perfect motion without blurring while balanced contrast ensures you get true picture color.
3. VIOTEK NB32C LED CURVED COMPUTER MONITOR , 32-Inches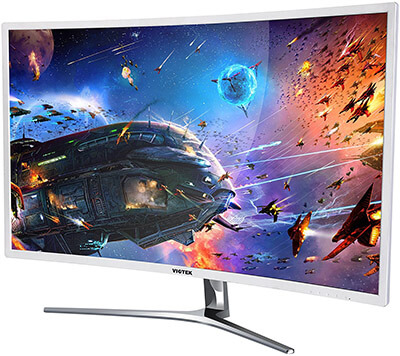 Give your gaming and video experience a new treat by getting this 32-inches curved screen from VIOTEK. It is designed by professionals which mean it's a quality you can trust. With 1800mm curvature, and 1080p High definition resolution, viewing videos and gaming is now enjoyable than before. Additionally, the screen gives the user connectivity options as it features DVI, VGA and HDMI input ports. Equipped with game and video modes, It delivers best performance with just a press of a button. For brightest images, this monitor boast 60 Hz refreshing rate and is enhanced with anti-glaring treatment. Stand is T-shaped which improves stability and sleekness.
2. Viotek FPS/RTS Optimized 32-Inches Gaming Monitor, 144Hz
For die hard gamers, here is a perfect monitor which won't disappoint you in any case. The Viotek 32-inches, 144 Hz screen, is purposely created to make your gaming or movie watching exceptional. As a result, it delivers perfect pictures motion without blurs and glaring effect to enlighten your gaming mood. Boasting real HD, it gives clear images without color distortion thus ideal for playing all your favorite games. Notably, when you get this screen, it provides multiple connectivity options such as DP1, duallink DVI, and HMDI hence perfect for use with various devices. The dynamic contrast is a great technology which leaves with a cinematic feel. Further, the FreeSync & FPS/RTS tech enables this screen ideal for FTS and RTS games. Balanced screen light with low blue light ensures that your eyes are safe and reduces fatigue.
1. Acer ED273 Wmidx Curved Full HD Monitor, 27-inch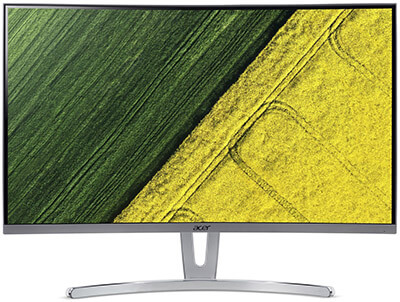 With this Acer ED273, full HD screen is an absolute choice for heavy duty games and movie enthusiasts. Designed featuring a curved design, the monitor gives your eye great comfort and wide viewing angle. As a results, it brings sharpest pictures which is further supported by screen being full HD with 1920 x 1080 resolution. Besides having excellent resolution, this monitor features a curved panel and frameless screen which adds elegance to your room. Also to suit as variety of application, it has a aluminum base and cable management hole for east mouse and keyboard cords organization. For smooth transition between slow and fast moving images hence an immersive pictures when gaming or watching movies. Different ports allows connectivity with variety of devices even smartphones to deliver content in HD.
Conclusion
Having an HD monitor for your gaming or video watching improves your experience. Although these HD screens have become popular nowadays, it is ideal to look one which is reliable and high performing. Also, checking from a reputable brand will significantly ensure you get a premium monitor. Therefore, don't let your screen limit your experience, get an HD one and play endlessly.