Camping is one memorable activity that gets you away from your daily work schedule and the city's hustles and bustles. It becomes, even more, fun when you spend this time with close family and friends in the middle of nowhere. And while it can be a very relaxing activity, it equally requires a little investment – We mean having the right camping equipment.
Camping tents are the most important essential gear to bring along on your holiday adventure. Much as you can always put some cash to rent a tent for camping, this can be quite expensive in the long run. The most economical solution can be to find the best camping tents for sale.
The best part about all this is, camping tents vary thus you'll easily find one that meets your needs. There are family tents that are spacious enough to accommodate many people, there are those tents that ensure privacy by giving separate rooms, and there are camping tents that will take you about five minutes to set up. Choosing one depends greatly on your needs. To help you understand the tent camping market for an informed decision, here is a list of the best tents that give you superior quality and unmatched performance.
List of Best Camping Tents
10. Coleman 4 Person Instant Tent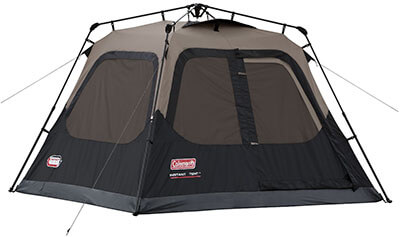 This Instant Tent is among our favorite 4-person models made by Coleman. It is the best tent to buy for a small family or group of friends. As opposed to other models, the Coleman Instant Tent is tall measuring 4.17ft in center height. It weighs 18 pounds and measures 9.5 by 18 by 38 inches. The tent has pre-attached poles that make it easy to set up in less than a minute. Its patented welded floors will help keep the water out while the integrated vented rainfly allows extra airflow.
9. Coleman Evanston Screened Tent for Camping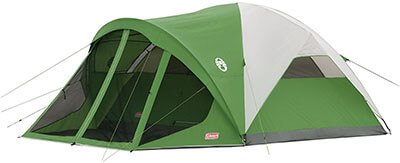 The Evanston tent will comfortably fit six people or two queen-sized airbeds. It is made of polyester taffeta and has a fully screened front pouch designed to keep bugs out. Aside from this, the tent also has four large windows that allow maximum ventilation inside.
The weathered system featured in the tent assures you that you'll stay warm and dry even in the rain. It has a center height of 68 inches and footprint of 14 by 10 feet. The tent comes at a low price yet offers the benefits of other expensive models available in the market.
8. Browning Camping Big Horn Family Tent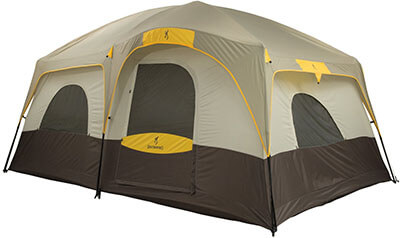 There is a wall divider in this tent that creates two rooms for privacy purposes. Besides, the tent has straight side walls creating more space for putting the cot. The Big Horn additionally boasts two large doors, six windows and mesh storage pockets. Assembly is additionally easy with this family tent since it has a free-standing 3-pole design and unique hub design for a quick setup.
There are factory sealed floor seams and weatherproof fly buckles to ensure the best weather protection. The extra-large zippers on the doors make it easy to enter and get out of the tent. Moreover, the tent is spacious enough having a base size of 10 inches by 15 and a center height of 7'3.
7. NTK Arizona GT Camping Tent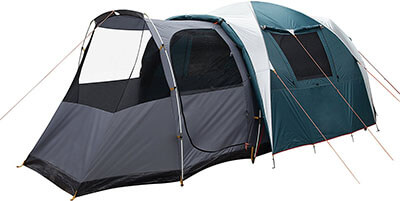 Among the best tents is the affordable Arizona GT by NTK that can handle any weather condition. It is spacious enough to accommodate nine to ten people with a center height of 6.2ft. Besides, the Arizona GT has received excellent ratings and rank among the best family tents in 2021.
The heavy duty material used to make this tent guarantees excellent protection in the rainy weather. It has three windows, two rooms, and two doors. The ultra-thin mosquito mesh is breathable and helps keep mosquitos and other small insects out.
6. Semoo 3-Season Family Camping Tent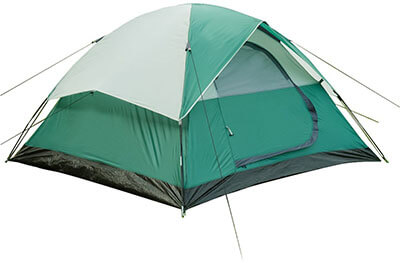 The tent is very light making it pretty easy to transport. It has both a length and height of 82.7 inches and a height of 51.2 inches. The tent can accommodate three people comfortably. It has a sturdy fiberglass frame and pole pockets that are pretty easy to set up.
What's more, there is a large mesh D-style door and mesh windows that protect you from pests while still giving you excellent ventilation. The hooped fly frame additionally protects you from the rain. The packaging also includes a carry bag for easy and comfortable transportation.
5. Timber Ridge Family Tent for Camping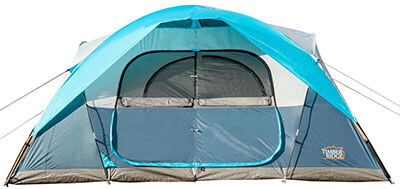 This tent by Timber Ridge has a room divider that helps create two rooms for privacy. It can sleep ten people and would be the ideal tent for large families looking to have a weekend away from home. There is a front 2 D-style door that makes it easy to get in and out of the door.
It has five windows and a top mesh panel designed for maximum cross ventilation. The seam-sealed fly is removable and will help protect you from the weather. This family camping tent has a distinctive design that is convenient while the gear organizer gives you more storage space than other ordinary tents.
4. Lightspeed Outdoors Vermount Star Gazing Camping Tents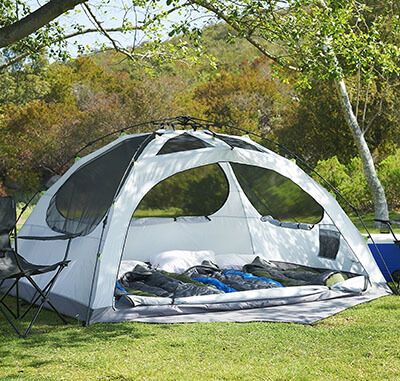 Don't forget to bring the Vermount Star Gazing tent as part of your camping equipment. You won't regret buying this high quality roomy 4-person tent. It is super easy to set up with the pre-threaded poles and drawstring hub system. If you're a small household looking for the best tents, this should be your ideal choice.
Conversely, it can be a great car camping tent. The tent is light weighing 13.6lbs with an open size of 8.8' by 6.75' by 5'. The tent comes designed with extra-large mesh windows for maximum airflow, zippered privacy shades and a full-size PU coated rainfly with two skylights perfect for star gazing.
3. Luxe Tempo Enhanced 2-Person Tent for Camping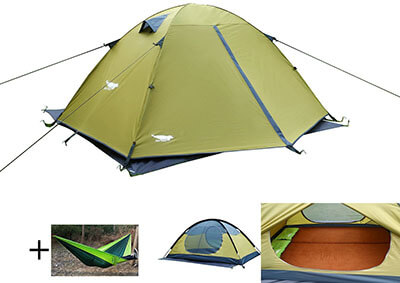 If you're looking for a small tent for you and your loved one, then this freestanding tent would be an excellent choice. The tent was specially made to handle frequent use for years. The tent is made with durable fabric and has an excellent water-resistant finish with sturdy poles for long term use.
You can put up the rain fly within seconds when the rain pours though there is plenty of mesh for great ventilation. There are two screened doors and two large vestibules. The tent measures 82.6 inches by 55.1 inches and has a peak height of 43.3 inches. Its pole is made of 8.5mm fiberglass while the rainfly is of polyester and PU coating.
2. Toogh Waterproof 3 Season Tent Camping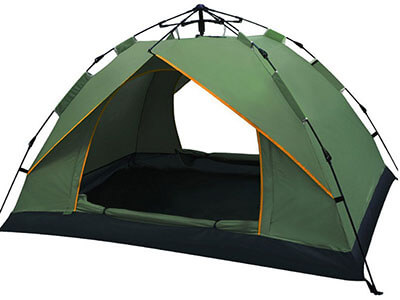 You can settle with a dark green tent, orange-red tent or a sky blue tent depending on your color taste. Aside from its low price, the tent is easy and quick to set up and has excellent features that will keep you protected from weather elements during your camping adventure.
It measures 90 by 78 by 49 inches and will accommodate at least two adults. What's more, it has two doors and features a durable PU rainfly and waterproof floor that has fully taped seams. Packaging additionally includes a carrying bag that helps make storage and transportation easy.
1. Toogh 3 Season 2-3 Person Backpacking Tent Camping Tents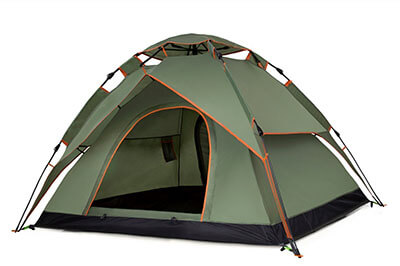 Toogh's tent is equally super easy and quick to set up. You can do it in less than one minute. It is 94.4 inches long, has a width of 82.6 and an overall height of 53 inches. It will comfortably accommodate at least two people. The tent features a PU rainfly that can still be used separately as a wayside pavilion. The floor is made of 210 D Oxford fabric making it waterproof. There are five different shades to choose from at just a throw-away price.
Conclusion
Did you get the best model for your camping activity? Among the best family tents listed here, did you find one that meets your family size and unique preference? We hope you did. Our list of the best camping tents for sale not only guarantee long-term use but equally promise you that you'll use little cash when buying camping equipment. Because you're essentially spending a few nights away from home, a tent for camping should typically be your biggest and most important purchase so be sure to find a model that meets your demands.