Camping is fun, but sometimes things become chaotic when you need to cook yet you don't have the right accessories. On the must-have equipment include the cooking appliances. But, with a right camping stove, you have all the reason to smile and enjoy camping to the maximum. But, imagine the wide variety of products to choose from the market. Our research brings us to a list of top 10 best camping stove that is worth investing your money. Since space is inherently more limited n different models, it is important to pay attention to how compact the stove is. The basic aspects to consider when buying a camping stove include size, BTUs, time taken to boil, simmering and wind resistance, and type of fuel among other features.
Now, regarding BTUs produced, you'll basically be considering how much heat or power the stove can produce. This feature denotes the power of the stove tough it may not always be the case. Other factors taking a vital rank in the play in determining the power of the stove design of the stove body and placement of the burners is equally important. Also, the time the stove takes to boil water is another criterion for choosing a reliable camping stove. Moreover, you need something that can prepare breakfast in just forty minutes but not two hours.
Besides, the simmering and wind resistance is another critical issue to consider. You want to enjoy simmering just like you do while at home. Furthermore, there is uncontrollable wind n outdoors. So, you need camping that can simmer well and cook in outdoors while offering incredible wind resistance. The type of fuel used by the stove is also of real importance when selecting the best. Some use liquid fuel while others use propane and hence you need to be selective on that. The design is also an important aspect when buying camping stove. You need something compact yet performs incredibly.
List of Best Camping Stoves
10. Camp Chef Everest Camping Stove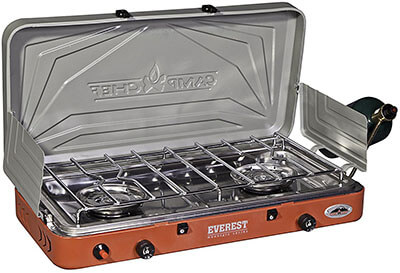 Don't let the compact size of this camping stove discourage you because it packs a lot of great features. The Camp Chef has two high-pressure 20,000 BTU burners that pump out enough heat to handle all your cooking needs. The Everest model has a matchless ignition system that makes it quick and easy to fire up this small camping stove. This unit features a strong nickel-coated steel cooking grate, dual locking lid and a handle for easy transport. Besides, the model's lightweight and compact design means you can bring it along on any outdoor adventure.
9. Iwatani Corporation of America ZA-3HP Burner Stove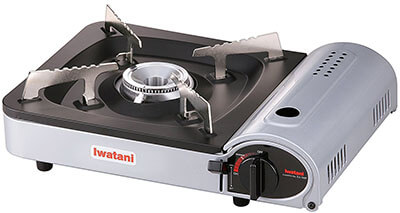 If you are shopping for the best camping stove for your next adventure, then you need to check out the ZA-3HP Burner Stove. This model is a butane stove burner with a compact design that makes it portable. It boasts a high power of 12,000BTU and has an automatic safety stop.
The key feature of this unit is the heat panel system. It maintains constant pressure to provide maximum and consistent output throughout. The heat panel system also ensures the small camping stove utilizes the entire can of butane. For easy transport, this model also comes with a carrying case.
8. Etekcity Backpacking Camping Stove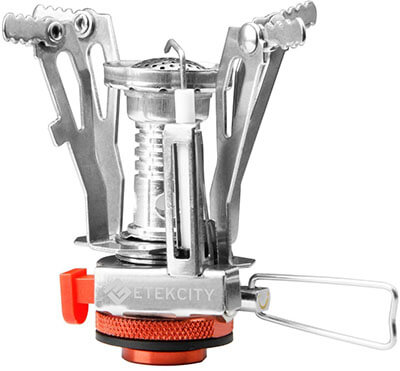 The Elekcity model is made of durable aluminum alloy and stainless steel. This material can stand high temperature. It is the best camping gas stove to bring along on your next adventure thanks to its portable nature. Aside from having a compact and collapsible design, this camping gas stove also comes with a carrying case to make transportation a breeze.
The backpacking stove is compatible with most canisters making it quite versatile and features an adjustable control valve for fast maximum heat output. If you want a unit that does not take too much space, then this is the best small camping stove to buy today.
7. Solo Stove Titan Wood Burning Stove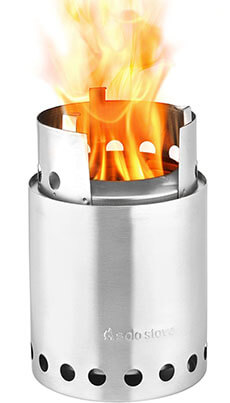 The Titan model is the best wood-burning backpacking stove to buy for your next outdoor adventure. It features a unique patented design that allows the fuel to burn completely with less smoke. You don't have to spend money on white gas because this backpacking stove uses wood, twigs, leaves, and pinecones as fuel. It is lightweight and highly efficient. The Solo Stove Titan boils water in less than 6 minutes. This compact model gives you an easy and clean way to prepare meals outdoors.
6. G4Free Outdoor Camping Set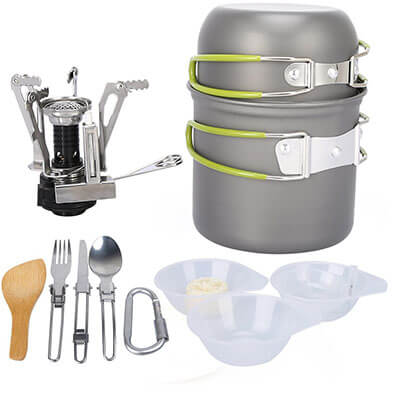 This camping set is perfect for camping, hiking or any other outdoor activity. It is lightweight and super durable making it great for the outdoors. This is the best value for your money because you get different items you'll need to prepare meals. The set includes a spoon set, a mini stove designed with Piezo Ignition and a mesh bag. There is also a pot and pan designed with folding handles for compactness. This cooking set is great for one or two people in the outdoors. You can pack all the items in the mesh bag for convenient carry
5. Ohuhu Camping Stove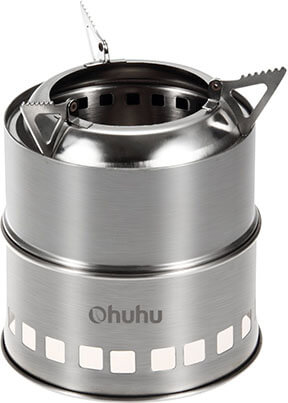 This camping stove is designed with high-quality stainless steel. It is light, portable and comes with a mesh carry bag for easy transport. The camping stove steadily burns bright regardless of whatever heavyweight comes its way. It has a 3-arm base support system that makes it stable and safe to use on any ground. This stove uses dried twigs, pinecones and wood so you do not have to spend money buying white gas.
4. Outsmart Titanium Camping Gas Stove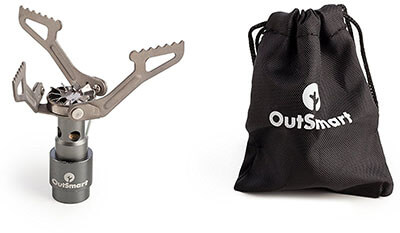 The camping gas stove by Outsmart has titanium alloy components that ensure excellent heat resistance. This material is also durable enough to stand frequent use in the outdoors. the stove is safe to use because it has nontoxic, nonmagnetic and hypoallergenic materials.
It uses spiral flame technology and has a folding valve that allows the cooking stove to offer even flame distribution with high heat output. The stove is lightweight and compact measuring only 2 by 1.5 inches. The stove is compatible with common propane and butane canisters. It is easy to use and screws on in seconds.
3. Reehut Camping Stove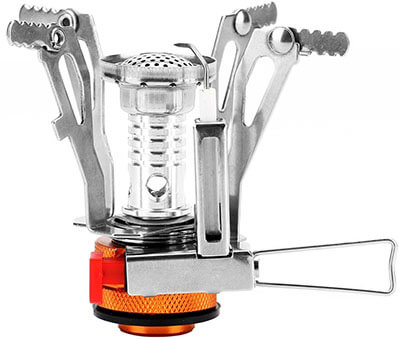 The Reehut Camping Stove has an all-in-1 foldable design for easy carry. Besides, it has a small and lightweight design so you won't feel the extra bulk. This model is great for any camping or backpacking activity. It is made of aluminum alloy and stainless steel. The material is durable and can stand high temperatures. It features adjustable control valve that ensures fast maximum heat output. Its broad compatibility nature makes it the best camping gas stove to buy this year.
2. MSR PocketRocket 2 Camping and Travel Stove
The PocketRocket 2 is the best camping stove for fast-and-light adventures, hiking or global travel. Bring this light and compact stove to your next outdoor adventure for the best and memorable time. The stove weighs only 2.6 ounces and collapses for easy storage. Many campers prefer this unit over others because it is durable and highly reliable. It is also easy to setup and use.
The stove can boil a liter of water in less than 4 minutes. This unit uses high-performance isobutene-propane canister fuel. It features a wind clip that protects the flame in any weather condition. The collapsible serrated pot-support offers grip and stability. It can also support a wide range of pots and styles depending on the type of food you want to prepare.
1. GasOne GS-3900P Dual Fuel Camping Stove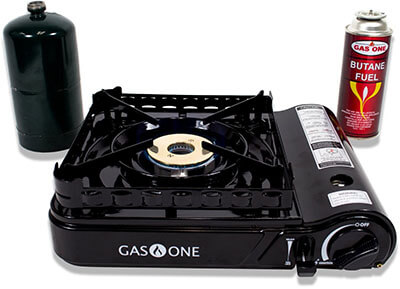 The GasOne model is perhaps the most powerful camping gas stove to buy today. It has a high-pressure 15,000BTU burner that pumps out enough heat to handle all your cooking needs. The model is compatible with butane and propane fuel. Thanks to the piezo-electric ignition, you do not have to use a lighter to ignite the flame. The model by GasOne is pretty easy to use with the adjustable heat dial.
There are safety features to guarantee peace of mind whenever you use it. The wind blocker prevents the stove from turning off from the wind. If you are shopping for the best camping stove for your outdoor activity, then this is the most affordable model to consider.