Did you know that most of the bike repair work is easy, and you can do it by yourself? Well, you only need to have the best tools such as the repair stand. If you're searching for the best bike repair stand, you are in the right place.  But, how do you know that you're a particular stand is the best? The best one needs to suspend your bike in the midair with minimum effort. Also, it must be quite stable even when making various height adjustments.
Most of the DIY specialists will want a stand that is easy to fold and the one that clamps the bike via the seat post or top tube. In this position, you can easily access all parts of the bike and do various test to ascertain your repair work. The other aspect s stability the stand provides. It has to have nonskid feet to ensure stability and that no harm happens to your floors. The foldability allows you to store the stand once you're done with repair, therefore, saving your space. The following stands are incredibly popular among the DIY enthusiasts and the pro tem mechanics.
List of Best Bike Repair Stands
10. Feedback Sports Pro Ultralight Bicycle Repair Stand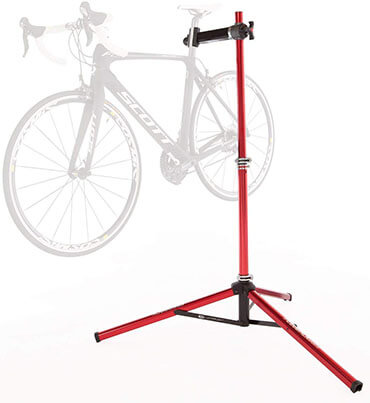 Every bicycle racer requires a solid stand to conduct the ideal repairs. This Feedback Sports extra light bicycle repair stand is a good option. It is created from anodized aluminum which is durable and extra lightweight. With this, it's possible to enjoy the exceptional experience even when traveling. The broad base is outstanding in creating a stable working platform.
Apart from the pronounced stability, this bike stand has adjustable clamps mechanism. This allows height adjustment hence great option for different working heights. Also, the 360 degrees rotation allows any direction working position. Carrying this stand is easy and stress-free as it weighs only 10.6 pounds.
9. Feedback Sports Sprint Work Stand
When your bicycle needs repair when outdoors, it's important to have a standby stand. One of the best work stands is this by Feedback Sports. It's a single mount platform with quick release mount to enjoy improved ease of use. With its lightweight design, it allows users to mount bikes weighing up to 85 pounds. Thus, it's ideal for most bicycles.
The recommendable thing about this stand is it has improved stability. This means you can hook your bike without the platform toppling. Moreover, it comes with versatile for high 100 by9mm QR forks. Additionally, the clamp is ideal for 100 by 25 mm Thru axle fork among others. To suit the working height, this stand is adjustable and folds down quickly for easy storage.
8. Bikehand Bike Wall Mount Repair Rack Stand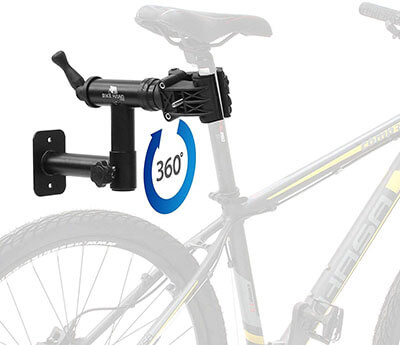 Bikehand wall mounted stand is one of the best bicycle stands you can opt for. Unlike most of the supports, this one is wall mounted. Thereby, having it in your garage ensures hassle-free bike repairing. It has sturdy frame which can support heavy weight without breaking. Also, the mounting flange enjoys 2 holes that enable use of bolt or lag bolts.
The frame is sleek and enjoys powder coating which eliminates corrosion an rust. With clamp compatible with bike tube or seat post, it allows easy and comfortable to use. Also, the 360 degrees rotation enables high flexibility during repairs. This stand is simple to mount on the wall without the need for an expert.
7. Bikehand Pro Mechanic Bike Repair Rack Stand
For the bikes best repair stands, here is one made by Bikehand. It's a professional stand that makes all your bike repairs possible without any problem. The lightweight construction and sturdy frame enable superb performance. This means you can easily enjoy excellent bike repair without bulkiness. For a thrilling repairing session, the clamp has patented 360 degrees which allow proper bike diagnosis.
Forget about confusion when repairing and tool misplacement. Once you have this stand, it comes with magnetic plate. Thus, it enables tools organization as well as other bike accessories. The best part with this road bike work stand is adjustable height. Everyone can work on a bike without leaning hence through repairing.
6. Conquer Bench Mount Bicycle Repair Stand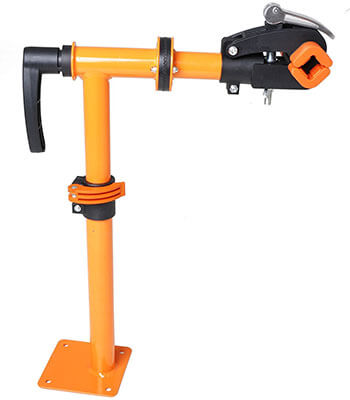 The conquer bike repair stand is a robust and highly reliable platform. This repair stand brings all the convenience to people who love regular bike maintenance. Its rotating clamp is designed to lock at any position. Therefore, once bike is mounted, you can repair your bike without unmounting. The clamp ensures you can mount bike rails with 30 to 75 mm.
Forget about the cheap stands that have less weight limitation. Once you have this bicycle maintenance stand, it offers exceptional strength. Made of durable steel, the stand provides unmoved power. Mounting this bike stand is simple than most of the rivals. It can be installed on any bench hence great option for bike owner.
5. Bikehand Mechanic Bicycle Repair Stand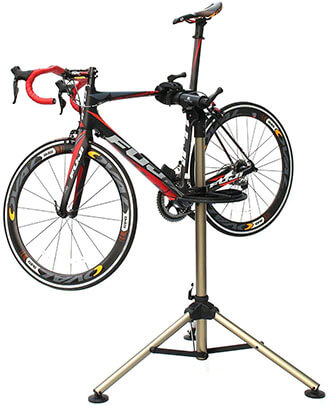 Looking for the ideal ways to repair your bike? Don't struggle anymore. The Bike hand mechanic is one of the best bike repair stands to think about. It helps people maintain their bikes in ideal conditions for better rides. The stand comes with an extra lightweight structure made of aluminum alloy. This lets you enjoy full bike support without compromising the stand strength.
Besides sturdy structure, the stand comes with three-legged base. It allows adjustment to raise or lower the overall height for comfortable working. The integrated tool plate is handy for enabling easy operation without distractions. For a firm and stable working condition, it has rubber buffers. This bike repair stand has weight capacity of 55.1 pounds and weighs 10.85 pounds.
4. Yaheetech Pro Bicycle Workshop Stand Repair Maintenance Rack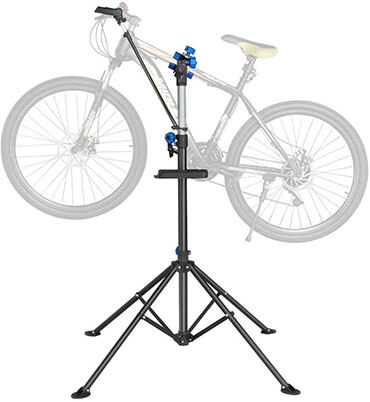 The Yaheetech bicycle repair stand comes with great features and dependability. Made of iron and PA, it has improved strength that enables it to carry up to 66 pounds. Even for people with heavier bikes, it means they can enjoy exceptional support. The clamp has a full rotation to keep your bike in ideal repairing position.
To avoid leaning, the bracket is telescopic. It can be adjusted from 42.5 inches to 74.8 inches. The rugged construction is superb in keeping this stand reliable for a long time. Unlike other stands, this has four feet which ensure you can enjoy high stability. It's among the best bike work stands that enable easy repairs, cleaning, and general maintenance.
3. ZENY Adjustable Mechanic Bicycle Repair Stand Maintenance Rack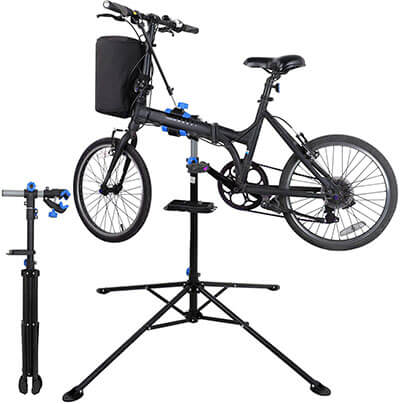 Zeny bike repair stand is excellent equipment designed to keep your work smooth. With a telescopic design, it enables bikes to be raised or lowered depending on the ideal position. Also, the 360 rotatable clamps, it can hold bike in different positions. The clamp is designed to hold various sizes, which allows it to be compatible with most bikes.
To keep your bicycle safe, the clamp comes with a reliable design that won't damage the bike finish. Besides telescopic design, the stand comes with a folding design hence ideal when traveling. Stable and enhanced grip feet keep the stand steady and firm. A tool tray helps to organize your working accessories.
2. SONGMICS Pro Bike Repair Stand, Telescopic Bicycle Maintenance Rack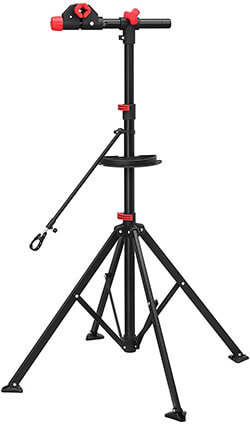 For ultimate bicycle maintenance, the Songmics bike maintenance rack is a good choice. It is applicable in different places which enable high versatility. Also, the sturdy structure is perfect when it comes to different bicycles. In fact, it can hold different bike diameters. Equipped with 2 quick release clamps, it means you can adjust bike orientation easily.
Unlike the other stands, this comes with four-legged bottoms. This guarantees excellent stability without experiencing wobbling. The integrated handlebar holding rod keeps your bike intact without the front part rotating. Weighing 14.3 pounds, it offers superior portability, and it's also foldable.
1. Sportneer Foldable Mechanic Bicycle Repair Stand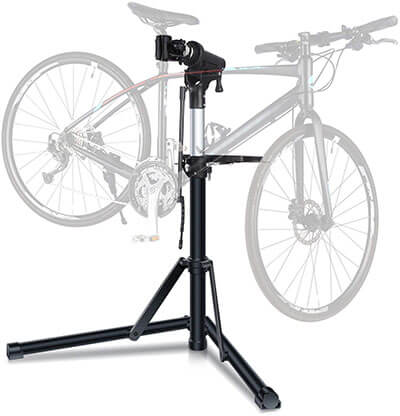 Forget those bulky stands that give you a headache when traveling. Here is one of the best bike work stand dedicated to making your maintenance and repairs easy. The aluminum body is extra lightweight to facilitate easy mobility. Despite the lightweight design, this stand can support up to 60 pounds and different diameters. Amazingly, the clamp is safe for your bike paint; hence no need to worry about scratches.
Regardless of the size of your bike, this stands this stand offers unmatched performance. It comes with telescopic design that enables height adjustment. The dual legged stand comes with additional handlebar rod and tools tray to make your work easy. This is one of the best bike work stands that offer reliable clamping.
Conclusion
Out of thousands of brands of repair stands, only these ten have made to our list. They are premium quality stands that give users the ability to make heavy-duty repairs. Full of great and useful feature, they are reliable and practical way to diagnose and carry out maintenance. With some being portable, they are great tools to have whenever on the move. What are you waiting; there is no need to take your bike for repairs while you can do it at home. Pick one of the repair stands and get all the convenience.