A stroller is quite essential especially for parents who leave home with their infants. Most parents use these strollers nearly all the time, jogging, shopping or just taking walks around the neighborhood. When it comes to navigating life easily with your baby, you full-size want to have the best baby stroller.
Fortunately, there are lots of options available – with companies striving to deliver nothing but the best – so you can always find one that suits your needs. However, just as a lot of things you use daily, you'll want to put some research in the search for the best whether you're looking for an umbrella stroller, jogging or full-sized strollers. We've made things simpler by giving you a list of the best baby strollers available in the 2021 market.
List of Best Baby Strollers
10. Baby Jogger 2014 City Lite Stroller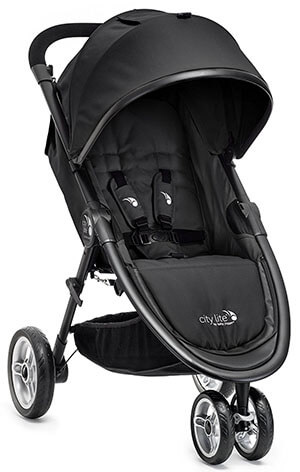 City Lite is the best-recommended stroller for children up to 55lb. Much as it is a lightweight stroller designed with quite simple functionality, this baby stroller by Baby Jogger will easily navigate any urban setting while letting your little one ride comfortably. It can easily fold with a single hand and comes with a retractable weather cover and vents to keep the baby safe.
This stroller additionally has a large sun canopy that will open to multiple positions while the 7 inch and 10-inch front and rear wheels allow you to push the stroller with ease. It's easier to check on your baby with the two peek-a-boo windows.
9. BOB Motion Stroller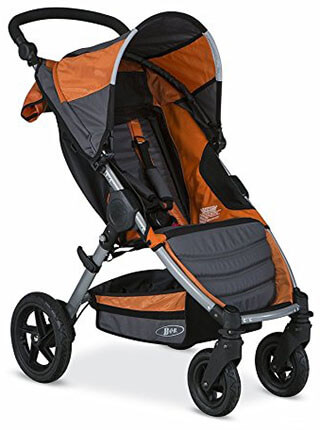 The BOB Motion Stroller will offer you the best ride even over bumps and rough terrain thanks to its four pneumatic tires on polymer wheels and the rugged suspension system. It is the perfect stroller suitable for everyday adventures suitable for toddlers weighing up to a maximum of 65 pounds.
Aside from being compact and lightweight, the BOB Motion Stroller also allows for a quick fold and has swiveling front wheels that will lock forward to add stability whenever you choose to take the rough trail. This stroller should be your best model to move around with your little one.
8. Summer Infant 3D Flip Convenience Stroller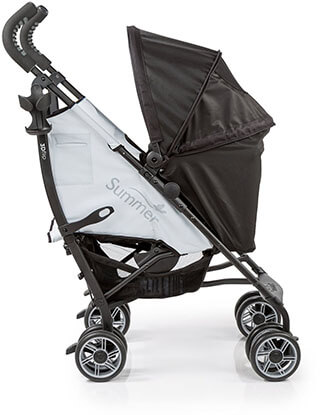 The Summer Infant is a stylish, durable and lightweight stroller that has earned great reviews for its 3D flip convenience that allows your baby to face you. it's a mom-friendly all-aluminum frame that will fold in just three steps. It has a one-hand easy to recline seat enabling you to adjust it to six different positions.
The Summer Infant Stroller's large canopy is perfect for blocking the sun's rays while its height adjustability feature additionally gives it a plus in excellent performance. Conversely, the stroller is designed with a parent cup holder, two side storage pockets and a large storage basket ideal for keeping your purse and storing groceries.
7. UPPAbaby CRUZ Stroller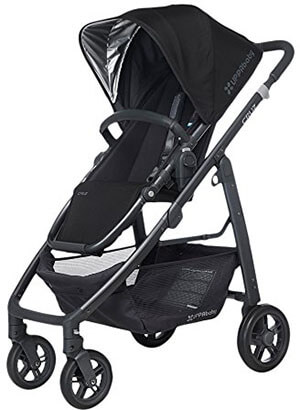 While it may not rank as the lightest stroller, the UPPAbay CRUZ still receives the top score in quality, ease of setup and folded size. It is a full-featured stroller designed for even the toughest sidewalk or that narrow store aisle. Weighing just 29.8 pounds, this lightweight stroller has a maximum weight recommendation of 25 pounds and a minimum of 4 lbs.
Excellent features as the large height-adjustable canopy, one-handed recline toddler seat, and large storage make it rank among the best strollers available in the market. And when it comes to protecting your child against the weather, you'll want to use the rain and bug shield that is additionally included in this convenient baby stroller.
6. BOB 2019 Revolution FLEX Stroller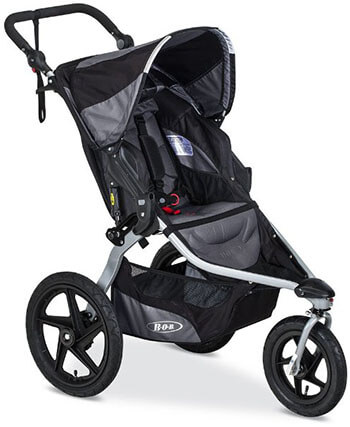 Much as you'll love BOB's 2019 Revolution FLEX lightweight stroller because of its budget friendly price, this jogging stroller has lots to offer regarding functionality. BOB's all-terrain stroller is perfect for any adventurous parent with children weighing up to 75 pounds.
Its front wheel will either lock for an added stability or swivel for top maneuverability. The adjustable padded handlebar makes it the best stroller for any parent whether short or tall. Moreover, this stroller has a top adjustable suspension system with two stages of weight support and three travel inches making the ride as smooth as possible.
5. Mommy & Me 9651B Babyboo Doll Pram with Swiveling Wheels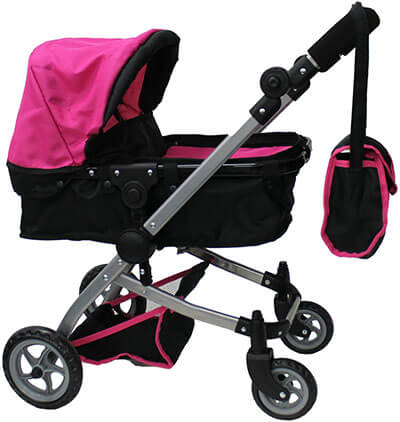 Mommy & Me's 9651B Babyboo Doll Pram is very easy to assemble, and you can always fold it to go. It is made of high-quality material that makes it durable and quite light in weight. This stroller baby is very multifunctional you can always adjust its handle, zipper the pram or adjust the seat to either a flat or angular position.
The basket on the bottom makes for a perfect place to keep your purse while on the move with your little princess. You'll undoubtedly love the pink and black touch of this lightweight stroller that gives it an elegant, sophisticated look perfect for your little princess.
4. Baby Trend EZ Ride 5 Travel System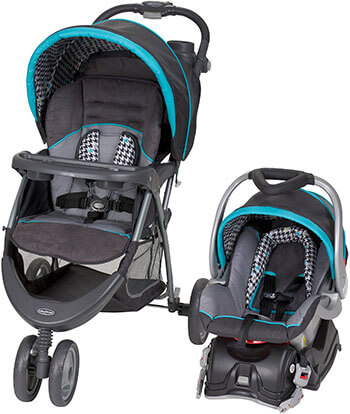 If you're a new parent looking for the best strollers in the market, this would be a perfect model to consider. With its three wheels, this stroller allows for easy maneuverability as opposed to other strollers. It equally includes an infant car seat both of which have a 5-point safety harness guaranteeing maximum protection and security.
The thick padded seat has multiple recline positions while the soft head support will function just fine even in the infant car seat. Other great features of this baby stroller include the adjustable handle, peek-a-boo window, and a covered parent tray.
3. KolCraft Cloud Plus Lightweight Stroller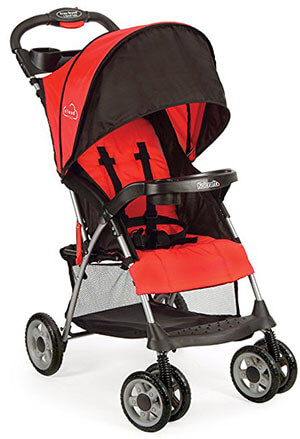 Well, aside from its elegant design and affordable rate, Kolcraft's travel-friendly stroller is a full-size stroller that is lightweight with a large canopy, comfortable seat, and ample storage; all great features that make it easier and comfortable to navigate life with your toddler.
At just 11.8 pounds, the Cloud Plus is the best baby stroller for traveling that is also easy to fold with one hand. Its multi-position reclining seat, large storage basket, and extended canopy give this stroller great functionality while promising your child's comfort and safety.
Besides the parent tray with two cup holders, the Cloud Plus conversely has a removable child tray that has a juice box holder and double cup. This stroller is truly worth your attention.
2. Baby Trend Expedition Jogger Stroller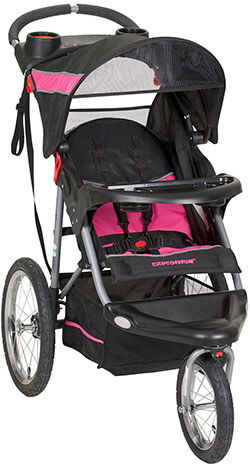 No need looking any further if you want a jogger stroller with amazing features, great design, and affordable price. Baby Trend's Expedition Jogger Stroller has it all. The large bicycle tires are the best feature of this stroller especially for parents looking to go out for their daily jogging routine.
These tires will roll effortlessly over any surface while the front swivel wheel is lockable allowing for easy maneuverability. The lightweight steel frame construction and easy compact fold make this baby stroller quite easy to store or travel with.
Further, the Baby Trend Expedition Jogger Stroller has a multi-position padded seat, ergonomically rubber handle, a parent and child tray as well as footrest reflectors aside from other general features you'll find in other strollers.
1. Bumbleride Indie Baby Stroller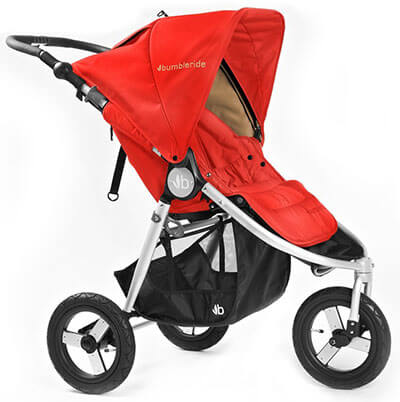 This baby stroller has it all; from a lightweight nature to its easy maneuverability feature. You'll want to buy this all terrain stroller if you're an active family with daily adventures to explore. The Bumbleride Indie stroller weighs only 22 pounds made from recycled plastics.
It has a one-step fold feature with auto-lock functionality adding to its excellent performance. With this stroller, you'll be able to enjoy a three-year warranty. Thus you can always have a peace of mind in any product you settle with by Bumbleride.
Conclusion
Much as there is no best baby stroller perfect for everyone, we hope our top-ten reviews of the best stroller will help you make an informed decision since we have selected the top competing products with varying yet great features. Whether you're looking for an umbrella stroller, jogger stroller or full-size stroller, be sure you find one that meets your family's unique needs and budget.