The portable electric handsaw – at times called the table saw, or chop saw – is one of the essential tools for projects that require cutting of wood. In fact, this is one tool you won't miss on any handy many with woodwork business or who loves DIY projects.
Circular saws are power saws that use a circular blade that is toothed and rotates automatically to cut smaller items with little effort. You can use the circular saw for smaller projects like sawing branches or wood planks. If you're shopping for top rated circular saws, then we've got you covered.
We've done our research to give you the most recommended circular saw that will surely handle all your projects whether big or small. And with many companies in the industry boasting to be the best circular saw brand, you're sure to be faced with an uphill. Fortunately, these top rated models will make things easier while shopping around.
List of Best Circular Saws
10. DEWALT DW364K Circular Saw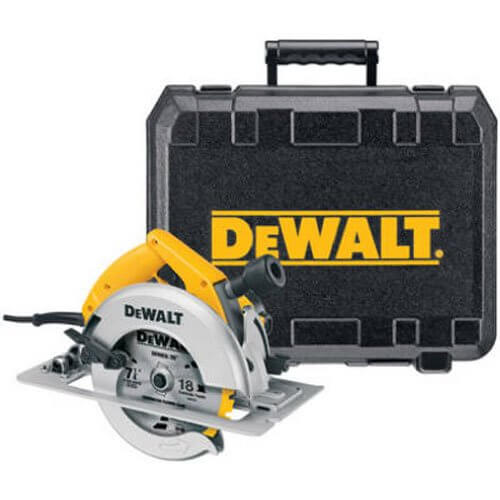 DEWALT is a highly acclaimed brand, and you can never go wrong with any of their products. The DW364K is a great model with an attractive price tag at the lower end. It is durable and well made to serve you for a very long time without any frustrations. This model isn't among the best circular saws for no reason; it boasts of a powerful 15.0Amp motor and sturdy aluminum alloy base.
This, therefore, means that the saw will be able to work perfectly even on rough job sites. There is an electric brake engineered to stop the blade safely after use. This 7-1/4-inch circular saw will make a quick clean cut of 2-7/16 inches at 90 degrees and 1-7/8 inches at 45 degrees. It weighs 12.32lbs and comes with a sturdy kit box, a blade wrench, and a carbide tipped blade.
9. BOSCH CS10 15AMP Circular Saw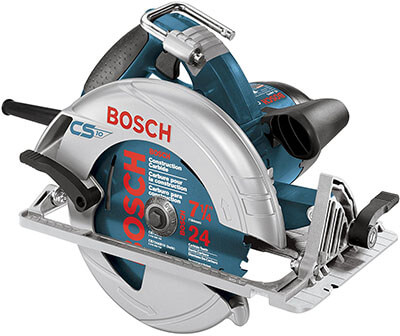 This is another recommended circular saw from a top brand with great reviews and years of great service. It is designed with a powerful 15-amp motor to give you a saw that makes fast and smooth cuts. The blade diameter is 7-1/4 inches with a total of 24 teeth.
The machine weighs 10.3lbs and has a bevel capacity of 56 degrees. This light weight makes the CS10 quite easy and comfortable to work with. It gives you an unobstructed view of the cut line for precise cuts. This tool is equally user-friendly with a comfortable soft grip handle and a blower.
8. Skil 5480-01 13 Amp Circular Saw Kit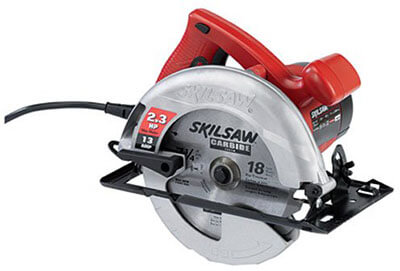 Even with its compact design and lightweight, this portable electric handsaw will serve you quite well making your work fast and easy. This 13-amp 7-1/4 inch circle saw has a ball bearing motor has a durable construction that guarantees long-term service. The wide stable foot and 2-point line of sight make this tool user-friendly. It can perform various tasks including bunk beds, building decks and fences.
The 5480-01 model has 18-tooth carbide, 2.3 HP motor and a cord length of 6 inches. The patented Anti-Snag lower guard helps reduce hang-ups while providing smooth operations. This model by Skil has an overall weight of 11.8lbs and a voltage rating of 120V.
7. Milwaukee Bare-Tool 2630-20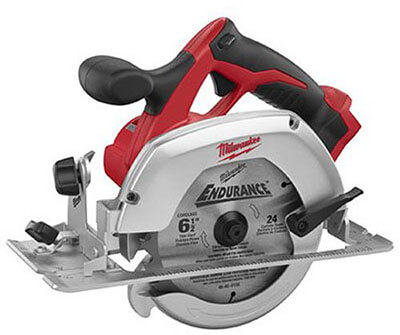 Aside from being durable for long term use, this product is very easy to use and is sold at a pocket-friendly price you wouldn't have to dig deeper into your pocket. It is small in size, has a light weight and ergonomic design that makes it the most recommended circular saw in the market.
Whether you're up for some DIY projects or are looking for some machine for your woodwork business, Milwaukee's Bare-Tool 2630-20 is just right for you. It features a 3,500RPM motor that will cut through tough material quickly. Further, the 18-volt battery-powered circular saw has a soft grip handle and magnesium guards for durability.
6. DEWALT DWS535 Warm Drive Circular Saw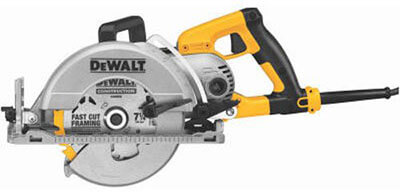 Being the best Circular saw brand, DEWALT offers you the DWS535, a powerful yet compact and light model that makes quick and clean cuts for any project even the tough ones. It is pretty easy to use, weighs 13.8 pounds and has a durable magnesium footplate to give you a tough cutting area.
Besides, it has a wide saw hook that will accept materials 2-1/2 inches wide while its ToughCord protection system will give you four times better cord jerk protection. What's more, this tool has a bevel capacity of 53 degrees engineered for advanced applications with less effort no wonder it ranks among top rated circular saws.
5. Hitachi C7ST 15-AMP Portable Electric Hand Saw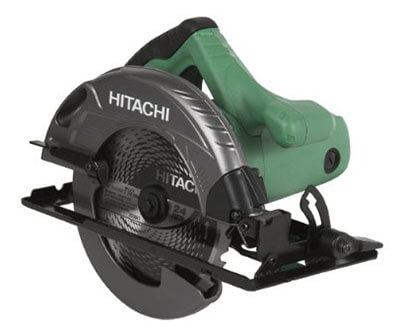 You'll get to benefit from a 5-year warranty by the company when you buy the Hitachi C7ST. It weighs 9.5lbs only thus making maneuverability easy. The blade's speed is 6000 RPM for smooth cuts while its 15-AMP motor is capable of handling even the toughest cutting tasks.
This machine also has an integrated dust blower designed to ensure a clean working surface and a clear line of sight. The ergonomic design of the soft grip handle helps reduce vibration while increasing comfort. Moreover, the C7ST has a steel and aluminum base with easy-to-read scales for accurate measurements. This corded electric circular saw has a cord with a length of 8ft and a voltage rating of 120 volts. It can make accurate 90-degree cuts quickly and easily.
4. DEWALT DWE575 Lightweight Circular Saw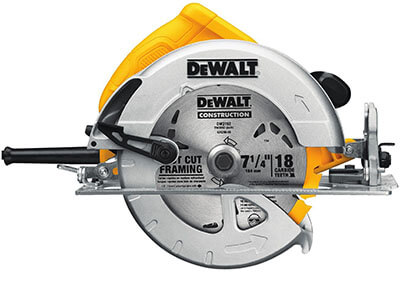 The DEWALT DWE575 is a corded-electric circle saw that would give you a lot of power at a low price. It is lighter than other models weighing only 8.8 pounds. This tool has a bevel capacity of 57 degrees. The DWE575 by DEWALT boast of a 15-AMP powerful motor delivering 5,200 RPM that will handle even the toughest applications thrown at it.
And though it is designed with the most hardened high-grade material, this circular saw has ergonomic handles that are gentle on your hands thus you can use it for a long time without getting tired.
3. Rockwell Compact Circular Saw RK3441K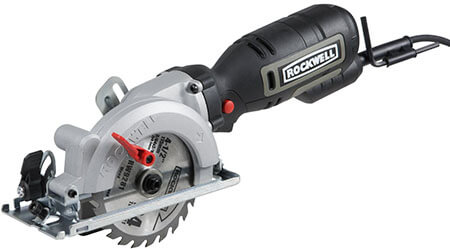 Don't let the compact design of this model discourage you. The machine houses a powerful 5-AMP motor that will deliver 3,500 RPM. It weighs 5lbs making it among the lightest yet convenient top rated circular saws. It has a maximum cutting depth of 1-11/16 inches at 90 degrees and a bevel capacity of 1-1/8 inches at 45 degrees. The blade has a left-handed design that gives you remarkable cut-line visibility for a clean job.
2. Makita HS7600 Portable Electric Hand Saw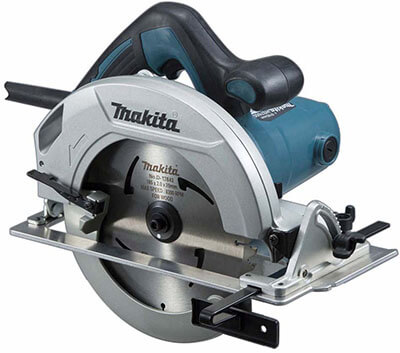 For the DIYer, this would be the best circular saw brand because for quite an affordable price, the circle saw comes with excellent features meant to give you a clean, quick job. It has a 10.5 AMP motor designed to deliver 5,200 RPM. Besides, it has a large cutting capacity of 2-1/2 inches at 90 degrees and 1-5/8 inches at 45 degrees.
The light weight, 8.6lbs offers excellent handling and equally makes maneuverability easy. The aluminum base helps improve durability thus promising long-term use. What's more, this model by Makita has a lower guard design that enhances performance when making narrow cuts.
1. Black & Decker BDECS300C Circular Saw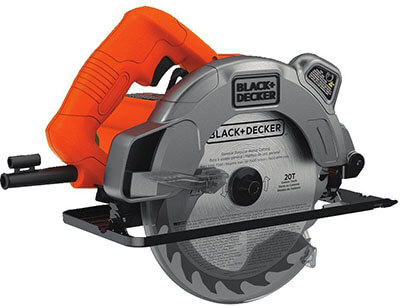 The 13-AMP circular saw has a laser guide designed to ensure accurate cuts. It is pretty light in weight thus you can move it around with ease. This lightweight design equally helps reduce fatigue when handling and using the circular saw. Additional features as the spindle lock and easy-to-use bevel make this the most preferred portable electric handsaw by many handymen. It weighs only 7 pounds and comes backed by the company's 2-year warranty.
Conclusion
Now that you've reviewed a list of the top rated circular saws available in the 2019 market, you can now find one best model that meets your specific needs. Do not let price cloud your judgment but for peace of mind, we tried our best to select affordable circular saws that function just like their expensive high-end counterparts. You'll surely want to consider any of the above choices because aside from the price, these portable electric hand saws offer excellent performance within the shortest time possible.